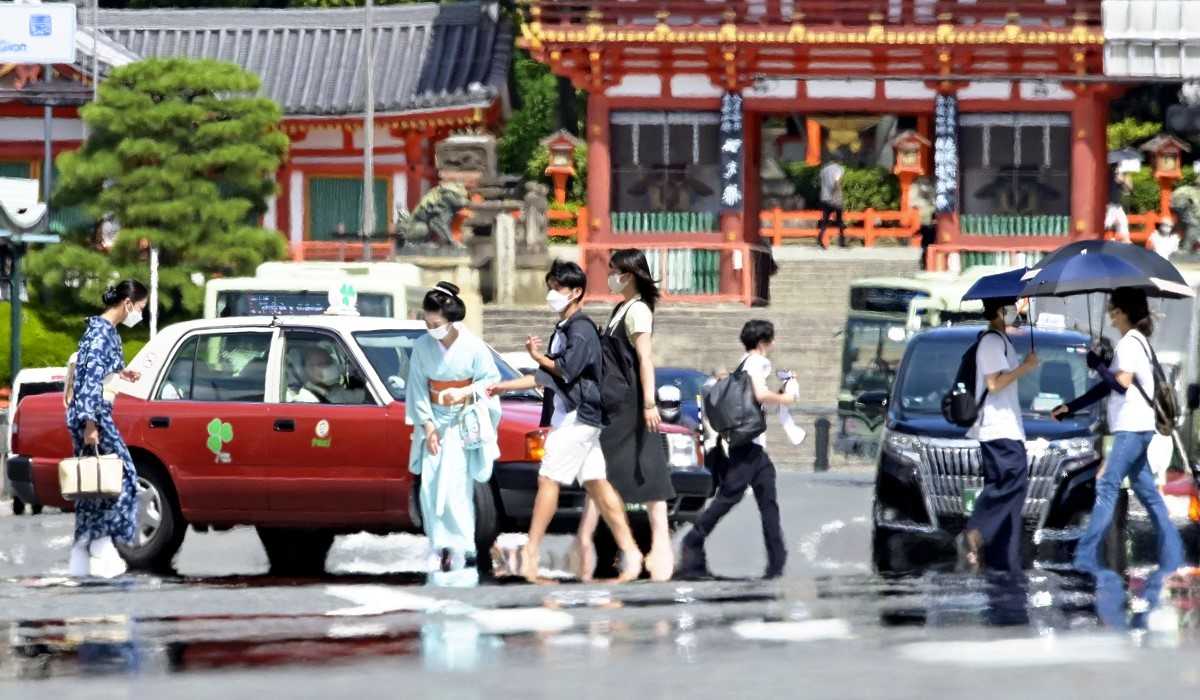 17:11 JST, February 26, 2023
To tackle the growing risk of heatstroke amid increasingly severe summer temperatures, the government has decided to establish an additional alert level that will require local authorities to provide air-conditioned facilities for their residents.
Tentatively called a "heatstroke special alert," the new level will be set above the existing maximum of "heatstroke alert." The aim is for the new level to take effect in the summer of 2024.
The Environment Ministry and the Japan Meteorological Agency have been operating the heatstroke alert system since 2020. The Wet Bulb Globe Temperature (WBGT) index is calculated each day based on factors including temperature, humidity and solar radiation.
When the index is predicted to be 33 or higher, a heatstroke alert is issued by the relevant prefectural government. The alerts call on residents to use air conditioners, hydrate frequently and refrain from going out.
Last summer, alerts were issued 889 times throughout Japan.
In recent years, the number of people taken to the hospital for heatstroke has remained high nationwide, with about 40,000 to 50,000 cases reported annually. Fatalities have exceeded 1,000 for three consecutive years through 2020.
However, there is still no legal basis for the government to require local governments to take steps against heatstroke.
The new alert level will change this, with countermeasures to be incorporated into the Climate Change Adaptation Law for the first time. The government will submit a bill to the current Diet session to revise the law, following Cabinet approval as early as this week.
The bill will require municipal governments to designate air-conditioned facilities as "cooling shelters," including public facilities such as community centers and libraries as well as commercial facilities such as shopping centers. When extremely high temperatures are expected to pose serious health risks, a special alert will be issued, and the revelant municipal government will provide cooling shelters for residents.
Some municipalities are already working to provide such facilities, but they accounted for only 20%, or 125 out of the 592 municipalities that responded to a ministry survey last year.
The risk of high summer temperatures is increasing due to extreme climate events brought about by global warming.
According to the JMA, there was an annual average of 2.7 days with a high of 35 C or higher from 1993 to 2022. If global warming continues at its current pace, the number of such days will increase at the end of this century by 19.1 days from the level at the end of the 20th century.
By establishing a higher special alert, the government intends to require local governments to take proactive measures and strongly urge the public to be prepared.
Discussions by experts have begun on the specific criteria for issuing a special alert and the requirements for cooling shelters. The details will be established by a government and ministerial ordinance after the revision bill is passed.

Add TheJapanNews to your Google News feed.