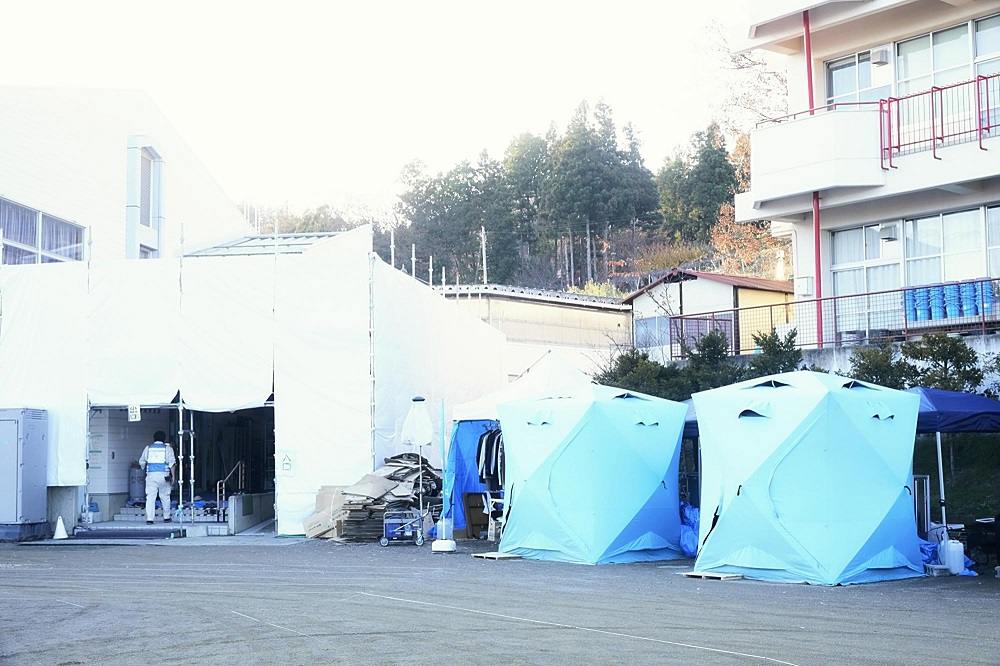 2:00 JST, February 21, 2023
A Japan Disaster Relief Team has flown a water-recycling shower set to Turkey, which was rocked by a devastating earthquake on Feb. 6.
The move leverages lessons learned following the March 2011 Great East Japan Earthquake, when evacuees in affected areas were unable to wash properly due to temblor-damaged water supplies.
The shower equipment — which is expected to improve sanitary conditions in shelters — uses multilayered filters to remove bacteria and other impurities and can recycle 98% of the water used.
It is the first time for this type of shower set to be used in a disaster-hit overseas area.
The shower system was jointly developed by Hokuryo Co., a medical-use gas sales company based in Kitakami, Iwate Prefecture, and WOTA Corp., a startup based in Chuo Ward, Tokyo.
The shower set comprises a filter capable of converting sea water into fresh water using a small purifier that primarily utilizes activated charcoal; a tank capable of storing up to 100 liters of used water; and a tent-like shower stall.
The equipment can eliminate most bacteria and viruses, and the filtered water meets Japan's quality criteria for use in public bathhouses.
Following the 2011 quake, disease-bearing microbes caused many evacuees to fall ill, including with the norovirus. People affected by the April 2016 Kumamoto Earthquake faced similar problems.
Hokuryo President Ken Kasai, who has taken part in relief activities in disaster-hit areas of Japan, wanted to help people facing difficult circumstances. To collaborate on the plan, Kasai solicited WOTA, which had been developing an outdoor-use water-recycling purifier system. The initial shower set was completed in 2017.
The first sets were installed in Kurashiki, Okayama Prefecture, which was damaged by torrential rains in July 2018, and in Nagano City, which was seriously damaged by Typhoon No. 19 in October 2019.
Following the installation of the showers, sanitary conditions in the evacuee shelters improved markedly.
According to the Japan International Cooperation Agency — secretariat of the Japan Disaster Relief Teams — a single shower set was transported to Turkey on Feb. 8 and sent to Kahramanmaras in southern Turkey, close to the earthquake's epicenter.
"I'm very glad to see ideas and technologies born from experiences learned following earthquakes [in Japan] being utilized overseas," said Kasai, 48. "I hope as many lives as possible — even if it's only one — will be saved."
Add TheJapanNews to your Google News feed.