L'Arc-en-Ciel Concert Seating Shenanigans Get Ticket Sellers in Trouble with Regulators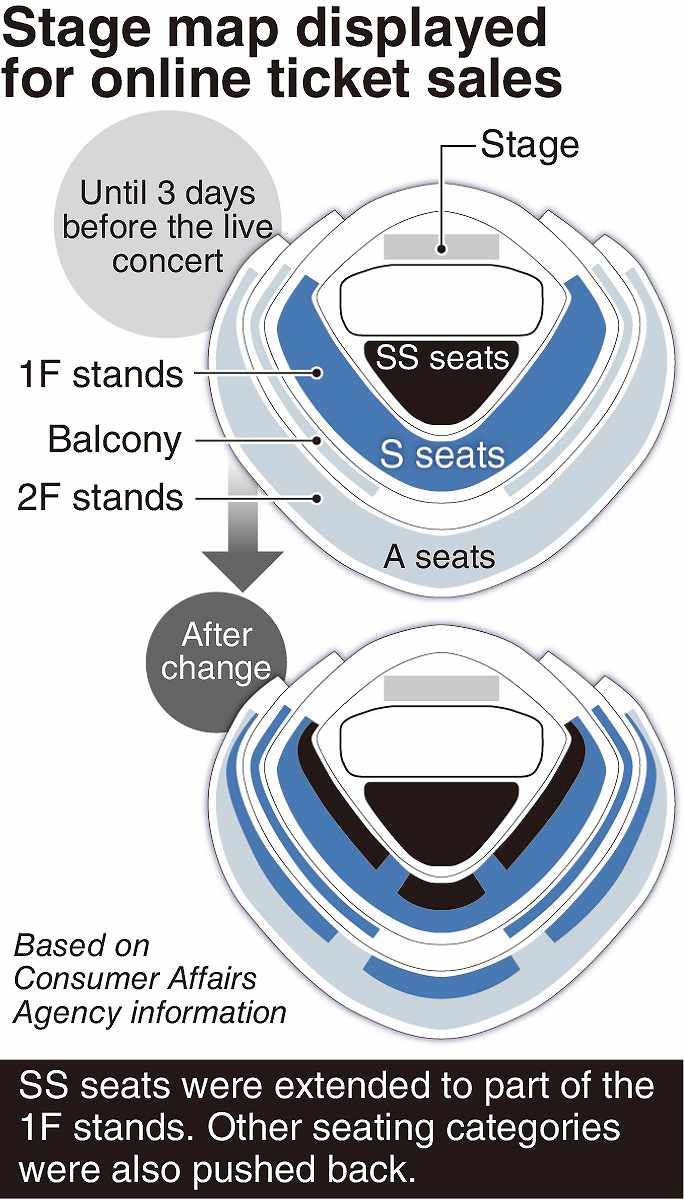 20:21 JST, February 17, 2023
After concertgoers who paid for prime seats in front of the stage were ushered to less desirable spots last year, three companies involved in holding live concerts by the rock band L'Arc-en-Ciel were ordered on Wednesday to clean up their act.
The Consumer Affairs Agency said Thursday it had ordered the companies to take preventive measures under the Law Against Unjustifiable Premiums and Misleading Representations in the sales of tickets.
The agency claimed that the companies, all based in Tokyo, had displayed a venue map that showed seating that appeared closer to the stage than it actually was when selling the tickets.
The agency issued the order Wednesday, recognizing the case as one of representations that may mislead consumers as to the quality of goods — the first such case for a live concert.
The situation affected about 24,000 audience members, who were assigned to downgraded seats away from the stage.
The companies that received the order include On The Line Inc., a concert planning and management company, and Maverick DC, the band's management agency.
According to an announcement by the agency, in January 2022, the three companies began selling tickets for L'Arc-en-Ciel's 30th anniversary concerts scheduled at Tokyo Dome on May 21-22 the same year.
The venue map shown online indicated that SS seats (¥22,000) would be located close to the stage on what is ordinarily a baseball field, while S seats (¥16,500) would be in the first-level stands and the A seats (¥11,000) would be located in the balcony and second-level stands. However, just three days before the concert, the SS seats were expanded into the first-level stands area and the S seats were also allocated in the second-level stands, while nominally maintaining the initial seating categories.
The reason behind the move was that the SS seats were greatly oversold — about 14,400 tickets for about 6,600 seats — and some of the S and A seats had to be pushed back farther from the stage.
Add TheJapanNews to your Google News feed.