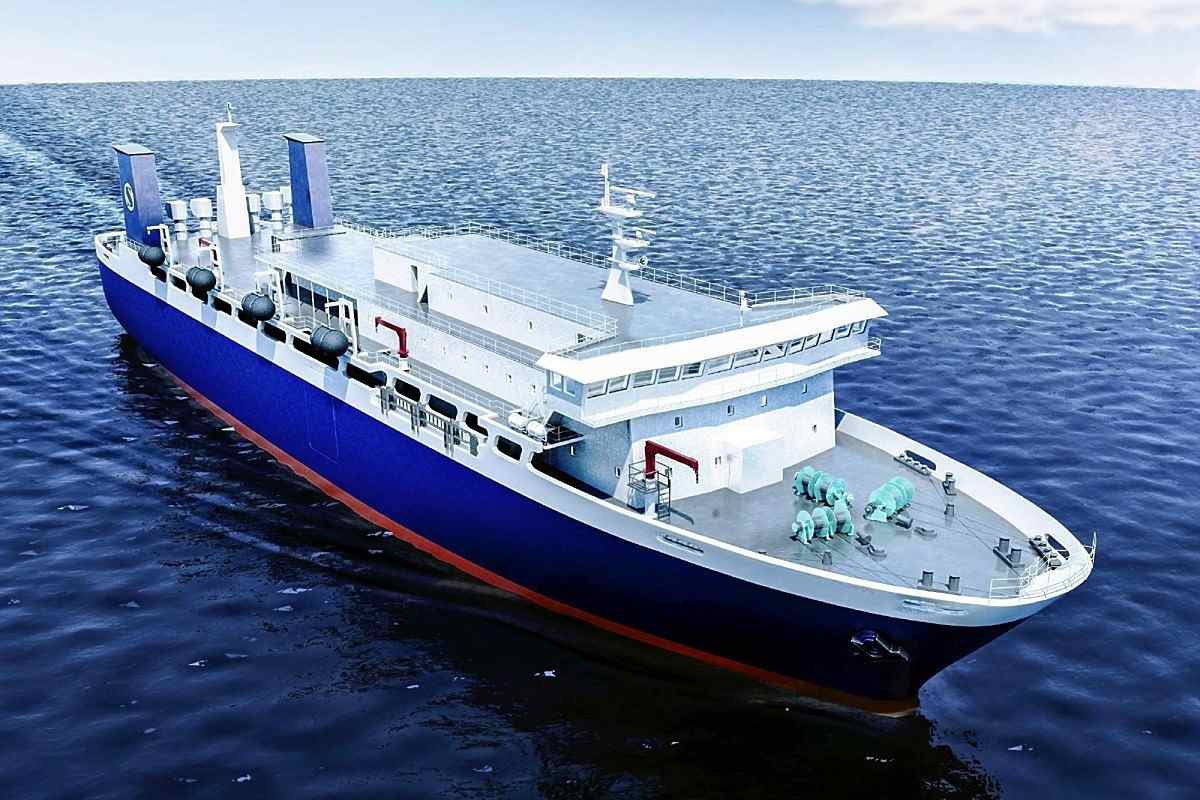 16:25 JST, February 13, 2023
SHIMONOSEKI, Yamaguchi — Kyodo Senpaku Kaisha Ltd., the only whaling operator in the world that uses the mother ship method, is building a new vessel in Shimonoseki, Yamaguchi Prefecture, to replace its aging mother ship.
Maintaining this method, in which a fleet of vessels centered on a mother ship hunts large whales, is expected to help maintain Japan's whaling industry. However, the prospects are dim for operators to whale in the open sea outside Japan's exclusive economic zone (EEZ).
"Unless a new mother ship is built, we cannot pass on our whaling culture to the next generation," said Kyodo Senpaku President Hideki Tokoro, 68.
Tokoro was speaking at a press conference after a ceremony to pray for safety — held before the start of shipbuilding — at the head office of Kyokuyo Shipyard Corp., a Shimonoseki-based firm with which Kyodo Senpaku has a business contract.
The mother ship is used to load and dismantle whales caught by smaller vessels, and to freeze the whale meat. The Nisshin Maru vessel owned by Tokyo-based Kyodo Senpaku was built about 35 years ago. It measures 130 meters long and 20 meters wide, and weighs 8,145 tons.
The new mother ship being built is 113 meters long, 21 meters wide, and 9,100 tons. It can sail for 60 days and travel 13,000 kilometers.
Kyodo Senpaku currently operates only within Japan's EEZ, but the new ship is capable of sailing as far as the Antarctic Ocean.
It will also feature the latest equipment, including container-type cold storage facilities and a deck for drones to search for whales. The construction cost is approximately ¥6 billion, and the ship is scheduled to be completed in March 2024.
Mother ship method
Japan whalers use two methods — in coastal whaling, small boats go out on day trips to catch minke whales, but catches obtained through this method have not reached the quota limit in recent years.
The mother ship method has reached the full quotas, however, including those of larger Bryde's whales and sei whales. Without a mother ship, it is highly likely that these two species of whales will no longer be caught, leading to fears that whaling and whale-eating may cease to exist.
Norway first conducted mother ship whaling in the 1920s, with other countries following suit. However, as international public opinion grew increasingly concerned about the depletion of whale stocks in later years, this method gradually declined.
Since 1987, Japan has engaged in research whaling to survey the current population size and other information in the Antarctic Ocean and elsewhere, maintaining the mother ship method. In 2019, Japan withdrew from the International Whaling Commission (IWC) and resumed commercial whaling, leaving Japan as the only country that continues to use the mother ship method.
The Fisheries Agency is not subsidizing the building of a new mother ship, but Kyodo Senpaku decided to build one on its own.
"We want to contribute to Japan's food security," Tokoro said. "We designed the ship to be able to travel as far as the Antarctic Ocean, in the hope it will be useful in times of food crisis."
However, there is a strong belief within the government that Japan needs to avoid opposition from anti-whaling nations such as the United States and Australia, and there is no prospect of conducting whaling operations outside the EEZ.
Ayako Okubo, an associate professor of marine policy at Tokai University, said: "A new mother ship is also necessary to continue whaling offshore within the EEZ. The government has a responsibility to create an environment in which operators can conduct whaling stably while maintaining consistency with international law."
City to provide ¥300 mil.
The city of Shimonoseki, which is considered to be the birthplace of modern whaling in Japan, is aiming to become a home port for a fleet of vessels to be led by the new mother ship. The city will provide ¥300 million in subsidies to Kyodo Senpaku to support the construction.
"It is our long-cherished wish to see a whaling mother ship built," Shimonoseki Mayor Shintaro Maeda said at a regular press conference on Feb. 6. "I hope whale-eating culture will spread widely among our residents and the Japanese people in general."
At a press conference on Friday, Tokoro said: "By registering the vessel in Shimonoseki, we will ensure that property taxes and other taxes will be paid in Shimonoseki. If the maintenance of the ship can be handled in that city, it will become a true home port," indicating that the company will proactively continue talks with the city.
Add TheJapanNews to your Google News feed.