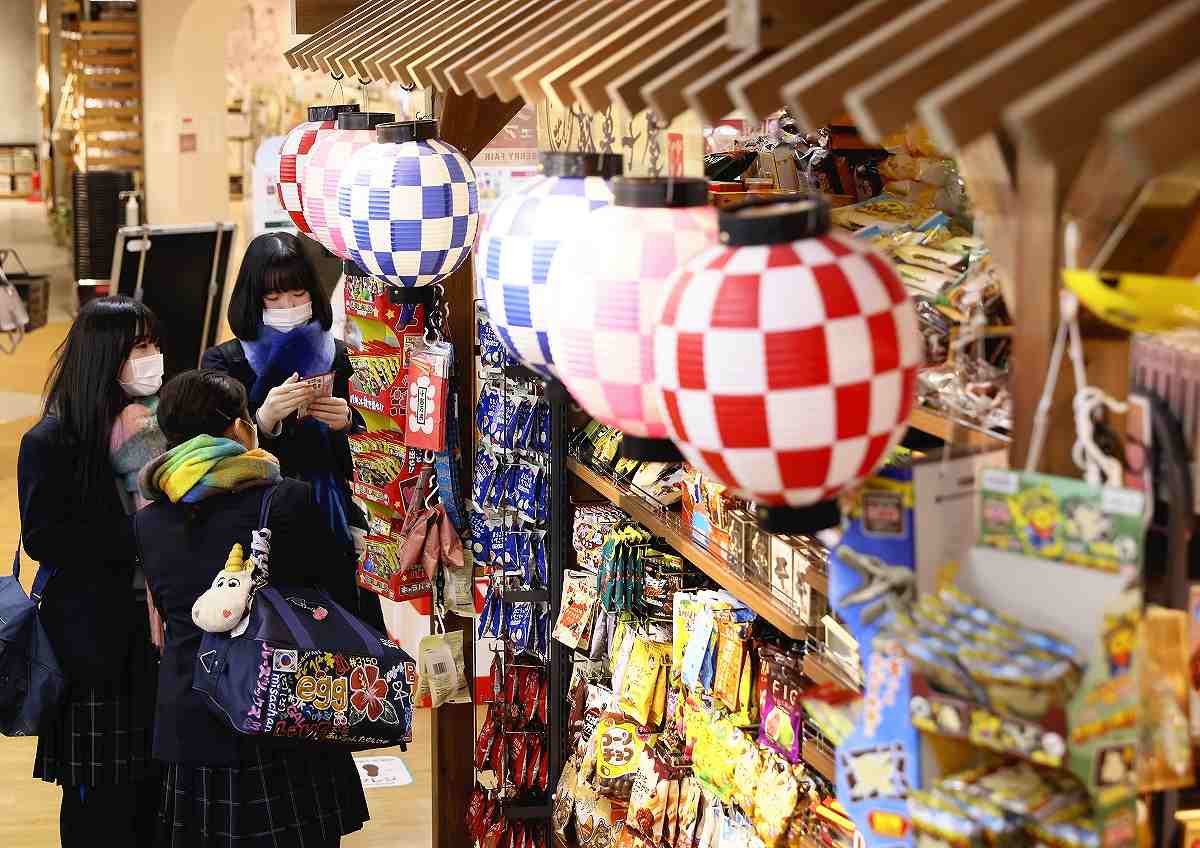 7:00 JST, February 9, 2023
A ¥100 store in the high-end shopping district of Ginza, Tokyo, is attracting an enthusiastic stream of customers keen to snap up its retro food products, which are far removed from the luxurious, brand-name goods offered elsewhere in the upscale neighborhood.
A "snack corner" in the spacious Daiso chain store outlet, which opened last April in the Marronnier Gate Ginza 2 commercial complex, features shelves of such goodies as Ramune candies, sembei rice crackers and chewing gum.
"I see snacks here that I used to eat when I was a kid," said Chie Okada, a 44-year-old company employee living in Shinjuku Ward, as curious young people nearby snapped pictures with their smartphones. "I can't resist buying such foods."
Ryoko Uehara, a spokesperson for the store's operator, Daiso Sangyo, said, "Adults seem to find the snacks nostalgic, while children find them rare and interesting."
Uehara explained that many of the customers who visit the outlet to buy specific daily necessities also add such tidbits to their baskets as "unplanned purchases."
Customer response to the bygone days-inspired foods has been positive, and the company plans to expand its initiative to more Daiso stores across the nation — primarily large-scale outlets.
28-year hiatus
Late one evening at the end of last year. Shohei Hosoo, a 46-year-old company owner, was drinking Asahi Breweries Ltd.'s "Maruefu" beer with friends at Bier Reise '98, a beer hall in Tokyo's Shimbashi district. A hearty "cheers!" rang out as they clinked their glasses.
"I became interested in Maruefu after drinking the canned version and wanted to try one poured by a professional," Hosoo said as he chugged the beer back with a satisfied look.
In September 2021, Asahi resumed began marketing Maruefu canned beer to consumers for the first time in about 28 years. Bier Reise '98 has offered the drink since around 1986, when it was first released, but only a few young customers had asked for it. Now, however, "more and more customers are asking for Maruefu" said Kohei Matsuo, president of Bier Reise '98.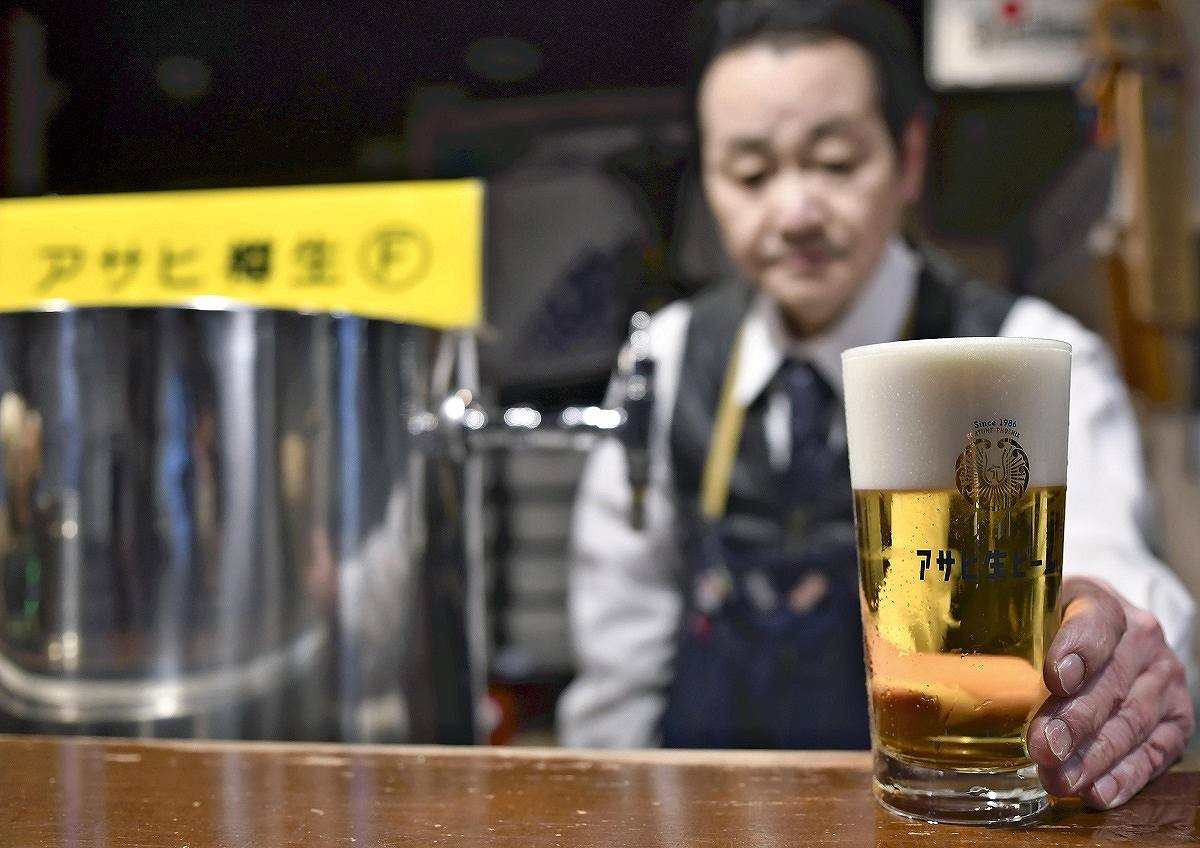 An Asahi official opined, "The revival of home-use products has a synergistic effect in that it also increases demand from restaurants."
During a period of sluggish sales, Asahi staked its survival on Maruefu. Its mild flavor proved popular, and together with "Super Dry" — launched the following year — Maruefu helped turn the company around. Super Dry, however, became a massive industry-changing hit, and in order to prioritize Super Dry, the company stopped selling Maruefu to consumers in 1993. Thereafter, it was only available at a limited number of restaurants.
Maruefu was reinstated as a household consumer product amid the coronavirus pandemic. With demand for home drinking increasing, the company turned its attention back to the previously popular product. A retro-inspired commercial featuring actress Yui Aragaki became a hit, and the product sold so well that production fell behind demand within three days of its launch. The black beer type, introduced in February last year, also sells well.
The revivalist trend is spreading among other makers, too. In November, Lotte Co. revived "Coffee Gum," a once-popular product that was sold from 1962 to about 1990. Lotte recreated the flavor and original packaging and put it back on the market. The product became very popular and Lotte received many inquiries asking "Where can I buy it?"
Meiji Co., meanwhile, began selling in April original versions of five of its long-selling products, including "Takenoko no Sato," "Apollo," and "Meiji Milk Chocolate," for a limited time. The packaging — reminiscent of the products when they were first released — quickly became a hot topic on social media.
Low costs
The nation's declining birthrate is a major factor in the popularity of the vintage snacks. For confectionery manufacturers in particular, the drop in the number of children directly affects their business.
The old-school versions of the foods appeal to both children and nostalgic adults. In 1985, Japan had more than 26 million under-15s, but this number had nearly halved by 2021 while the confectionery market has remained flat for the past 20 years.
When the population was growing steadily, makers could create numerous new products and expect mass consumption if even only one of them became a hit. But now that the birthrate is declining at an accelerated pace, sales are often not high enough to recoup development costs in some cases. The big advantage in reselling new versions of older products is that it saves development and advertising costs, as well as the time it takes to launch a product.
The trend toward strengthening long-selling staples is reflected in the number of available products. In the past, nearly 1,000 different kinds of mineral water products were sold, but this number had dropped to 256 by 2021, according to a survey by the Japan Soft Drink Association.
"Amid growing uncertainty over the future due to the coronavirus disaster, retro goods have managed to capture the hearts of consumers seeking reassurance from familiar products," said Masuji Ikeda, a researcher at the Distribution Economics Institute of Japan. "The trend toward strengthening long sellers will continue."
Add TheJapanNews to your Google News feed.