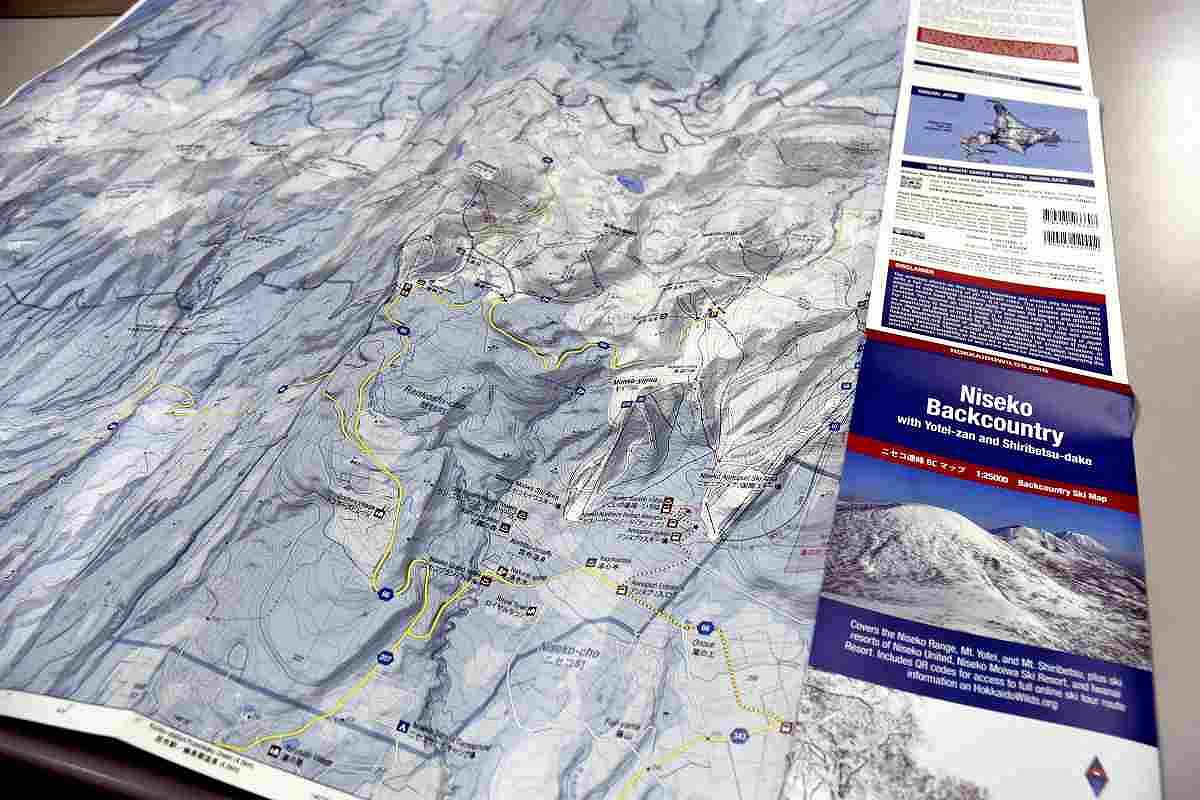 14:20 JST, February 7, 2023
SAPPORO — Amid the growing popularity of skiing in the wilderness outside ski resort boundaries, a map in English showing the Niseko mountain range and its surrounding backcountry routes has been published for foreign visitors.
While the map includes useful information on safety precautions and manners, local tourism officials are concerned about an increase in accidents.
Released last December, the map is called Niseko Backcountry. It covers the topography of the Niseko mountain range, Mt. Yotei and Mt. Shiribetsu. It is waterproof, tear-resistant and foldable, measuring 66 centimeters in length and 97 centimeters in width when unfolded.
Place names are written in English and Japanese, with approximately 50 routes shown. It also includes information on what to do in case of emergency, on being prepared for an avalanche, the location of parking lots and so forth.
It was created by Robert Thomson, 42, together with colleagues. Thomson is an associate professor at Hokusei Gakuen University who is originally from New Zealand. He also runs the outdoor information website HokkaidoWilds.org.
Work on the map began in 2021 and it was completed after conducting on-site interviews and exchanging opinions with local guides and authorities, with some routes identified as dangerous being deleted.
The aim of the publication is to effectively convey safety rules and etiquette to foreign skiers visiting the Niseko area. Their numbers are expected to rise again now that the central government has eased the entry restrictions imposed to cope with the COVID-19 pandemic.
"Handing out leaflets is common, but they're often ignored," Thomson said, referring to flyers with safety warnings to skiers. "You have to supply a product that skiers actively seek out themselves, in order to get information across."
The map includes the "Niseko Rules" such as, "Do not go out of ski areas when gates are closed."
"There is a high level of perfection to this map," said Akio Shinya, 75, director of the Niseko Avalanche Research Institute, a private organization that helped establish the Niseko Rules and disseminates avalanche information for the area online.
"There were no maps tailored to foreigners before and there should have been one," Shinya said. "Having people read the map will be effective in preventing accidents, [but] conditions in the mountains change every day. So it will depend on how you make use of the map."
Makoto Yamada, 49, head of the Niseko Winter Guide Association, sounded a note of caution about the map, saying: "Unlike summer in the mountains when there are trails, the way snow accumulates in winter changes every day, depending on the direction the wind blows. Having these routes depicted on the map may give people the wrong idea that these routes are safe."
Another tourism-related official pointed out that the map could increase parking on the street at places from which ascents are made and lead inexperienced people into the backcountry.
Thomson countered their arguments, saying: "There are many backcountry guidebooks and a lot of backcountry information on the internet in Japanese. There is more danger associated with the number of foreign skiers increasing without proper information available for those foreigner skiers."
The map costs ¥2,000 and can be obtained at ski equipment stores and lodging facilities in the Niseko area, as well as online. A first run of 3,000 copies were printed and approximately 750 have been sold. Proceeds will be donated to local groups such as an avalanche prevention organization.
Add TheJapanNews to your Google News feed.