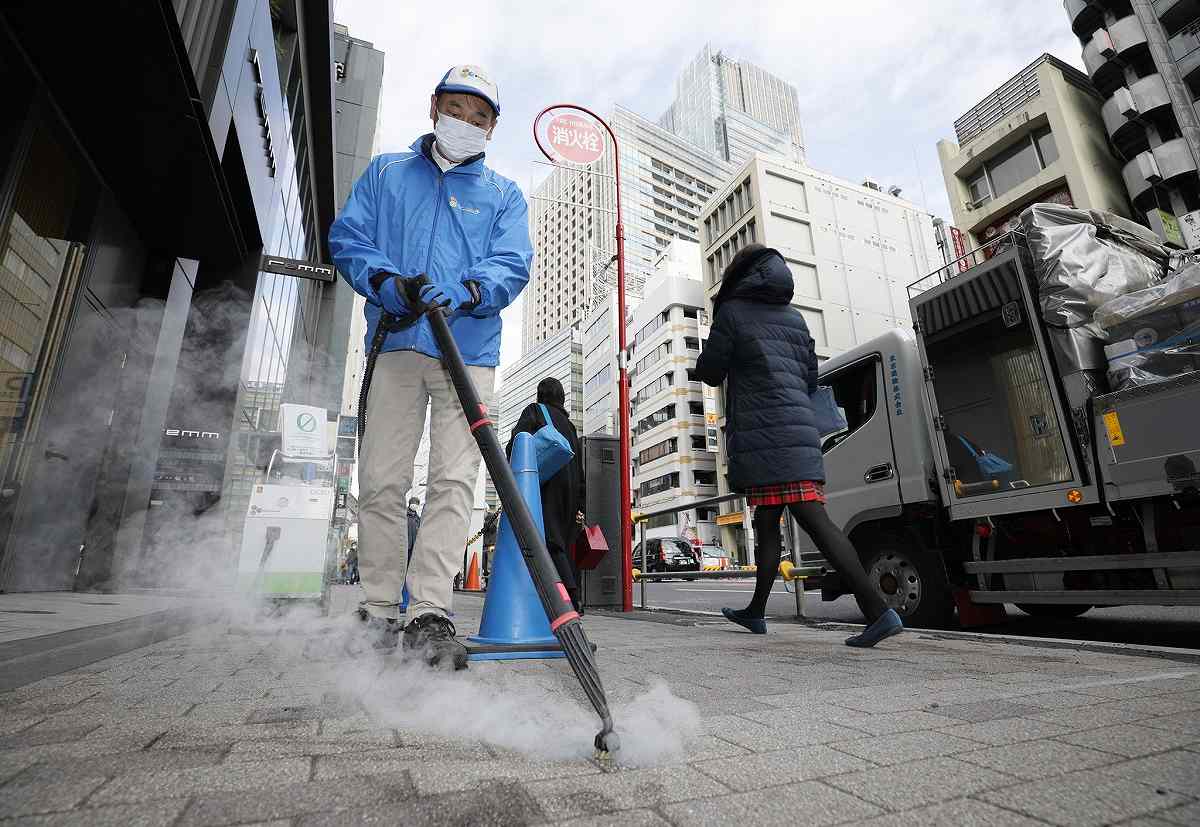 11:41 JST, January 30, 2023
TOKYO (Jiji Press) — For more than 20 years, Seiichi Miyamoto has engaged in the removal of chewing gum stains from sidewalks, getting rid of over 4.6 million such stains.
A native of Nagano City, Miyamoto is an executive of Tokyo-based Gumclean Co., the only professional chewing gum waste removal service provider in Japan.
The company receives orders from local governments and shopping districts to clean up towns and cities. "We hope to create an environment where people can walk comfortably," said Miyamoto.
One day this month, Miyamoto was deftly polishing the ground at a crossing in the Roppongi district of Tokyo's Minato Ward. After a British-made machine sprayed 130 C steam and cleaning liquid on chewing gum stains, they softened and were easily removed with a brush.
According to Miyamoto, each chewing gum stain can be removed in 10 seconds, and up to around 1,300 per day.
"Gum waste tends to decrease in places that have been cleaned up," Miyamoto said.
Chewing gum production is down some 40% from 20 years ago, and gum waste on the streets is also on the decline. Still, there are black spots everywhere that seem to have been there for a long time.
Miyamoto was in his late 30s when he joined Gumclean at the invitation of an acquaintance who was a shareholder in the company. At the time, he was the company's only full-time employee.
In his first year, the company received only one order as few local governments were willing to allocate budget funds for the removal of chewing gum waste, which was mostly done manually by volunteers at the time.
Miyamoto recalled a customer asking him, "Are you saying that someone could fall to the ground and get hurt if there are gum stains?"
"I felt like the very reason for the company's existence was being denied," he said.
As he continued efforts to convince customers of the need to remove chewing gum waste, the number of people showing interest in the service gradually increased. Now, the company receives over 100 orders annually.
In recent years, asphalt sidewalks have been increasingly replaced with better-looking tiled or other sidewalks. Miyamoto said he gets frustrated if such new roads are left with stains.
"Japan is good at building things, but I wonder if people are not interested in maintaining them," he said.
In the wake of the COVID-19 pandemic, which prompted people to wear face masks, the amount of chewing gum litter on the streets decreased drastically.
Miyamoto said he hopes that chewing gum waste will continue to decrease even after people stop wearing face masks.
"I believe that showing gum waste removal work will enlighten people," he said.
Add TheJapanNews to your Google News feed.