Japanese Police to Expand Scope of Online Content Subject to Takedown Requests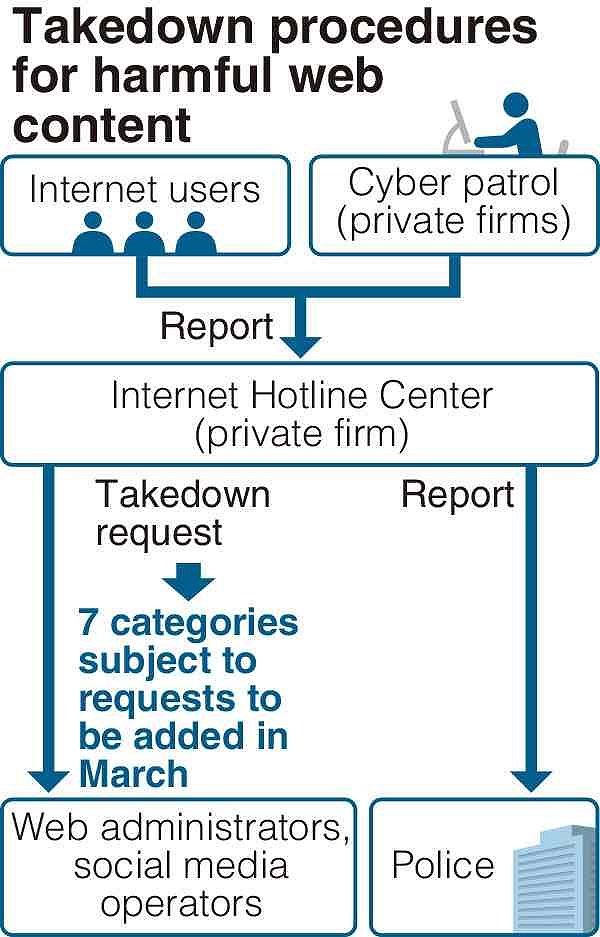 7:00 JST, January 27, 2023
The National Police Agency plans to expand from March the scope of online content subject to takedown requests, which are issued to the operators of sites hosting illegal or harmful material.
The measure, announced Thursday, comes in the wake of the fatal shooting of former Prime Minister Shinzo Abe by a suspect who used a homemade gun created by following online instructions.
Seven categories will be added to the list of content subject to takedown requests, including material related to gun manufacturing, murder and robbery. The measure is also aimed at preventing crimes such as the recent spate of violent robberies across the nation.
According to the NPA, cyber patrols are conducted by police forces and private companies commissioned by the police agency. Information collected by private companies is consolidated and sent to the Internet Hotline Center (IHC), which has been responsible for issuing voluntary takedown requests to website administrators and social media operators since 2006.
The cyber patrols are on the lookout for illegal content such as child sexual abuse images and drug-related materials, and harmful content such as solicitation to commit suicide
All illegal content is currently subject to takedown requests. However, solicitation to commit suicide is the only form of harmful content subject to such requests.
The fatal shooting of Abe in July highlighted the risk of overlooking dangerous online content. The suspected shooter Tetsuya Yamagami, who has been indicted for the murder, made a lethal weapon after watching instructional videos online.
From March, the type of material subject to takedown requests will include content related to weapon sales; gun and explosive material manufacturing; murder, robbery and arson; organ trafficking; human trafficking; hydrogen sulfide gas production; and stalking.
The seven categories had been subject to IHC takedown requests but were removed in fiscal 2016 because the government's Administrative Reform Promotion Council said the categories overlapped with those on the list of another organization.
From March, posts that include requests for robbery accomplices, or offers of unrealistically "high-paying jobs" will trigger takedown requests if criminal activity is suspected.
However, according to the NPA, there have been many cases in which international website administrators have not complied with voluntary takedown requests. There have even been problems tracing domestic administrators or getting them to comply with the requests.
The IHC was alerted to 212,865 cases of suspected illegal or harmful content between January to June last year, up 33,357 from the same period in the previous year.
Among those cases, the IHC issued 710 takedown requests for illegal content and 1,141 for content soliciting suicide. However, 469, or 25%, had not been taken offline as of Oct. 1.
Add TheJapanNews to your Google News feed.