Day Cares for Children with Disabilities Affected by 4,100 Accidents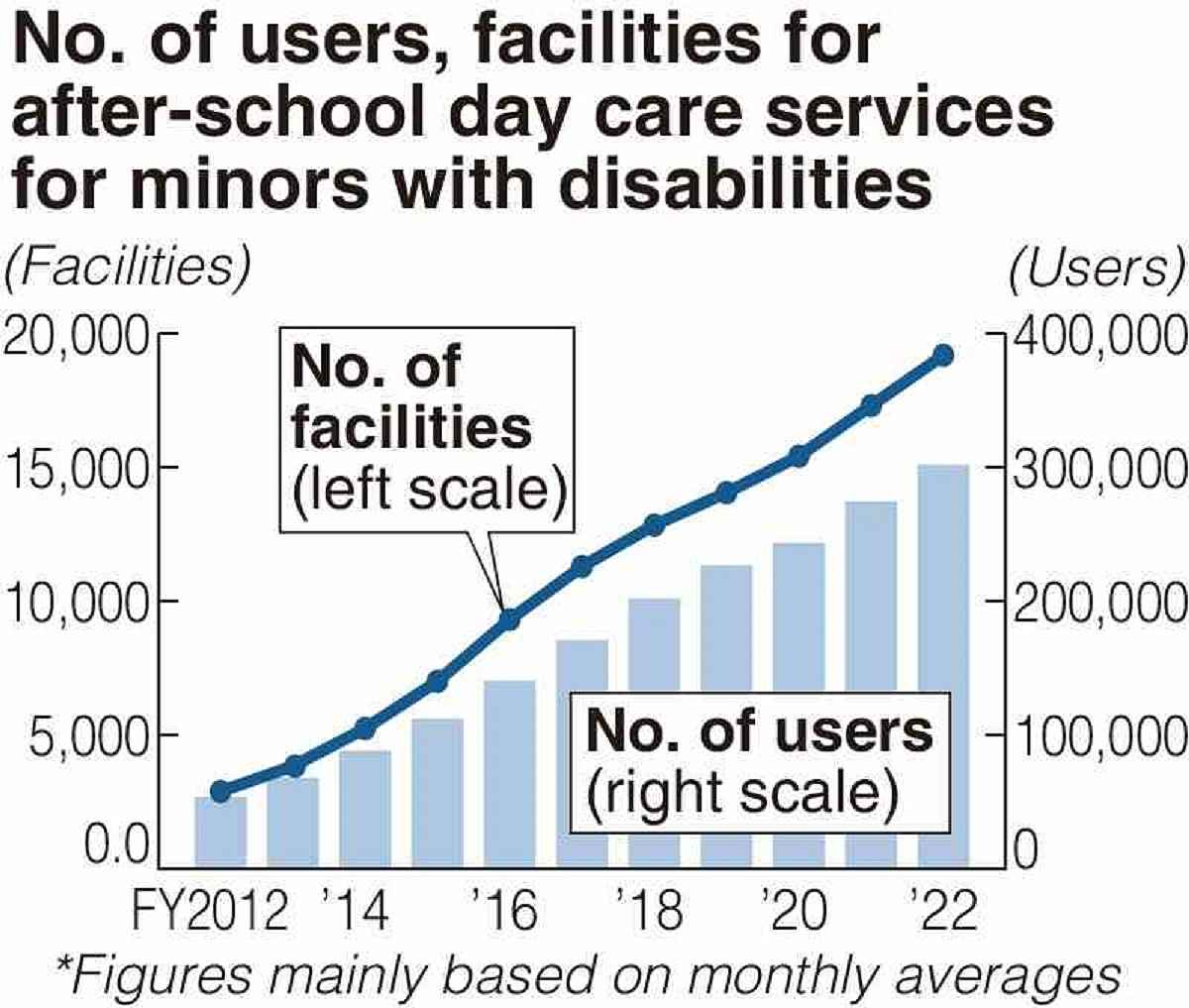 11:23 JST, January 25, 2023
Some 4,100 accidents, including eight fatalities, were reported by after-school day care services for minors with disabilities in the 10 years since fiscal 2012, a recent nationwide Yomiuri Shimbun survey has found.
Following a revision to the Child Welfare Law, a system began in fiscal 2012 for facilities designated by local governments to accept children with developmental or intellectual disabilities between the ages of six and 18.
About 90% of the accidents were injuries, and there were also about 350 cases in which children were said to have gone missing temporarily. There is no obligation for facilities to report accidents to the central government, and some local governments are urging a system for sharing and investigating such cases.
The survey was conducted from November to December last year by querying 108 local governments, all prefectural or ordinance-designated city governments with the authority to designate facilities to operate the service. Of them, 96 responded as to whether there were any deaths, injuries or missing persons.
The Arakawa Ward Office and three other ward offices in the capital, which had the relevant authority delegated to them from the Tokyo metropolitan government, gave valid answers. However, the Tokyo metropolitan government did not provide answers, saying it does not disclose such information.
According to the survey, a total of 4,097 accidents had been reported by the end of October last year. Of them, 3,742 cases involved bruises or other injuries, eight resulted in death, and 347 involved individuals going missing temporarily such as while on a walk.
Due to such factors as the expiration of the relevant data's retention period, 94% of the cases found in the survey were from sometime in fiscal 2017 or later.
Three deaths occurred in Aichi Prefecture, and one each in Miyagi, Fukushima, Fukui, Yamaguchi and Osaka prefectures, according to the survey.
In the deaths of three persons, who died by drowning in a reservoir or river or by choking on food, relevant local governments imposed administrative penalties on the facilities for having failed to take proper measures, or else issued guidance.
Operated by social welfare corporations and companies, after-school day care services for minors with disabilities aim to help users enhance their life skills. There are 19,000 facilities nationwide with about 302,000 users.
Add TheJapanNews to your Google News feed.