Hokkaido Seeks to Prevent Traffic Accidents Involving Foreign Visitors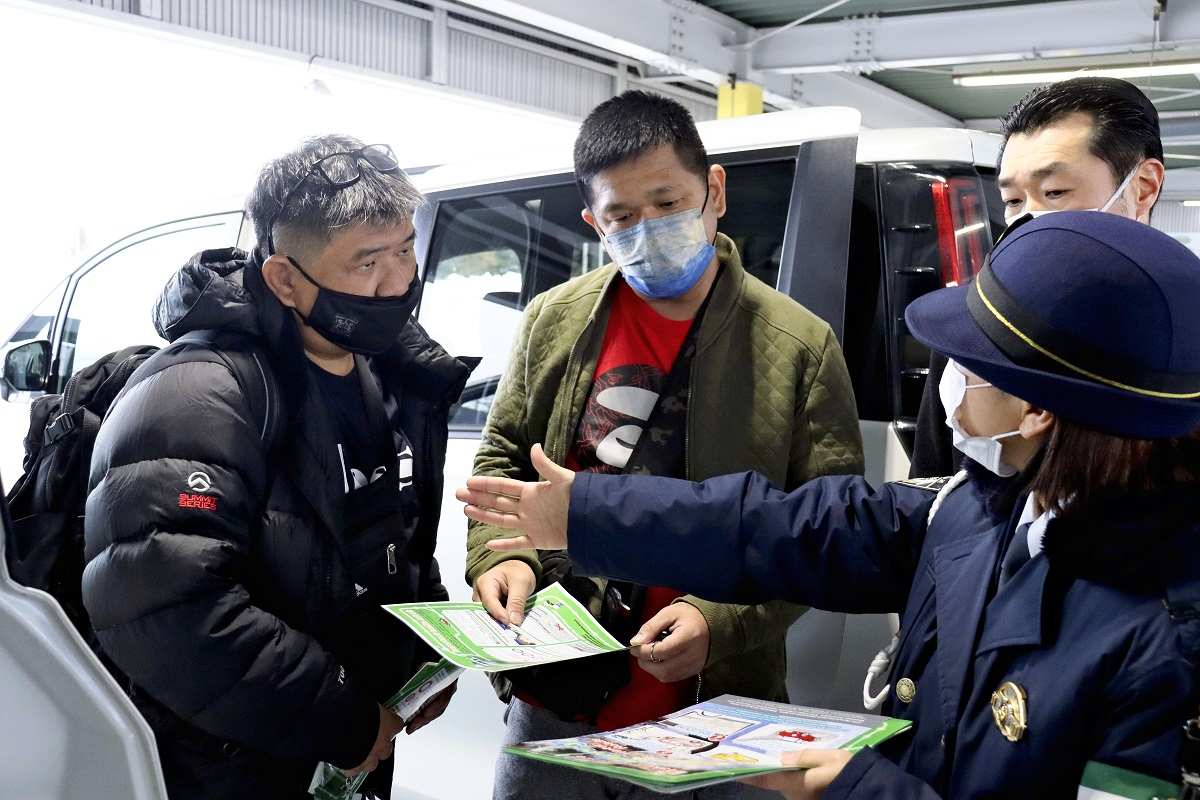 21:00 JST, January 22, 2023
SAPPORO — Efforts to prevent accidents involving foreign visitors driving on snow-covered roads are being made in Hokkaido, following the relaxation of border control measures against COVID-19 last year.
There are concerns about an increase in traffic accidents involving foreign visitors in rental cars who are unfamiliar with snowy roads and have limited understanding of road signs, and the Hokkaido prefectural police and car rental companies are focusing their efforts on addressing these problems.
Fatal car accidents
"Snow makes a car slide, so please drive carefully," said an official of Toyota Rent a Car Sapporo's New Chitose Airport Poplar office.
Hokkaido prefectural police officers and staff from the car rental firm on Friday distributed to foreign tourists English-language flyers explaining the dangers of sliding due to sudden braking or steering, and the meaning of key road signs. A company employee from Singapore who was visiting Hokkaido for the first time expressed the need to drive carefully due to the snow on the ground.
According to the police, there were 27 accidents involving personal injury caused by foreigners in rented cars in Hokkaido in 2018 and 42 in 2019. This number dropped to 12 in 2020, two in 2021 and 14 in 2022 after the spread of the coronavirus.
On Jan. 10, a passenger car driven by an Indian national living in Singapore who was visiting Kamifurano with his family collided with a dump truck at an intersection in the town. The man's wife and second-oldest daughter were killed.
There was a stop sign and the man is believed to have understood what it meant, but he was probably late in seeing the dump truck due to the piles of snow around him, according to the police.
In December, a passenger car driven by a man from Hong Kong rear-ended a camping car waiting at a traffic light on National Highway Route 5 in Nanae. His tires are believed to have slid on the icy road surface.
Increased use of rental cars
According to the Haikodae area rent-a-car association in Hakodate, the number of rental cars used by foreigners soared to 479 last year, compared to 33 in 2021. In December, 0.55% of Japanese users were involved in an accident, compared to 4.07% for foreigners, more than seven times higher.
"They probably think that if they have studless tires, the car will stop even if it slides on snowy roads," an official of the association said.
According to Nippon Rent-a-Car Hokkaido in Sapporo, the use of rental cars by foreigners in December has recovered to about 80% of its pre-pandemic level, with many people coming from Singapore, Hong Kong and Thailand.
The company's shops promote safe driving with leaflets in English and Chinese explaining the dangers of black ice on frozen roads that only look wet.
Add TheJapanNews to your Google News feed.