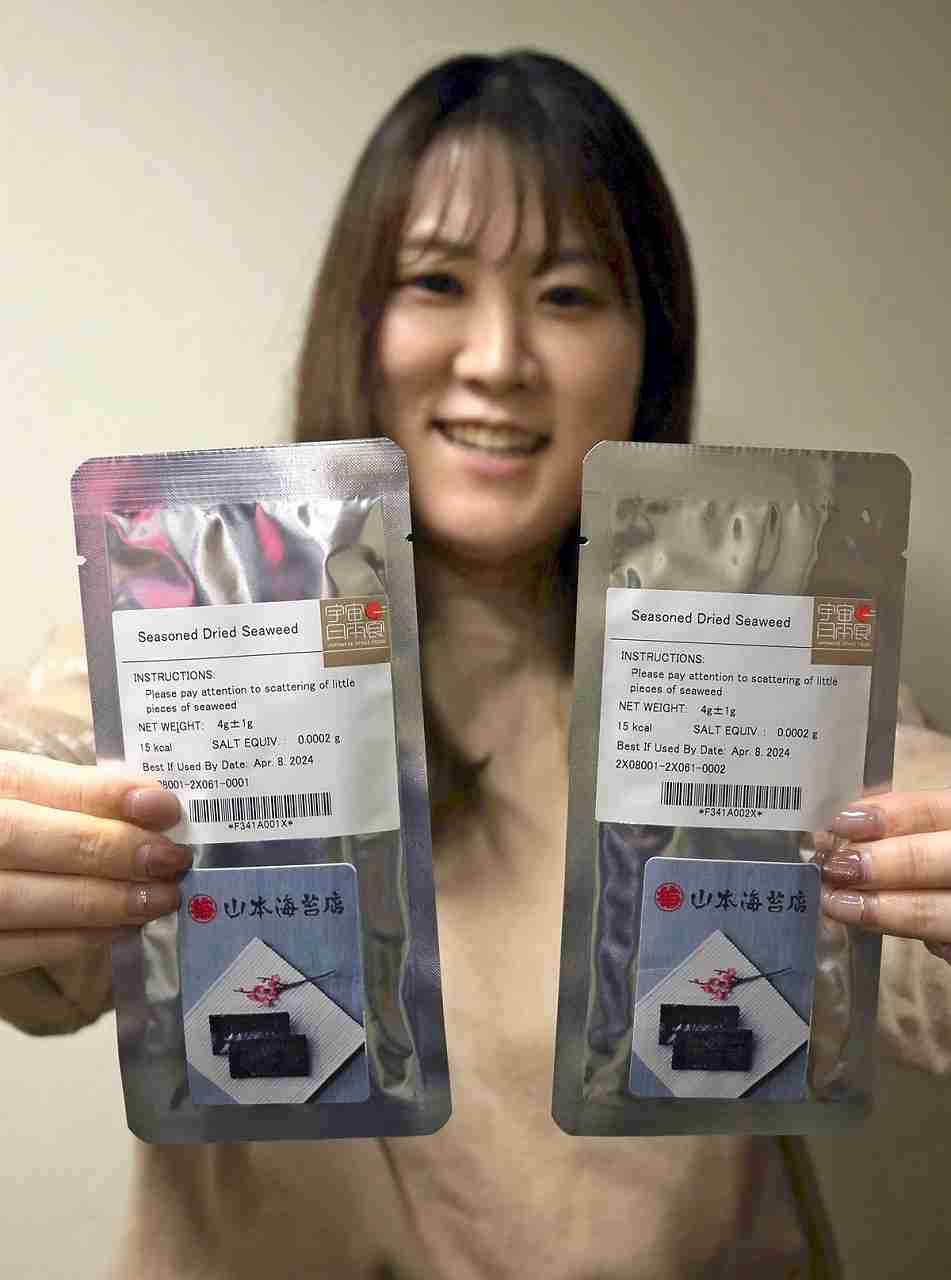 10:57 JST, January 21, 2023
Any company hopes its products are regarded as out of this world. For Yamamoto-Noriten Co., a Tokyo-based manufacturer of nori seaweed products that dates back to the Edo period, it's been there, done that.
Seasoned nori dried seaweed that the company developed at the request of the Japan Aerospace Exploration Agency (JAXA) was delivered last year to a multinational crew of astronauts on the International Space Station (ISS).
It marked the culmination of five years of research and development, and heralds what the company says is that start of an "era when astronauts from other countries eat traditional Japanese nori."
JAXA has been carrying out a project to certify "Japanese space foods" for consumption by Japanese astronauts, with the aim of offering familiar tastes of home to help relieve stress in outer space.
The products supplement the standard meals provided by the United States and other countries for astronauts aboard the ISS. In 2007, JAXA selected the first 29 of these "bonus meals" made by 12 food manufacturers.
Currently, the selection includes 50 items from 28 sources, ranging from yakisoba noodles to curry to yokan, a sweet red bean paste product.
The space nori developed by Yamamoto-Noriten comes in a sealed package containing 10 sheets, and features the same refined flavor as the seasoned nori that the company produced for the first time in Japan in 1869.
Shinobu Soyano, 47, was in charge of development. In 2013, when he was a section chief in charge of sales and product development, Soyano was approached by JAXA, which said, "[Japanese] astronauts are telling us, 'We want to eat mochi rice cake wrapped in nori in space.' Can you make it?"
Soyano, who had never been involved with anything dealing with space, thought, "That would be great if they could eat it in space so far away." Readily accepting the challenge, he set out on development the following year.
The company manufactures its product under the standards used by the National Aeronautics and Space Administration (NASA), which are based on the stringent food safety system known as HACCP (Hazard Analysis Critical Control Points).
To be certified as a space food, it had to pass a battery of tests that, among other aspects, check for microorganisms or confirm the moisture content and texture after 18 months of storage. "The documentation was grueling, and I once had to write about 400 pages by myself," Soyano recalled with a smile.
Among the many requirements that the company had to implement were using a metal detector to keep out foreign substances during the production process and mandating the wearing of gloves in each step of the operation.
After extensive research, the company was able to achieve certification in 2019 for a seasoned nori coated with a sauce that prevents flakes from flying around in the weightlessness of space.
Tasting the nori for himself, Soyano thought, "It's the same taste as seasoned nori fresh off the line."
(subhead) Passing the taste test
The completed space nori was chosen as a bonus meal for Soichi Noguchi, who flew aboard the U.S. commercial spacecraft "Crew Dragon" to the ISS in November 2020.
Soyano watched on TV as Noguchi poured space soy sauce onto his meal of space rice and space nori. It was a moment of great joy as he saw it as a payoff for his years of hard work.
With the favorable reviews, JAXA decided to arrange to have it provided to astronauts from other countries as well. Last year, it was selected for the first time as a bonus meal for a multinational crew of astronauts on the ISS.
Soyano imagines a future scene of the nori being eaten widely by Japanese and international astronauts alike. "Nori goes well with any dish," he said confidently.
Soyano said the next goal is to make a "snack nori" for space in which dried granulated plum or mentaiko (salted cod roe) is put between sheets of nori. "The hurdle becomes higher, but I will keep trying," he said.
Add TheJapanNews to your Google News feed.