Popularity of International Schools in Japan Raises Questions over Schools' Legal Status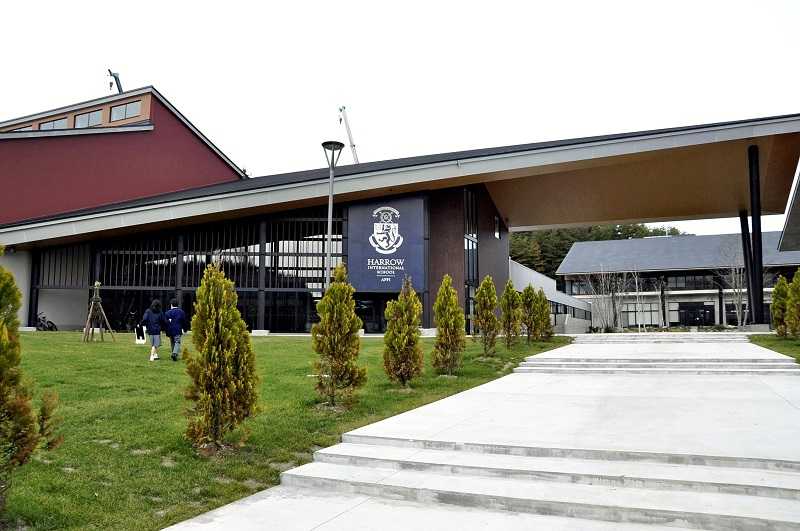 12:38 JST, January 15, 2023
International schools are a growing presence in Japan amid burgeoning demand from parents seeking a full-fledged English-language education for their children. However, many such institutions are not regarded as "schools" under Japanese law, so their students do not qualify for Japanese elementary or junior high school diplomas.
In an effort to obtain diplomas for their children, some parents temporarily enroll their kids in Japanese municipal schools. But teachers at municipal schools are struggling to deal with the situation and the government has not taken proactive steps to deal with the issue. Experts have called on the government to fully assess the situation and develop a system to evaluate the education that children receive at international schools.
¥9 mil. per year
Harrow International School Appi-Japan was established in Hachimantai, Iwate Prefecture, in August last year. It is a boarding school affiliated with Harrow School in the United Kingdom, whose alumni include such luminaries as former British Prime Minister Winston Churchill. About 180 individuals from 12 countries and regions enrolled in Harrow Appi's first academic year, ranging from sixth-grade elementary schoolers to third year junior high school students. About 40% of the students are Japanese nationals. Looking ahead, the school expects to have about 920 students enrolled in grades ranging up to the third-year of high school.
All classes are taught in English and the school employs a cross-subject curriculum that leverages digital technology. Annual fees are about ¥8.5 million to ¥9.3 million, including dormitory fees.
Headmaster Michael Farley, 59, said Harrow Appi is based on the British public school system, which sets it apart from Japan's other international schools.
More and more prestigious British schools are making inroads into Japan: Rugby School, which is known as the birthplace of rugby, is scheduled to establish a school in Kashiwa, Chiba Prefecture, in August, while Malvern College, which boasts more than 150 years of history, plans to open an affiliated school in Kodaira, Tokyo, in September.
"Britain has made the exporting of education a national strategy," said Manabu Murata, an international education commentator. "It's a strategy that has met the needs of Japanese parents, especially those with high incomes, who want their children to receive a high-level education in English."
The Education, Culture, Sports, Science and Technology Ministry does not keep track of the number of international schools in Japan, but Murata said there are at least 80 such institutions.
Legal definition
Many international schools are not regarded as "schools" as defined by Article 1 of the School Education Law. So-called Article 1 schools are defined as institutions that provide classes in line with the government's Courses of Study. As such, students attending international schools do not qualify for diplomas from Japanese elementary or junior high schools. The law also obliges parents or guardians to send their children of Japanese nationality to Article 1 schools.
To avoid a situation in which children who attend international schools cannot qualify for admission to domestic high schools or universities, some parents have temporarily enrolled their children in Japanese municipal schools, with some attending for only a few days. While it down to local governments to decide whether this kind of temporary attendance qualifies such children for graduation, the situation could lead to an increased burden on the municipal schools that accept such students, and negatively affect the nation's compulsory education system.
At a public junior high school in Tokyo, 10 students of international schools attended the Japanese school for a week in July, when their international schools were on summer break. These students did not study at the junior high school, so they cannot receive grade reports, However, the school's principal said, "As long as they're enrolled, we have no choice but to give them a diploma."
Conversely, Setagaya Ward does not allow students to simultaneously enroll in Japanese municipal schools and international schools. Preparing educational materials for students who attend only for a short period of time increases the burden on teachers, so the local government requires that a school withdrawal certificate be submitted prior to attending a ward-run elementary or junior high school.
"There's an issue with school attendance requirements, but I want my child to attend an international school from elementary school age to put priority on his English ability," said a 42-year-old homemaker in Hachioji, Tokyo, whose 5-year-old son attends an international kindergarten.
A 50-year-old company employee in Tokyo's Itabashi Ward, who is considering having her 8-year-old daughter attend an international school, expressed concerns, saying: "I'm worried whether she'll acquire as wide a range of knowledge as she would do at a Japanese school. Once she enters an international school, she might not be able to return to a Japanese school."
Quality assessment
Some international schools have been certified as Article 1 schools, however. For example, Jinseki International School in Hiroshima Prefecture, which opened in April 2020 for elementary school students, combines Japan's Courses of Study with an international educational program developed for schools around the world, and even offers classes on weekends.
So-called free school — intended for students who have fallen out of the mainstream education system — are not regarded as Article 1 schools, but the law on ensuring educational opportunities lets students study at such facilities, allowing the principals of such students' Article 1 schools to recognize attendance at the free school as part of the students' learning records. However, children who attend international schools are not subject to this law.
The education ministry does not plan to take any concrete action. "All we can do is request boards of education to urge [international school students] to attend Article 1 schools," an official said.
Akira Jinnai, a lawyer and associate professor at Hyogo University of Teacher Education, criticized the ministry's tepid stance, saying: "The government shouldn't tolerate a situation in which some children are enrolled in public schools but are actually attending international schools. Firstly, the government should try to thoroughly understand the current situation regarding children who attend international schools, then consider a system to properly evaluate the quality of what's being taught, among other factors.
Add TheJapanNews to your Google News feed.