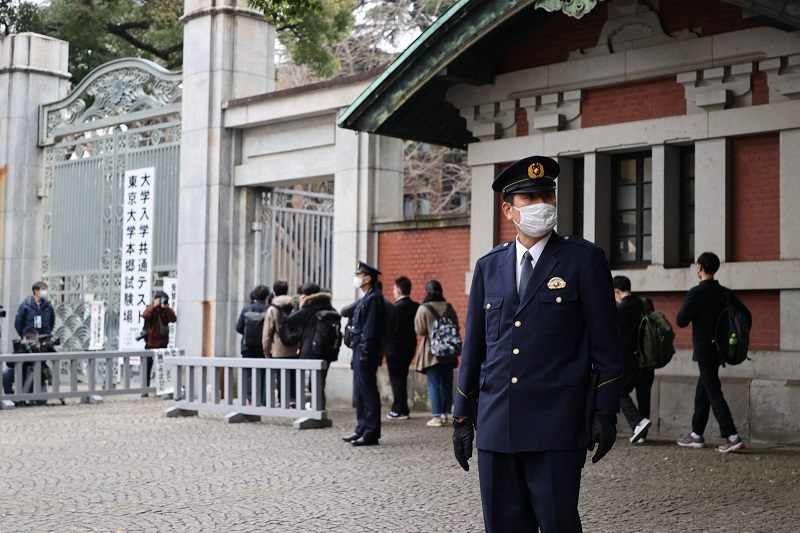 11:13 JST, January 15, 2023
TOKYO (Jiji Press) —- Japan's two-day unified university entrance examinations kicked off at 679 venues around the country on Saturday.
Safety and anti-cheating measures have been ramped up in and around venues, after last year's exams saw a stabbing incident that resulted in test-takers being injured and a leak of exam questions. Meanwhile, measures regarding COVID-19 were eased from last year.
On the first day, applicants took tests on geography and history, civics, and Japanese and foreign languages. The second-day tests will cover science and mathematics.
On Saturday, the testing time was mistakenly shortened by five seconds to a minute for those who took the exams at Meiwa High School in Nagoya in the central prefecture of Aichi, Osaka Kyoiku University's campus in Kashiwara, Osaka Prefecture, western Japan, and Hiroshima International University's campus in Kure in the western prefecture of Hiroshima, allowing a total of 197 applicants at the three venues to take retests, according to the National Center for University Entrance Examinations.
At the Faculty of Engineering at Yamaguchi University in Ube, Yamaguchi Prefecture, western Japan, where some 580 applicants took exams, a fire alarm went off right before the test on Japanese, delaying the start of the exam by 30 minutes for safety checks. The alarm was activated due to smoke from a machine in a nearby laboratory.
At seven venues in Tokyo, the start of Saturday's tests was pushed back by up to 100 minutes because of delays in train services on the Chuo Line of East Japan Railway Co. , or JR East.
According to the center for university entrance exams, the number of applicants fell by about 17,800 from last year to 512,581, of which around 85.2 pct are high school students.
The number of schools using the unified exams for admission decisions stands at a record high of 870, including 82 national universities, 92 public universities and 535 private universities.
The center is scheduled to announce average scores among test-takers on an interim basis Wednesday and final results Feb. 6. Whether to conduct score adjustments will be announced on Friday.
While maintaining its rules for test-takers to wear face masks and disinfect their hands as measures against the novel coronavirus infection, the test organizer changed its standards for requiring those who are ill on the test dates to cancel the exams and take makeup tests on different days.
Specifically, the requirement covers test-takers with fevers of 38 degrees Celsius or more, compared with last year's standards of 37.5 degrees or more.
The makeup exams will be held Jan. 28-29 at venues to be set up in all of Japan's 47 prefectures.
In the cheating in last year's exams, a test-taker sent images of questions to a collaborator outside the testing venue during the exam time using an internet telecommunications app in her smartphone.
The center is strictly enforcing a ban on smartphones this year by having all test-takers put their handsets on their desks before the start of the exams, turn off the devices and put them back in their bags.
It has also said that the use of earphones during the exams will be deemed as an act of cheating, with the exception of hearing aids or other devices that have been cleared beforehand by the organizer.
The test organizer has also warned applicants that it may file a damage report to the police if any cheating is found.
The education ministry has instructed universities offering test venues to strengthen patrols and cooperate with the police as necessary to ensure the safety of test-takers. On the morning of the first day of last year's unified university entrance exams, three people including two test-takers were injured in a knife attack near a University of Tokyo campus used as a venue.
Tokyo's Metropolitan Police Department is also on high alert, conducting a drill Tuesday in front of the main gate of the same University of Tokyo campus to prepare for any incident.
The unified entrance exams replaced the National Center Test for University Admissions in 2021.
Add TheJapanNews to your Google News feed.