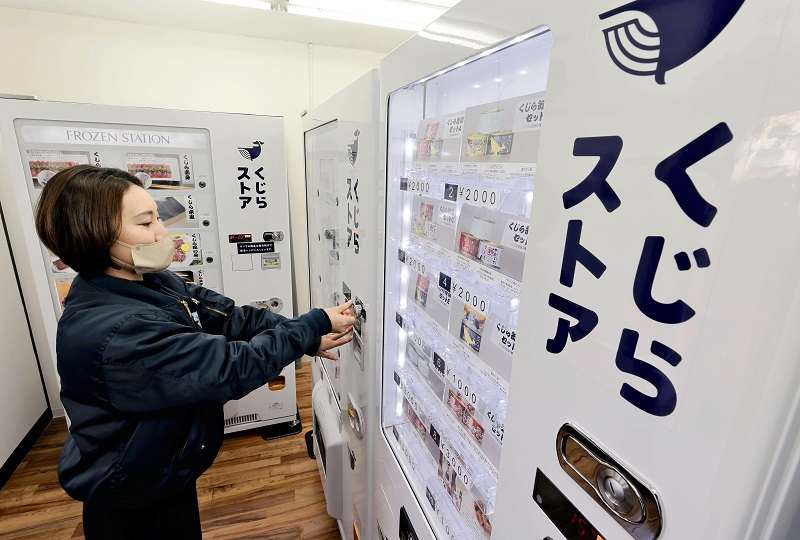 7:00 JST, January 15, 2023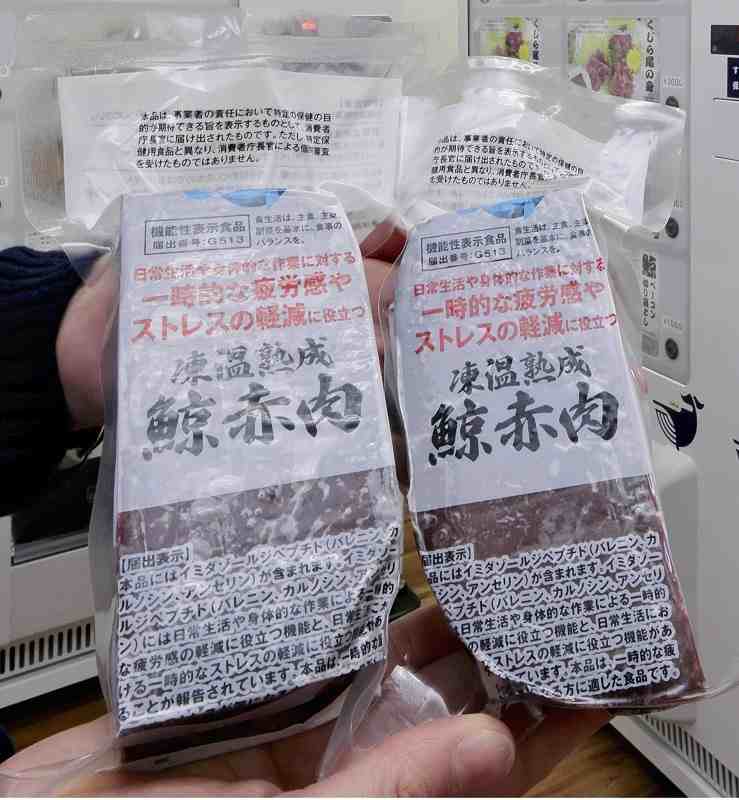 Japan's public and private sectors are promoting increased consumption of whale meat through such initiatives as vending machine "stores."
Kyodo Senpaku Co., a Tokyo-based major whaling company, will open four unmanned vending machine stores selling whale meat and processed whale meat products in Tokyo and other locations by mid-February.
This year marks the fifth year since Japan withdrew from the International Whaling Commission, and the concerned entities aim to increase uptake of whale-related foods as the first step in protecting the nation's whaling culture.
For its part, the Fisheries Agency aims to expand the nation's whale-catch quotas in around two years' time.
Test-marketing
Four vending machines sit on the first floor of a building near Keikyu Kojiya Station in Ota Ward, Tokyo. Next to the vending machines, a sign reads "Kujira (whale) Store".
The vending machines have been selling whale meat and related processed goods since late December. The products include frozen items such as red whale meat, which can be used for sashimi and rare steaks; skin; bacon; and sets of canned, cooked whale, including Yamatoni simmered meat.
"My father ate a dish of tatsuta-age [a kind of fried whale meat] with a nostalgic look on his face, and my eldest son in high school is a fan of shoyu-flavored whale steak," said Miki Yamanaka, a 43-year-old Ota Ward housewife who visited the store on Jan. 6. "I'm back again today to buy more."
Though the prices may strike some as high — ranging from ¥1,000 to ¥3,000 for single items — the store has seen a steady stream of customers. "We've been surprised by the brisk sales, which have outstripped our expectations," said 38-year-old Kozue Mihira, chief of Kyodo Senpaku's sales section. "We want to support people who say, 'I want to eat [whale meat], but I don't know where to find it.'"
The company plans to launch two additional unmanned stores in Tokyo and Yokohama's Motomachi district by the end of January and one in Osaka's Umeda district by the middle of February.
It also plans to sell "onomi" sashimi — a highly prized fat-rich section taken from near the tail fin.
The firm will monitor sales with an eye on increasing the number of stores to about 100 nationwide over the next five years.
IWC secession
Whale meat is deemed nutritious as it contains large amounts of protein and iron. Whale meat played an important role in Japanese households following the end of World War II, when many people struggled with food shortages.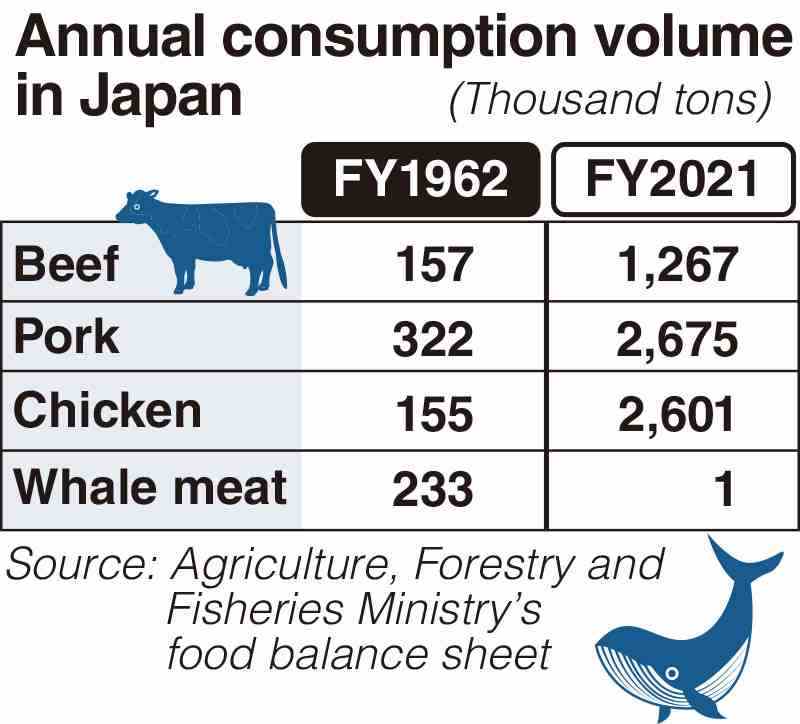 According to Agriculture, Forestry and Fisheries Ministry statistics, Japan consumed 233,000 tons of whale meat in fiscal 1962, eclipsing the figures for beef (157,000) and chicken (155,000).
However, the whale population began to decline drastically due to overhunting. In the 1980s, the IWC, which controls whale stocks as a marine resource, declared a moratorium on commercial whaling.
Japanese dietary habits subsequently changed, and the eating of whale meat quickly faded.
In the 2000s, anti-whaling organizations carried out fierce protests and took obstructive action against whaling ships. "Even now, some retailers remain hesitant about selling whale meat over fears of possible trouble," a whaling industry official said.
In 2019, Japan withdrew from the IWC and resumed commercial whaling inside Japanese territorial waters and exclusive economic zone (EEZ). However, the government specifies catch quotas to prevent adverse effects on stocks.
This year, for example, the quota is set at a total of 379 whales across three species, including Bryde's whale. Catches are thus lower than those seen from 1987 to 2019, when the nation conducted whaling for scientific research mainly in the Antarctic Sea. Since Japan withdrew from the IWC, domestic whale meat consumption has been relatively low at 1,000 tons to 2,000 tons per year.
A Kyodo Senpaku official expressed a growing sense of urgency, saying, "Unless domestic consumption increases, the traditional whaling industry won't survive and [elements of] Japan's unique dietary culture will be lost."
Icelandic imports
Despite the drop in whale meat consumption in Japanese homes, public and private entities have continued efforts to advance its uptake. For example, they have introduced whale meat into school lunches, promoted whale meat recipes and launched a website to showcase eateries that serve whale foods.
The unmanned stores are aimed at increasing opportunities for consumers to purchase whale meat, while the longer-term goal is to increase sales at supermarket stores and other outlets, too.
Kyodo Senpaku conducts sales campaigns primarily featuring raw whale meat for sashimi. Starting February, the company plans to annually import nearly 3,000 tons of fin-whale meat from Iceland in northern Europe.
Last October, the Japanese government attended the IWC's general meeting held in Slovenia as an observer. A senior official of the Agriculture, Forestry and Fisheries Ministry said, "There was no sign of compromise between countries opposing whaling and those who support it." In light of this, the government will not be rejoining the IWC for the time being.
As commercial whaling is likely to continue in the nation's territorial waters and EEZ, the Fisheries Agency plans to set new catch quotas. From 2024, it will expand its list of three legally catchable species to include larger whale types and is presently conducting research to that end.
Add TheJapanNews to your Google News feed.