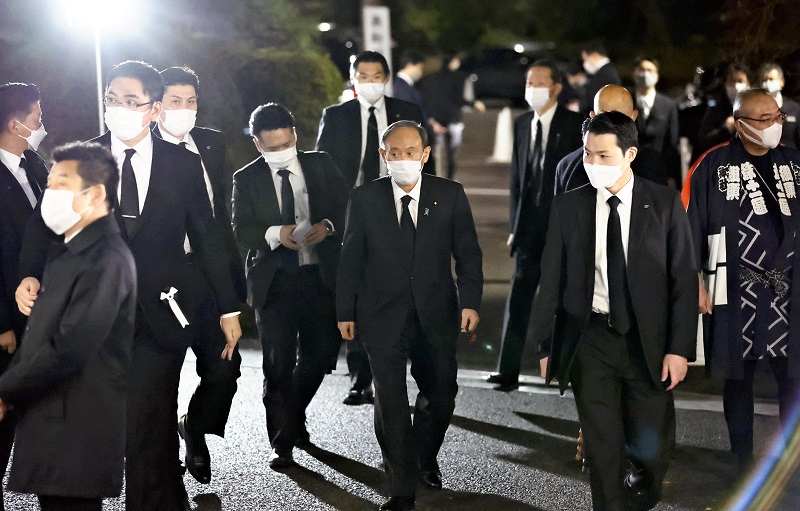 21:00 JST, January 9, 2023
Sunday marked six months since former Prime Minister Shinzo Abe was fatally shot while making a stump speech in Nara. The incident prompted a major review of the National Police Agency's VIP protection system. The NPA has since evaluated some 1,300 new protection plans submitted by local police last year.
Escort cars
On the evening of Dec. 26, former Prime Minister Yoshihide Suga arrived in a van at Zojoji temple in Minato Ward, Tokyo. Dozens of police officers kept watch as his entourage — including escort vehicles carrying Metropolitan Police Department security officers — arrived.
A car carrying former Prime Minister Taro Aso drew up shortly after, similarly tailed by a swath of escort vehicles. Suga and Aso were there to attend the funeral of a former Tokyo assemblyman-cum-Liberal Democratic Party bigwig. Security officers encircled Suga and Aso as they alighted from their vehicles and entered the temple.
Prior to Abe's murder, escort vehicles were only used when ferrying incumbent prime ministers around Tokyo, according to a police source. Now, however, security measures akin to those adopted for sitting leaders are used to protect individuals who have a strong influence on national politics, such as Suga, 74, and Aso, 82.
Strict screening
The Nara prefectural government's inadequate security plan left Abe unprotected from behind. Drawing on lessons learned from his death, the NPA in August revised its protection guidelines for the first time in 28 years, setting out a basic plan for VIP protection. The guidelines describe a system wherein the NPA evaluates draft protection plans compiled by the MPD and prefectural police forces nationwide.
In the wake of Abe's death, prefectural police have been dispatching considerable numbers of officers to events that previously were attended by far fewer staff, such as when a dignitary privately visits a movie theater or says a few words at a local athletic meet. The reason for this security uptick is that events such as these fall into the category of "occasions where an unspecified number of people gather." In one case, nearly 10 police officers were dispatched to a sports event.
As of the end of last year the NPA had examined 1,300 protection plans. In the first week of the initiative, however, the NPA ordered that more than 90% of the plans be revised, citing such flaws as not sending enough officers to an event, or failing to set up evacuation routes. Recently, however, such problems have been decreasing, and about 30% of the draft plans have passed initial screening.
Gaps in quality
The challenge is to raise the level of police protection across the board: Presently, quality differs from region to region.
According to a senior police official, police in areas visited frequently by VIPs — such as prefectures affected by the 2011 Great East Japan Earthquake, or Okinawa Prefecture, which hosts a U.S. military base — have a wealth of field experience and provide sophisticated protection. Conversely, police in regions without locally elected ministers, for example, have little experience in such matters.
The quality of the proposed security plans varies widely, too, with one senior police official saying, "I was horrified to find that one [particularly poor] plan had been overlooked."
To eliminate regional disparities, the NPA has doubled the number of prefectural police officers to be trained by the MPD in VIP protection. The NPA also reviewed the training system itself. Now, security police officers who guard dignitaries at close quarters must undergo advanced training, while police officers assigned to such tasks as lookout duties will be required to receive elementary training.
To ensure swift and effective protection, the NPA has also conducted on-site surveys of sites where politicians often deliver speeches, such as in front of major train stations.
"We're going to raise the level of VIP protection across the board, rather than merely concentrating on one specific area," a senior NPA official said.
Add TheJapanNews to your Google News feed.