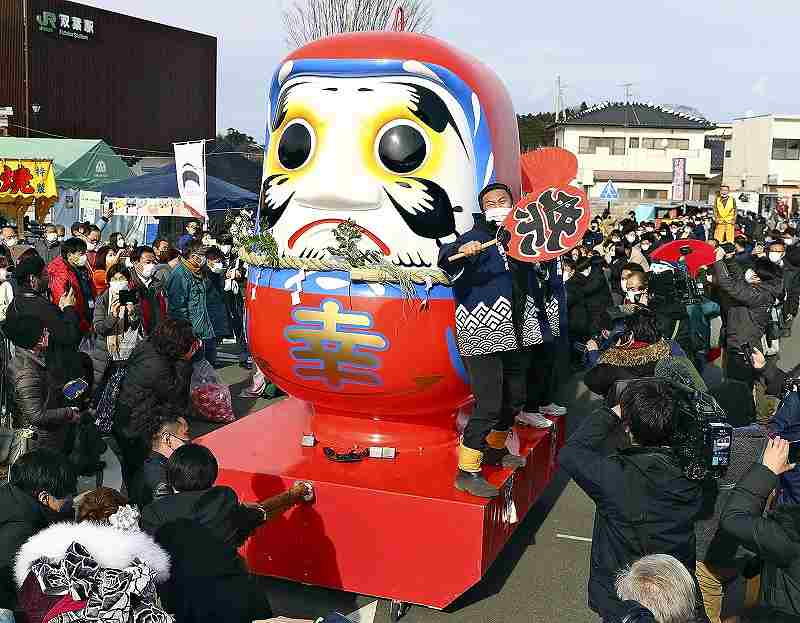 14:53 JST, January 8, 2023
FUTABA, Fukushima (Jiji Press) — A traditional daruma doll market was held Saturday in the town of Futaba, Fukushima Prefecture, for the first time in 12 years.
The event last took place in the town before the March 2011 major earthquake and tsunami and the ensuing nuclear disaster at Tokyo Electric Power Company Holdings Inc.'s Fukushima No. 1 nuclear power plant, which straddles Futaba and the town of Okuma.
Shops were set up in front of Futaba Station on East Japan Railway Co.'s Joban Line, and people celebrated the New Year with sales of the local specialty Futaba Daruma and a program in which participants pulled ropes attached to a giant daruma doll.
According to the town, Futaba's daruma market has continued for about 300 years since the Edo period (1603-1867).
Even after all residents were forced to evacuate after the nuclear disaster, volunteers held the event near a temporary housing complex in the city of Iwaki, Fukushima Prefecture, and other locations every year.
Residents began to return to Futaba after an evacuation order in an area near the station was lifted at the end of August last year. The move led to the decision to resume the market in the town, and an organizing committee comprising the local chamber of commerce and the town government was formed.
The Futaba Daruma comes in two types — Chosho Daruma, which is adorned with the town symbol in gold, and Taiheiyo Daruma, which features a blue border around its face and motifs of cherry blossoms and pheasant wings.
Dolls hand-painted by members of a local agricultural cooperative are sold at the shops.
"I wanted to show my daughter, who was born after the nuclear accident, where I grew up," said Kanae Nemoto, 34, a former Futaba resident who evacuated and now lives in the town of Hirono, Fukushima Prefecture.
"I'm happy to see the town bustling like before," Nemoto said as she visited the market with her 7-year-old daughter. "It was a good opportunity for me to come to the town."
Futaba also held a Coming-of-Age ceremony for 20-year-olds at the town office on Saturday afternoon, with 12 people in attendance.
"I met my classmates for the first time after a very long time and was also able to experience the atmosphere of a festival that I went to when I was little," Hana Yoshida, 20, who goes to a university in Tokyo, said. "I felt nostalgic."
Add TheJapanNews to your Google News feed.