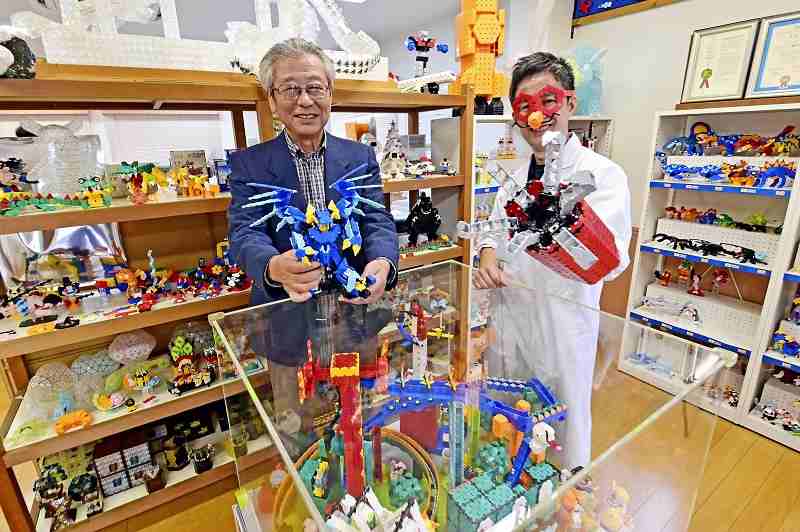 12:15 JST, January 6, 2023
Snap! Click! LaQ, a building block-type toy that allows users to get creative in building objects in various shapes, from flat-shaped ones to spheres, is incredibly popular, not only among children but adults, too.
LaQ, pronounced "la kyu," comes in 13 colors and has seven types of pieces: two base pieces, which are square-shaped and triangle-shaped, and five joint pieces. Each time the pieces are connected or disconnected, there is a satisfying snap and click.
This unique and educational toy, which is produced and sold by Yoshiritsu Co. in Oyodo, Nara Prefecture, is intended for children, but it has also attracted the attention of adults. Its popularity has also traveled overseas and is sold in about 30 countries and regions.
Trial and error
"I think it would be interesting if we could make blocks that could be used to build bookshelves and closets."
Yoshiritsu President Hiroshi Kichijo, 78, kept that image in his mind while developing a new product in the late 1980s.
Yoshiritsu's first official product was an item that could open beer bottles with a simple push. However, with more canned beer hitting the shelves, Kichijo was unable to secure a stable number of orders.
"We must always be doing something new," is the motto Kichijo lives by.
When he was developing his new product, Kichijo was trying to create a cube-shaped block that could be used to build various shapes, depending on how they were pieced together.
Kichijo initially designed the blocks so all six sides would be attachable, but he ran into issues related to the strength and weight of the plastic.
Through trial and error, he conceived an idea of hitching flat pieces together, not cube-type pieces, when he was nodding off at a kotatsu heated table.
The Yomiuri Shimbun
He immediately drew designs for them and made flat square pieces and triangle pieces for the base pieces, which measure 2 centimeters on each side. He also designed the joint pieces that could be used to create 90-, 120- and 180-degree angles, which could be joined together to form a curve or sphere. In 1994, the company launched LaQ.
Initial struggle
Unfortunately, however, it launched at a time when video games were very popular and LaQ was basically ignored at toy stores. The company's sales staff visited gas stations, dentist offices and other places to conduct door-to-door sales, but to no avail.
The turning point came in 1998 when a bookstore in Gojo, Nara Prefecture, told the company that the product was "selling well."
Yoshiritsu then started targeting bookstores. The company set up a LaQ section near the picture books department and provided some pieces for people to play with. The firm received a lot of positive feedback with such comments as, "children are hooked," making the product better known.
The popularity of LaQ was also welcomed by bookstores, which had been suffering from a decline in sales. The company gradually increased its product lineup with themed sets, such as animals, dinosaurs and yokai supernatural beings.
Fun for all ages
In 1999, Yoshiritsu established the LaQ Geijutsusai art festival, a competition inviting enthusiasts to submit their original LaQ creations.
The company selects and gives awards to the best works each year. A variety of creations have been submitted at the LaQ Geijutsusai, including a grabber and a snake with a movable mouth.
"We see many creations with unique mechanisms one after another that even we, as the makers of LaQ, have never thought of before," said Ryosuke Yoshizumi, 44, an employee in charge of promoting LaQ.
Through the competition, Yoshiritsu realized that a surprising number of adults play with LaQ. As a result, starting in 2008, the LaQ Geijutsusai was divided into two categories — the junior category, which is for children under 13 years old, and the general category. The company has also developed some themed sets, such as Blue Dragon, with the help of previous winners.
LaQ has been spreading by word of mouth and is now sold in about 30 countries and regions, including China, Taiwan and South Korea.
"People around the world can have fun using blocks," said Kichijo. "We want to make sure more people will be able to play using LaQ."
History of Yoshiritsu
Hiroshi Kichijo founded and became the president of Yoshiritsu Co. in 1983 after he developed Sentol — a bottle opener that only requires a simple push — while working for his family's milk sales business.
The Yomiuri Shimbun


Yoshiritsu Co. head office building
The company's head office is located in Oyodo, Nara Prefecture, along the old main road that leads to the Ise Grand Shrines. The building used to serve as a resting place designated by the Kishu Tokugawa family, which ruled the area during the Edo period (1603-1867), to accommodate high-ranking guests.
LaQ is the company's flagship product, accounting for more than 90% of its sales. The Sentol bottle opener is still sold, but mainly in the overseas market, such as in the United States.
In 2014, Yoshiritsu began selling KoCaLiNi, a building toy similar to LaQ but the pieces are thinner and stronger and can be used to create decorative goods.
LaQ is sold in about 3,500 stores, mostly bookstores, nationwide.
Visit LaQ's official English website https://www.laq.co.jp/en/ for more information.
Add TheJapanNews to your Google News feed.