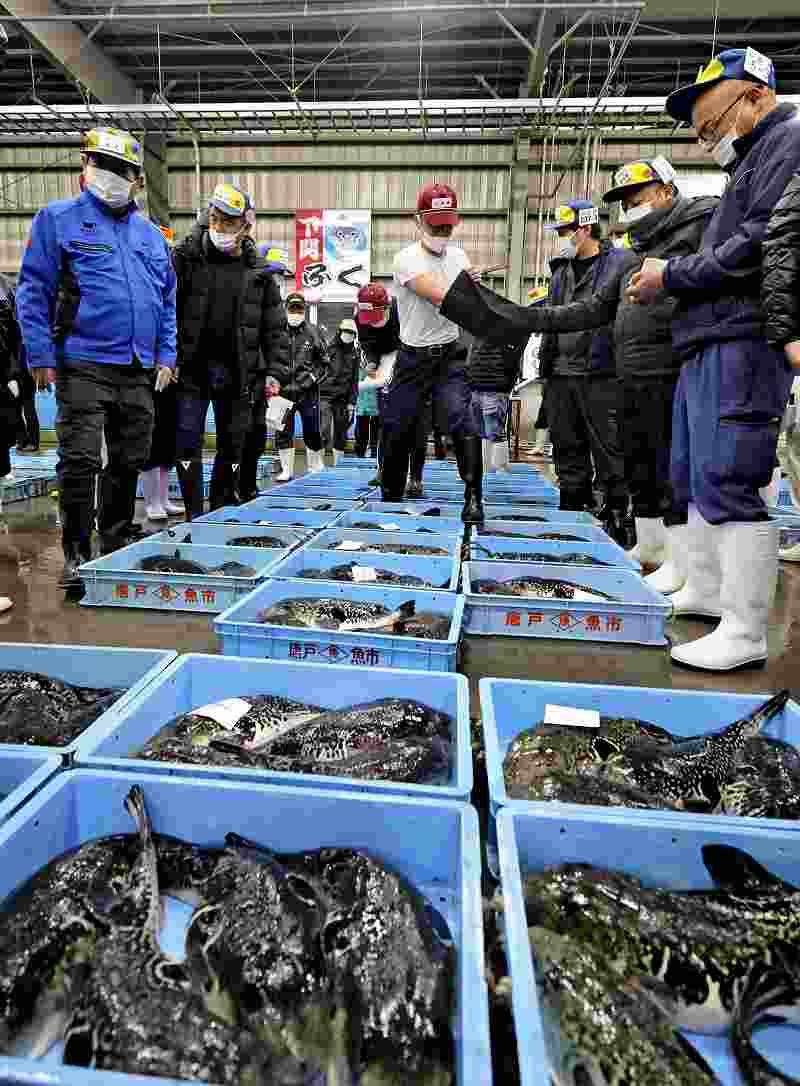 13:54 JST, January 5, 2023
SHIMONOSEKI, Yamaguchi — The New Year's first auction of puffer fish took place at the Haedomari temporary fish market in Shimonoseki, Yamaguchi Prefecture, in the small hours of Wednesday morning.
The market boasts handling the country's largest amount of wild torafugu tiger puffer fish.
A calm sea off western Japan resulted in a larger torafugu catch and a reasonable price for the poisonous fish. The highest price per kilogram was ¥15,000, cheaper than last year by ¥2,000.
The auctioned fish included 2.6 tons of wild puffer fish captured off Hagi in the prefecture and Tsushima, Nagasaki Prefecture, and other sites, in addition to 4 tons of cultured puffer fish. As the auctioneer called out, "Doka, eeka," (How's that, good?), wholesalers bid on puffer fish one after another. The auction uses a traditional bidding method in which the auctioneer and bidder place their arm inside a tubular fabric bag. The bidder expresses their desired purchase price by using their fingers.
"Since it's the year of the rabbit, I was expecting that the market would hop up, but it turned out to be average. I hope that the pandemic will die down this year so that the demand for dining out will bounce back," said Yuichiro Goda, 59, president of the Karato fish market in Shimonoseki.
Add TheJapanNews to your Google News feed.