Pumice from underwater volcano used for artificial reefs, soil conditioner but uses limited
21:00 JST, January 3, 2023
Efforts to utilize pumice generated by underwater volcanic eruptions near the Ogasawara Islands have begun in Okinawa and Kagoshima prefectures, where huge amounts of the pumice washed ashore at fishing ports and beaches, causing tremendous damage.
In addition to using it for artificial fish reefs and as an educational resource, there are cases where pumice has been used to reclaim soil storage sites. But the nature of the volcanic rock limits its use. Even though a year has passed since the damage occurred, a lot of pumice is still sitting in fishing ports after being recovered from the sea.
In Uruma, Okinawa Prefecture, pumice is now being used for fish reefs at the Ikemi fishing port. Remic Maruhachi, a concrete manufacturer in Gifu Prefecture, is working with Ryux Inc. a local company that manufactures and sells soil conditioners for installing the reefs in the sea.
In mid-November, a block for a fish reef weighing about 1 ton was removed from its formwork. About 70% of the block is made from pumice, according to Remic Maruhachi.
"I was worried about the brittleness, but I'm relieved that it's almost the same as concrete blocks," said company President Yaoki Yamashita.
Other companies have also produced fish reefs from the pumice in various forms, and some ports have already installed them. One of those involved in projects said, "I hope fish, algae, coral and other organisms will settle on these eco-friendly reefs."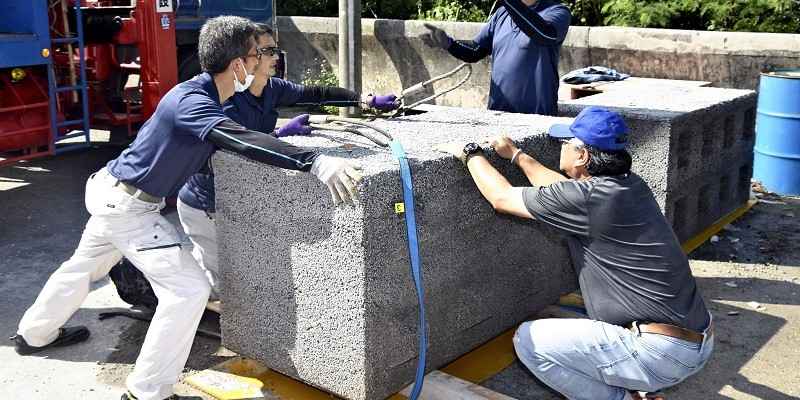 Learning about volcanoes
A privately run nature school in Nakagusuku, Okinawa Prefecture, uses the pumice as a learning material. At Neco no Wakuwaku Shizen Kyoshitsu, classes have been held more than 70 times in which local children touch it and are shown experiments in which it is heated and turned back into magma. The school also sends pumice as specimens to universities and other institutions throughout the country.
"Pumice is not a nuisance. It serves as a habitat for crabs, too. I hope the pumice will provide an opportunity to learn about geology in Okinawa, where there are no volcanoes," said school representative Yu Maruya.
Pumice is also used as a soil conditioner for horticultural use, taking advantage of its porous structure that allows water to easily pass through.
However, the uses for pumice are few because it is fragile and salty. In addition, the volume is too large to be fully utilized. According to the National Institute of Advanced Industrial Science and Technology, the eruption produced at least 100 million cubic meters of pumice, about 80 times the size of Tokyo Dome.
The Okinawa prefectural government has collected over 100,000 cubic meters and intends to use most of it to backfill a mine. But some of the pumice was collected and remains at fishing ports and other locations. At the Ikemi fishing port, more than 300 large bags have been piled up for about a year.
The local fisheries cooperative complained, saying, "We were told by the prefectural government that they would be removed in November, but nothing has been done."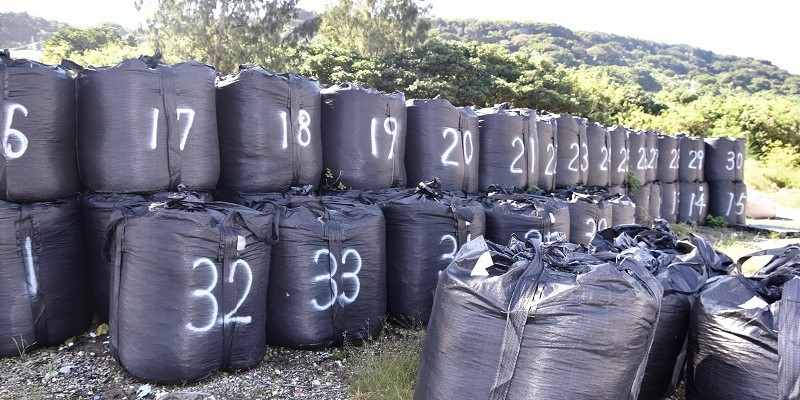 As the pumice has washed ashore on remote islands, it has become even more difficult to utilize it.
The largest amount of pumice in Kagoshima Prefecture was recovered on Yoron Island. About 8,300 cubic meters of pumice was collected on the island with some freely distributed to residents who requested it and most of it buried, but about 120 cubic meters of it remains.
The Kagoshima prefectural government is working with Kagoshima University and others to develop a fish reef that takes advantage of the light weight of pumice. They plan to float pumice on the sea's surface and use it as a seaweed bed to provide a home for fish. If they use the pumice on the island itself, the cost of transportation will be minimized.
"I hope to use pumice as a resource and help solve local problems," said Keigo Ebata, associate professor at Kagoshima University.
"The idea of burying large quantities of pumice is reasonable as an administrative response that requires speed," said Hirofumi Sakanakura at the National Institute for Environmental Studies. "However, they should proceed with caution so as not to affect the soil environment."
'Situation stable'
Pumice drifted to various locations around October-November 2021, so where did it all end up?
The Japan Agency for Marine-Earth Science and Technology was using a supercomputer to predict pumice movements for a year, and finished predicting in October.
The latest analysis showed that it was widely distributed in waters on the Pacific Ocean side, mainly around Okinawa Prefecture. Some have also been found in waters on the Sea of Japan side and around Hokkaido, but the overall amount is decreasing.
The pumice has many crevices, and it is believed to have sunk because it became smaller as individual pieces rubbed against each other.
"The situation is stable, and it is unlikely to drift anywhere in large quantities in the future," said Senior Researcher Toru Miyama. "But there is a possibility that it may drift temporarily due to winds and other factors, so we need to be careful when operating vessels."
Add TheJapanNews to your Google News feed.