Tokyo Games committee, Dentsu suspected of sharing information with would-be bidders for test events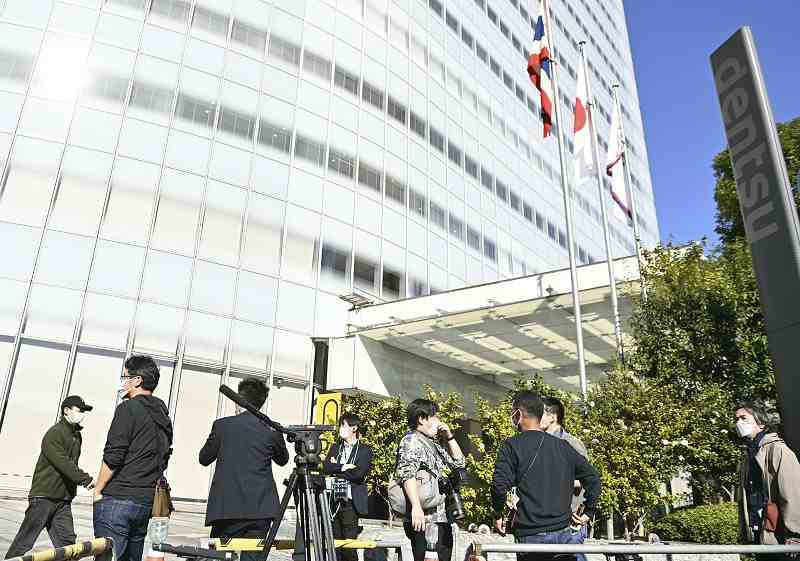 15:39 JST, November 27, 2022
In an attempt to manipulate the bidding process, the Tokyo Games organizing committee and advertising giant Dentsu Inc. allegedly told certain bidders ahead of time which entities were looking to secure the contracts for test events, The Yomiuri Shimbun has learned.
Only one bidder participated in more than half of the 26 deals that are suspected to have involved bid-rigging, it has also been learned. The special investigation squad of the Tokyo District Public Prosecutors Office and the Japan Fair Trade Commission are investigating on the suspicion that the committee and Dentsu decided in advance which companies would win.
The investigation squad and the JFTC on Friday raided the headquarters of Dentsu and event-planning company Cerespo Co. on suspicion of violating the Antimonopoly Law. They also searched the home of a former deputy director of the Games operation bureau, which was in charge of managing the test events.
Dentsu and Cerespo secured contracts to plan the test events for the Tokyo Olympics and Paralympics.
According to sources, Dentsu asked possible bidders — at the organizing committee's request — whether they were willing to take charge of test events and which venues each bidder wanted to handle. Dentsu is suspected of compiling a list of this information and sharing it with the committee.
Dentsu and the committee are also believed to have passed this information to some of the possible bidders, the sources said.
Twenty-six bids were conducted between May and August 2018. The total value of the successful bids exceeded ¥500 million, but more than half of the bids had only one company participating. The winning companies were almost identical to those suggested on the list.
According to the committee, which has been liquidated, the nine companies and one entity that won contracts to plan the test events also signed negotiated contracts with the committee to carry out these events as well as the actual Games competitions.
These contracts were worth a total of at least ¥20 billion. The investigation squad and the JFTC believe bid-rigging may have taken place with a view to letting certain companies secure orders for the management of the main event.
Add TheJapanNews to your Google News feed.