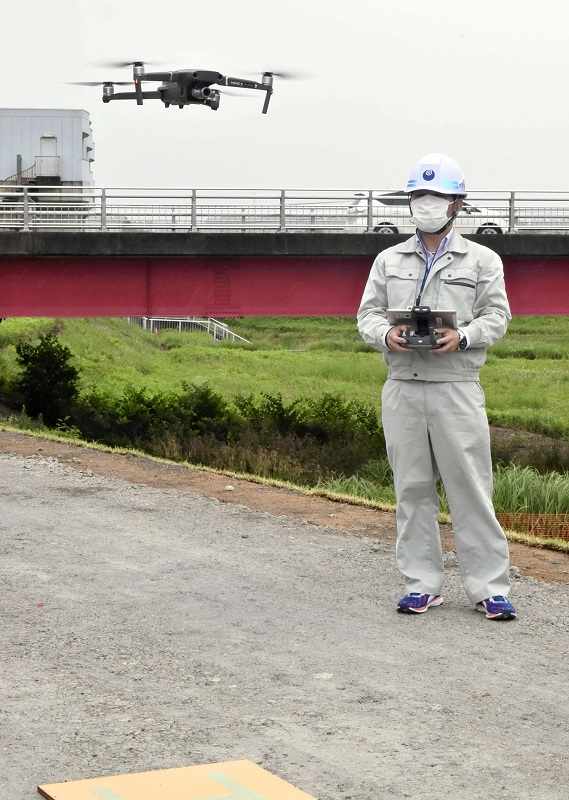 7:00 JST, November 27, 2022
The government plans to use drones on a full-scale basis from next fiscal year to detect illegal activities and dangerous spots on rivers.
The aim is to gradually reduce the frequency of human patrols, and improve the efficiency and sophistication of river management. Funding for this project will be included in the draft budget for fiscal 2023, which will be compiled at the end of the year.
Currently, river patrols are conducted mainly by contractors commissioned by the Land, Infrastructure, Transport and Tourism Ministry, using patrol vehicles to monitor river conditions and usage. Patrols are also conducted on foot or by boat at riverbanks and other areas inaccessible to vehicles.
However, it is time-consuming and labor-intensive to visually inspect a vast river, and depending on the water level and other conditions, it may not be possible to ensure the safety of the patrollers. The use of drones is currently limited to some areas, such as partially cut banks, and there are many areas where only visual patrols are conducted.
With the Dec. 5 enforcement of the revised Civil Aeronautics Law, the ban will be lifted on Level 4 flights, thereby allowing drones to fly outside the range of sight in manned areas such as residential areas and roads.
In light of this, the government plans to greatly expand the use of drones in river patrols starting next fiscal year.
Cameras mounted on drones will be used to capture images of rivers and riverbeds, and the images will be analyzed using artificial intelligence. Compared to human visual observation, drones can provide detailed information on such things as damage to levees, sediment movement and changes in trees.
Furthermore, drones' ability to survey a wide area is expected to make it easier to detect the illegal dumping of garbage and various dangerous spots.
Drones also have the advantage that patrols can be conducted in a short time and by a small number of people.
The project targets rivers in the 109 water systems administered by the national government, and does not include rivers administered by prefectures or municipalities. The number of rivers to be prioritized for drone patrols will be determined at a later date.
In the future, drones are also expected to be flown over rivers for logistics purposes. For this reason, the government intends to establish a manual for flight routes over rivers by the end of fiscal 2023.
Add TheJapanNews to your Google News feed.