Vacant houses become game facilities, photo studios in new business ventures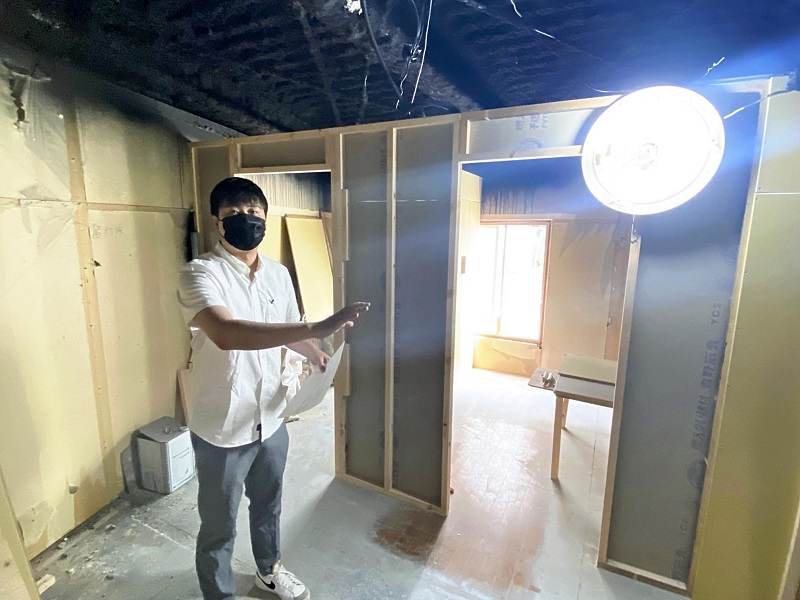 6:00 JST, August 14, 2022
More and more firms are expanding into new businesses by renovating vacant houses to become event facilities and fixed-rate accommodation.
With a wide variety of matching services offered by start-ups that bring together people who want to rent and companies that want to lease, this type of business is drawing attention as a measure to utilize the ever-increasing number of vacant houses.
A renovation of a 31-year-old house and store is underway near the busy shopping district in Shinjuku Ward, Tokyo, in an area where condominiums and multi-tenant buildings stand side by side.
The building will be reborn in September as an escape game facility targeting young players, who have to solve a series of puzzles to escape the rooms.
A tenant for the long-vacant building, located on a long, narrow, triangular lot, was found within just two months of it being listed on the Akisapo vacant house revitalization website.
"This place is perfect for games, both in terms of rent and space. After I found it on the internet, I applied for it immediately," said Zhang Ziteng, the director of Asia Pacific News Agency, an event planning company.
Akisapo operator Ject One Co. makes profits by leasing vacant houses from their owners, renovating them at its own cost and then renting them out.
"Vacant houses can form a new business. It is important to utilize them for purposes other than housing and not leave them empty," Ject One Representative Director Mikio Okawa said.
8.46 mil. properties
The number of vacant houses nationwide reached 8.46 million with an all-time high vacancy rate of 13.6%, according to a 2018 survey by the Internal Affairs and Communications Ministry.
The survey result comes against the backdrop of the declining birthrate and aging population. A private survey estimates that the rate will exceed 30% in 2033.
Municipalities are allowed to remove vacant houses through administrative subrogation based on the law on special measures against vacant houses. However, many municipalities are reluctant to do so because it requires huge public expenses if they cannot recover the costs of removal from the owners.
Start-ups are seeing commercial opportunities in this situation.
Yokohama-based web media company Yadokari finds vacant houses that are hard to set a price for and sells them at ¥100 or ¥1 million.
"We receive many inquiries for business purposes, such as e-sports venues and photo studios that take advantage of the abandoned and dilapidated atmosphere," a Yadokari official said.
Address, a housing service company in Chiyoda Ward, Tokyo, started in 2019 a flat-rate service for renting renovated vacant houses nationwide for ¥44,000 per month.
The firm has seen a tenfold increase in its membership, especially among those in their 20s and 30s during the coronavirus pandemic.
Aging risks
There are some challenges in the vacant house renovation business. If the renovated property turns into an event space that plays loud music, it could cause problems with the neighbors. There is also the fear of gas and water leaks in older properties due to deteriorating plumbing.
"We are asked to use properties in a way that takes into account the wishes of the local community," said Masahiro Kawano, executive director of the association of vacant house advisors, which works with local governments to solve the related problems in the community. "It's also important to convey the attractiveness of the community through the properties."
Add TheJapanNews to your Google News feed.