Typhoon No. 8 hits Shizuoka Prefecture; heavy rain warning in other areas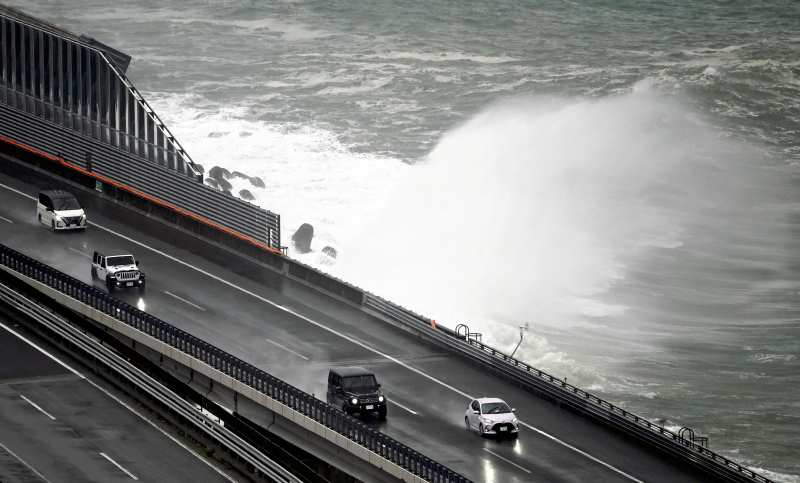 18:00 JST, August 13, 2022
Typhoon No. 8 brought heavy rains to the Tokai region Saturday, making landfall over the Izu Peninsula at about 5:30 p.m.
The typhoon approached Honshu from the south over the Pacific Ocean and is expected to move northeast over the Kanto-Koshin region.
The Japan Meteorological Agency has called for caution in all areas in the typhoon's path, warning that intense downpours may develop in the Tokai region, increasing the disaster risk.
As of 9 a.m., the typhoon was moving northeastward at a speed of about 20 kph about 130 kilometers southwest of Omaezaki, Shizuoka Prefecture, with a central atmospheric pressure of 1,000 hectopascals and a maximum wind speed of 72 kph near the center. Just before 3 p.m., it passed near Omaezaki.
In the prefecture, Shizuoka City's Aoi Ward had 240.5 millimeters of 24-hour rainfall to 10 a.m., and Fujinomiya had 227.5 millimeters.
The 24-hour rainfall to 6 a.m. Sunday is expected to reach 300 millimeters in some parts of the Tokai region, 250 millimeters in the Kanto-Koshin region, and 120 millimeters in both the Tohoku region and the Izu Island chain.
At 7:50 a.m. Saturday, the Shizuoka city government issued an evacuation order over landslide risks to 29,841 households, or 72,447 people, in the wards of Suruga, Shimizu and Aoi.
Tokaido Shinkansen services were temporarily suspended between Shizuoka and Kakegawa stations in the prefecture at around 6:50 a.m. after rainfall reached the regulation limit. This caused delays on both outbound and inbound trains, and Tokyo Station was crowded with passengers heading to their hometowns for the Bon holidays or to other holiday destinations.
Add TheJapanNews to your Google News feed.