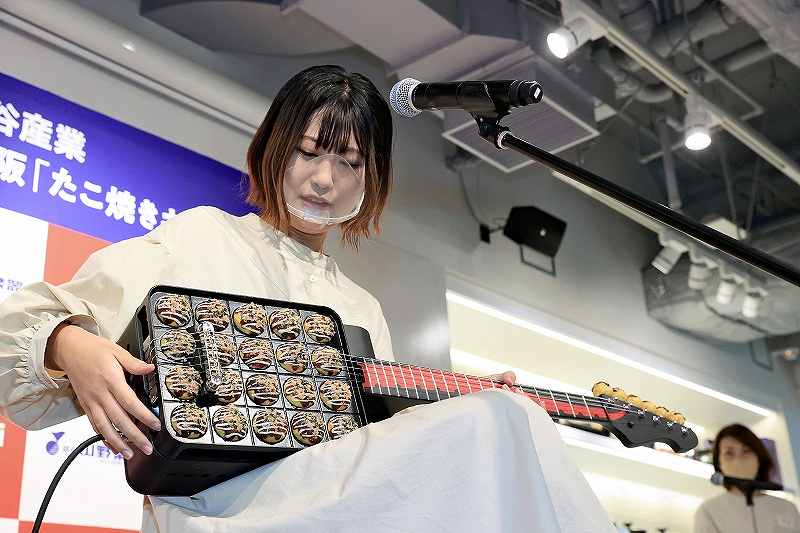 6:00 JST, August 12, 2022
OSAKA — It cannot actually cook takoyaki, but a distinctive new electric guitar might be music to the ears of fans of the octopus-stuffed fried balls of batter that are one of Osaka's best-loved dishes.
To boost the profile of Osaka, major gas appliance maker Iwatani Corp. and Yamano Music Co. have jointly produced an actual guitar that features a body made from a real takoyaki-molded grill pan.
"We'll consider using the instrument at events promoting Osaka," an Iwatani official said.
The grill pan is a model that Osaka-based Iwatani manufactures for cooking takoyaki at home, and blue LED lights that turn on under the pan give the impression of gas flames cooking the octopus balls. Twenty fake takoyaki fill the pan to complete the instrument.
Tokyo-based Yamano Music has produced distinctive guitars to showcase the charm of music in various parts of Japan. The takoyaki guitar is the third in this series, following a sasakama fish cake guitar representing Sendai and a gyoza dumpling version made for Utsunomiya.
Two takoyaki guitars have been produced and one will be displayed at an Iwatani outlet in Osaka. Singer Sae Banjoya performed a song on the guitar at the outlet on Monday.
"The guitar made sounds that were well-rounded and soft — just like takoyaki," said Banjoya, 23. "I'd like to play this at a concert."
---
Click here to watch the video
---
Add TheJapanNews to your Google News feed.