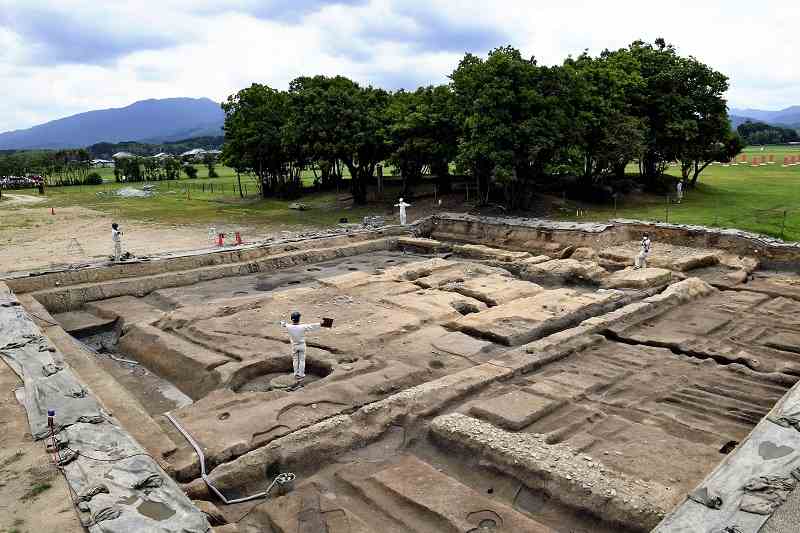 1:00 JST, August 10, 2022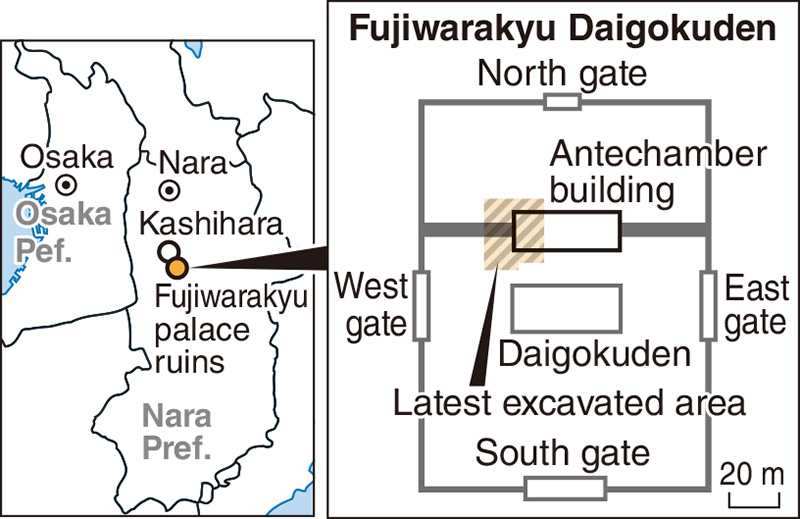 KASHIHARA, Nara — The raised foundation for what appears to be an antechamber has been discovered at the ruins of an Imperial palace complex in Kashihara, Nara Prefecture, which was used from the late 7th to the early 8th centuries, the Nara National Research Institute for Cultural Properties announced Thursday.
This is the first time a raised foundation was discovered north of the ruins of the Daigokuden building at the Fujiwarakyu palace (694-710), where the emperor performed political and ceremonial rituals.
The foundation appears to be that of an antechamber building, used by the emperor to dress and prepare for duties at Daigokuden.
The discovery is important because it is a new element to compare the structures of Fujiwarakyu and other palaces in later eras, such as the Heijokyu palace in Nara and the Heiankyo palace in Kyoto.
Researchers dug an area of 565 square meters and found part of the raised foundation measuring 14 meters east to west and 15 meters north to south. Taking into account the results from past excavations, the researchers estimate the entire foundation measures 50 meters east to west and 16 meters north to south. This time they also found remains of an aisle leading from the foundation to the west. It is believed that there were aisles from both east and west ends of the antechamber building.
The Heijokyu palace had a facility called Daigokuden-Koden (the antechamber building of Daigokuden), and it is believed that the Heiankyo palace also had a building north of Daigokuden. It is possible that the antechamber building of the Fujiwarakyu palace was the first example of such a facility.
"I suppose this is a facility like an antechamber for the emperor to get groomed before going to Daigokuden," said Masashi Kinoshita, a professor emeritus of Tokyo Gakugei University specializing in archaeology. "It's become clear that a basic palace layout was established at Fujiwarakyu and was passed on to other palaces in later eras."
Add TheJapanNews to your Google News feed.