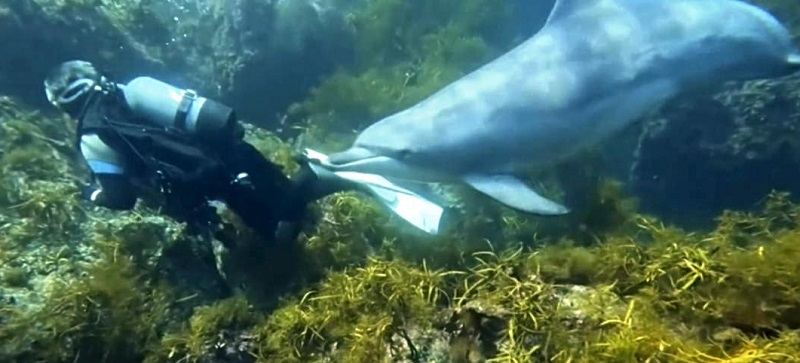 6:00 JST, August 7, 2022
Swimmers have been warned to stay away from dolphins in Fukui Prefecture in the wake of attacks on people by what is possibly a single male Indo-Pacific bottlenose dolphin, a species that usually lives in warm waters.
Having installed ultrasonic transmitters on buoys off the coast to repel dolphins, beach officials warned visitors not to approach dolphins even if they look cute.
On July 26, a beach house operator was seen urging people to watch out for dolphins at Koshino beach, located about 20 kilometers west of the Fukui City center. The shallow waters of the beach are popular with families. The 71-year-old man was telling swimmers to come out of the sea immediately if they saw a dolphin.
According to the man, the dolphin began to be spotted around June and has frequently come into the shallow waters where many people bathe since the opening of the beach on July 9.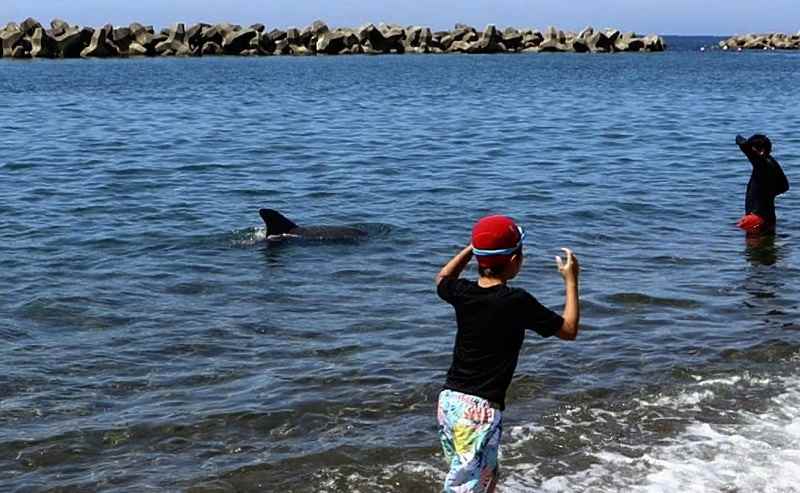 According to the Fukui municipal government, there have been at least 10 cases of a dolphin biting or ramming swimmers at the two beaches. Ultrasonic transmitters were installed in the sea at both beaches to repel dolphins. A sign was also put up at Koshino beach, warning people not to touch the animals.
Witness reports suggest there is an Indo-Pacific bottlenose dolphin that are usually found in warm seas around southern islands of Japan such as Amami Oshima island and the Izu Islands. These dolphins, which also live around Australia, are highly curious, and their teeth are sharp so as to catch fish and keep them from escaping.
According to Ryoichi Matsubara, deputy director of Echizen Matsushima Aquarium in Sakai, Fukui Prefecture, the dolphin sightings in the prefecture are all of the same male dolphin.
"In the unlikely event of a life-threatening situation, it could lead to culling the dolphin or the closure of beaches. I hope that people will try to coexist with the animal by coming out of the sea as soon as they see him," Matsubara said.
Add TheJapanNews to your Google News feed.