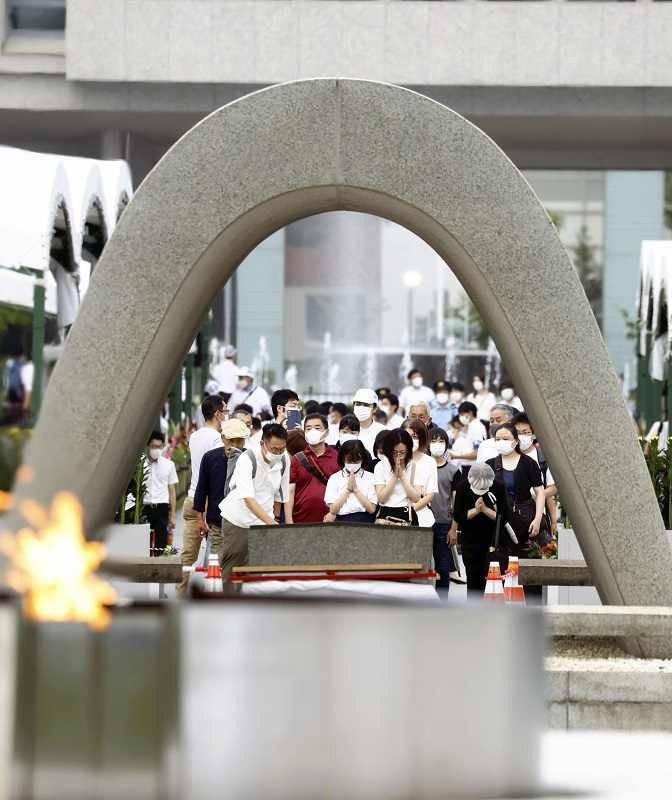 16:03 JST, August 6, 2022
HIROSHIMA — Hiroshima Mayor Kazumi Matsui called on the world to "immediately render all nuclear buttons meaningless" in his peace declaration at a ceremony on the 77th anniversary of the atomic bombing of the city on Saturday.
The presence of U.N. Secretary General Antonio Guterres marked the first time in 12 years that a sitting U.N. chief has attended the annual ceremony, which was held amid increased threats of nuclear weapons in the wake of Russia's invasion of Ukraine. Russia's ambassador to Japan was not invited to the ceremony.
Hibakusha atomic bomb survivors, representatives of victims' families, Prime Minister Fumio Kishida and various countries' ambassadors to Japan were among those who offered prayers for the victims.
The ceremony began at 8 a.m. at the Peace Memorial Park in Naka Ward, Hiroshima City.
At 8:15 a.m, the time the atomic bomb was dropped, representatives of families of the deceased rang the Peace Bell, and attendees observed a minute's silence.
Matsui condemned Russian threats to use nuclear weapons in his peace declaration. Quoting Leo Tolstoy, the Russian author of "War and Peace," the mayor said, "Never build your happiness on the misfortune of others, for only in their happiness can you find your own."
Hiroshima is scheduled to host a Group of Seven summit in May. Matsui said, "I call on the leaders of the nuclear-weapon states to visit the atomic-bombed cities where they can personally encounter the consequences of using nuclear weapons."
The prime minister in his speech said, "We're determined to work toward bridging the reality of the harsh security environment with the ideal of a world free of nuclear weapons."
Regarding the G7 summit, Kishida said, "In Hiroshima, we'll demonstrate our pledge to the world that humanity should never again suffer the horrors of a nuclear attack."
This year, a total of 3,550 seats were prepared at the venue, about four times the number set for the ceremonies in 2021 and 2020, which were scaled back due to the novel coronavirus pandemic.
In the wake of the fatal shooting of former Prime Minister Shinzo Abe, the number of police officers and city officials providing security at the venue was increased, and metal detectors were used to screen attendees for the first time.
The names of 4,978 hibakusha who died in the past year were added to a cenotaph commemorating victims of the atomic bombing, which now includes the names of 333,907 people.
As of the end of March, there were 118,935 surviving hibakusha with an average age of 84.53 nationwide, about 92,000 fewer than 10 years ago, according to the Health, Labor and Welfare Ministry.
Add TheJapanNews to your Google News feed.