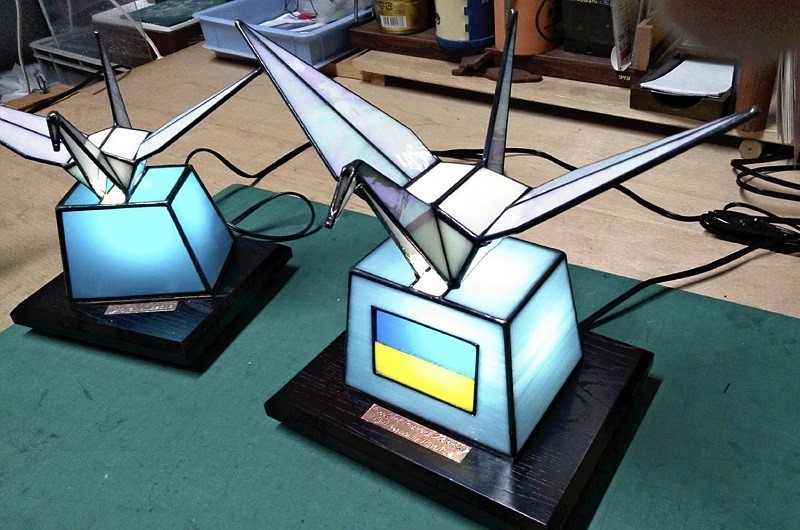 6:00 JST, August 5, 2022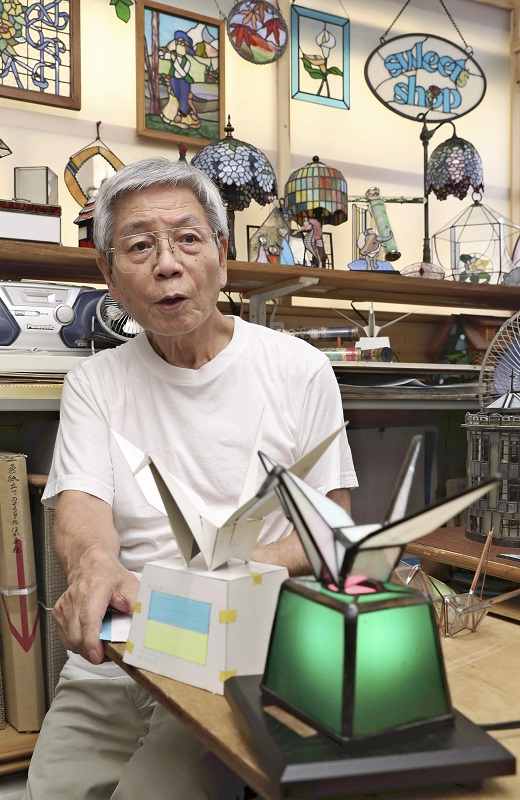 HIROSHIMA — An 81-year-old stained-glass artist, who experienced the 1945 atomic bombing of Hiroshima, made an artwork depicting a paper crane and gave it to the Ukrainian Embassy in Japan, with hopes for peace.
Okihiro Terao of Asa-Minami Ward in the city said that the scenes of Ukrainian cities devastated by Russia's aggression overlapped with his memories of Hiroshima in the aftermath of the atomic bombing. That prompted him to create the work to convey his wish for peace from the atomic-bombed city.
Terao plans to speak about his thoughts on Ukraine, which has been under attack, at a storytelling event on Aug. 6, the date when an atomic bomb was dropped on Hiroshima 77 years ago.
At the age of 4, Terao heard a loud explosion while playing with one of his two brothers in Gion, now Asa-Minami Ward, where they had taken refuge during World War II. The force of the blast blew them off their feet.
After that, the two injured boys walked in search of their mother, who had been heading for their home, only about 200 meters from what is now the Atomic Bomb Dome. When they found their mother, who had miraculously survived, they hugged her and wept.
After his father was killed in China around 1943, his mother and her three sons moved from one place to another, relying on their relatives. In unfamiliar places, Terao said he was bullied, such as by being called "pika," a word that describes a flash of light referring to an atomic bomb explosion.
He once upset his mother, saying, "It would have been better if I had died by the atomic bombing." But she told him: "It was the war that should be blamed. Don't hold a grudge against those who said mean things to you."
Yet when he was young, Terao hid the fact that he was an A-bomb survivor to avoid discrimination, he said.
In 1968, his mother, then suffering from cancer, told him, "Whatever you do, get skills to make a living and hone those skills."
She died when she was 57. About a decade later, Terao, who was working at a car sales company, recalled her words and took up stained-glass craftwork.
After retiring in 2001, he started a second career as a stained-glass artist in earnest, creating such works as models of the Atomic Bomb Dome, which he had often seen from a window of his childhood home. Seven years ago, he began sharing his A-bomb experience as a storyteller after being interviewed by local high school students.
Overlaps of memories
Terao was heartbroken to see news from Ukraine with buildings destroyed and bodies lying on the streets due to the Russian invasion, which began in February. He said the image of a crying boy with a handbag in his hand reminded him of himself, walking through the streets looking for his mother.
Terao then asked himself what he could do to help and decided to send a stained-glass paper crane.
Paper cranes became peace symbols associated with Hiroshima and Nagasaki due to the true story of Sadako Sasaki, a Hiroshima victim who folded many paper cranes before her death from leukemia at age 12 in 1955. Former U.S. President Barack Obama folded paper cranes for his visit to the two cities in atom-bombed cities in 2016, and Prime Minister Fumio Kishida displayed one during a speech in New York this week, saying, "Today, paper cranes have come to symbolize worldwide prayers for peace and a world without nuclear weapons."
Terao's artwork, 15 centimeters high and 28 centimeters wide, was created by combining 18 pieces of stained glass. It was placed on a pedestal with a design of the Ukrainian national flag.
In April this year, Terao sent this work to the Ukrainian Embassy together with a letter addressed to President Volodymyr Zelenskyy. In the letter, he praised Zelenskyy's leadership and wrote that he was impressed by the strong leader who loves his nation and people and remains unflinching.
At the storytelling event on the atomic-bombing anniversary day, Terao intends to show his support for Ukraine by showing photographs of the work he sent to the embassy and stressing the preciousness of peace.
"I hope that peace will soon return to those who are suffering from the war," Terao said. "I want to convey the message that neither war nor atomic bombs will be tolerated."
Add TheJapanNews to your Google News feed.