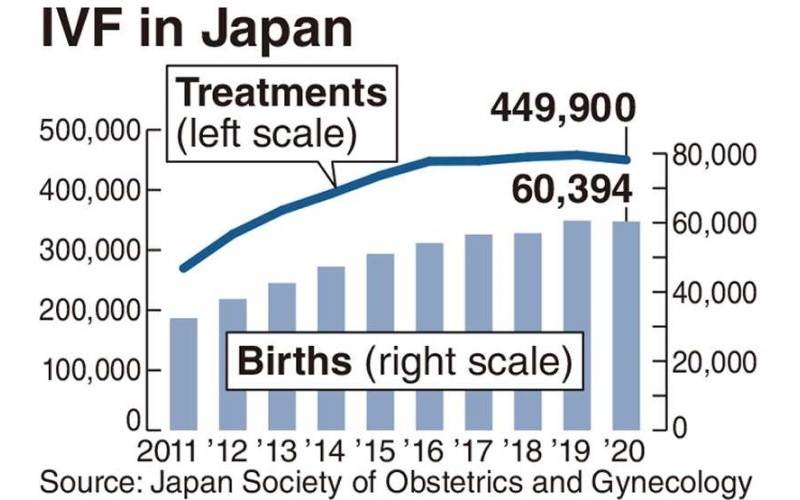 14:50 JST, August 4, 2022
The number of babies born through in vitro fertilization performed in 2020 decreased from the previous year, marking the first year-on-year decline since 1986 when comparative data became available, a survey by the Japan Society of Obstetrics and Gynecology showed.
According to the survey, 60,394 babies were born through IVF in 2020, down by 201 from 2019.
A decrease in the number of women eligible for treatment and the COVID-19 pandemic are thought to be factors behind the decline.
In vitro fertilization involves removing an egg from a woman's ovaries and fertilizing it with sperm in a laboratory. The fertilized egg, or embryo, is then returned to the woman's uterus to grow and develop.
Even though the number of IVF births fell, the figure still accounts for about one in 13 births that year.
More than 770,000 babies have been born through IVF since the treatment was first introduced in Japan in 1983.
The increase in the number of treatments had been slowing in recent years. In 2020, 449,900 IVF treatments were performed, down 8,201 from the previous year.
The decline reflects the fact that women in the second baby boom generation (born in 1971-1974) are now in their late 40s, an age group for which IVF treatment is more challenging.
Couples are also thought to have refrained from treatment amid the coronavirus pandemic.
IVF treatment has been covered by public health insurance since April, as part of government efforts to combat the declining birthrate.
According to a 2021 Health, Labor and Welfare Ministry survey, the average cost of IVF treatment is about ¥500,000 per session. The insurance coverage is thought to be a way to ease the financial burden on couples trying to conceive through IVF.
Prof. Yukiko Katagiri of Toho University Omori Medical Center's Obstetrics and Gynecology Department said that a growing number of couples are undergoing IVF treatment since the introduction of the insurance coverage. "There is a possibility that the number of [IVF] births will rise again," she said.
Add TheJapanNews to your Google News feed.