Jewelry prices rise over supply shortage following Russia's invasion of Ukraine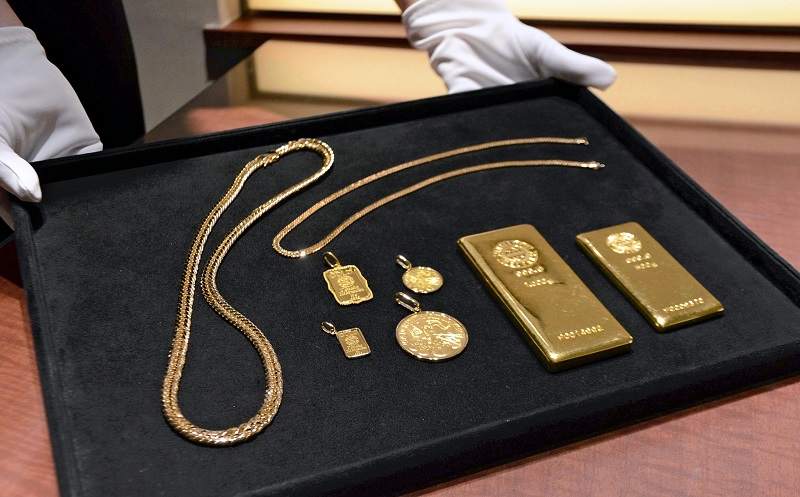 20:00 JST, August 1, 2022
Jewelry prices have been rising in Japan, primarily because the cost of gold and diamonds has been soaring amid concerns over a supply shortage in the wake of Russia's invasion of Ukraine, coupled with the yen's decline on the exchange market.
As money for investments is flowing into gold, which is considered a safe asset in times of uncertainty, there also appears to be many wealthy people who buy gold in anticipation of price increases in the future.
Tanaka Kikinzoku Jewelry K.K., a leading retailer of gold and precious metals, raised some of its merchandise prices, including gold necklaces and rings, by 10% to 20% in mid-June. As the price of gold has been soaring, the retailer has passed the price increases on in its gold jewelry.
The retail prices for gold, tax included, announced by Tanaka Kikinzoku Kogyo K.K. – a company of Tanaka Precious Metals group – which sells and purchases gold, were hovering around ¥7,000 per gram in early February, days before Russia invaded Ukraine. In March, however, they topped the threshold of ¥8,000 per gram for the first time, and are now approaching ¥9,000 per gram.
Nonetheless, Chika Tachibana, head of the sales and planning office at Tanaka Kikinzoku Jewelry, said, "Buyers are mainly in their 50s, but an increasing number of males in their 20s and 30s are buying gold chain necklaces, which have high value as an asset."
In the wake of the Ukrainian crisis, money for investments shifted from the stock market to the gold trading market, as the metal is reckoned a safe asset. The company said there has been an increase in the number of days when its stores get crowded with customers showing up either to buy or sell gold.
As the U.S. Federal Reserve Board (FRB) has been accelerating its pace of interest rates hikes, money for investments has been flowing to the dollar, on speculation that it is advantageous for fund management. As a result, there has been a pause in the upturn trend in gold prices on commodity futures exchanges in New York and elsewhere.
Meanwhile, on the Japanese market, the yen is declining fast against the dollar, prompting many to speculate that the yen-denominated prices of imported precious metals, including gold, will continue their upward trend for the time being.
Russia a major producer
It is not only gold for which prices have been soaring.
Tasaki & Co., a leading jewelry seller, has raised the prices of some of its merchandise since late June. This is because not only the price of gold but also that of palladium has been rising.
Palladium is a metal that is mixed with gold to modulate the hardness and color of white gold and platinum. As Russia is one of the major producers of this precious metal, its supply has become unstable in the wake of economic sanctions imposed by the West against Russia.
On the Osaka Exchange, the futures price of palladium briefly hit ¥12,000 per gram in March, marking a record high.
Russia is also a leading producer of diamonds. An official in charge at a store purchasing and selling precious metals said, "Most of them are of high quality." As major jewelry brands suspended their purchase of diamonds from Russia after it invaded Ukraine, supply has dropped, and the prices of some sorts of diamonds have risen by over 20% from before the invasion, when converted into yen.
The soaring prices of precious metals has had a ripple effect on the prices of jewelry as a whole being sold by high-class brands.
French luxury jewelry brands, such as Cartier and Van Cleef & Arpels, raised their prices one after another in May.
Bruce Ikemizu, chief director of the Japan Bullion Market Association (JBMA), said: "In coping with the yen's decline and the price increase, incorporating such precious metals as gold and platinum into assets has drawn attention. As the rising prices of precious metals will continue for the time being, the trend of passing on increasing prices in jewelry will continue."
While the overall sales of department stores have fallen short of the levels seen before the COVID-19 pandemic hit the country, the sales of art, jewelry and precious metals have been on the rise at least up until May, marking a year-on-year increase for the 16th straight month. An official in charge of public relations at the Japan Department Stores Association said, "There are many customers who are buying jewelry, with a belief that 'the prices are currently at rock bottom.'"
Add TheJapanNews to your Google News feed.