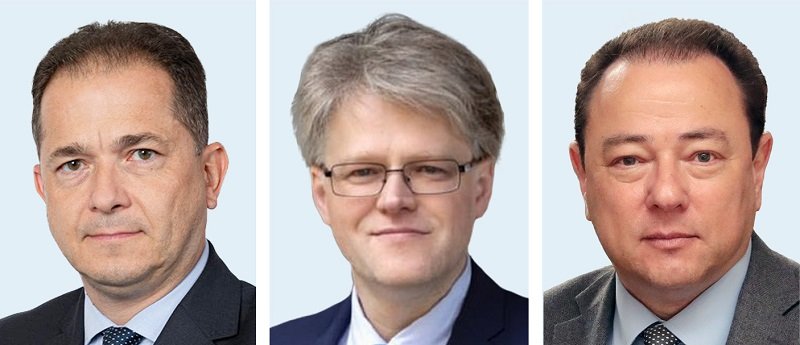 18:28 JST, July 31, 2022
Poland and Lithuania have strengthened their ties with Ukraine, which is being invaded by the Russian Army, and are playing a leading role in the international response against Russia. On July 28, the three countries celebrated the second anniversary of the inauguration of the Lublin Triangle regional coalition. Poland's Ambassador to Japan Pawel Milewski, Lithuania's Ambassador to Japan Aurelius Zykas, and Ukraine's Ambassador to Japan Sergiy Korsunsky jointly made the following contribution to The Yomiuri Shimbun.
The purpose of the Lublin Triangle was to enhance cooperation between our three countries, which share common historical, cultural and political heritage, and also to support Ukraine's aspirations of joining the EU and NATO. On Dec. 20, 2021, the presidents of the Lublin Triangle nations held their first summit and adopted a statement calling on the international community to tighten sanctions against Russia, which had been putting pressure on Ukraine by amassing troops on its border. On March 14, 2022, after the War in Ukraine began, the prime ministers of the three countries held a meeting and discussed support for Ukraine and ways to strengthen sanctions against Russia.
Our region, Central and Eastern Europe, is often unfairly viewed as a mere border zone separating Russia and its proxies from the Western community protected by the NATO alliance. In this twisted vision of the world, strongly promoted by Moscow, our countries are only pawns, prodded and manipulated by great powers, objects rather than subjects of international relations.
The truth is that our region has a unique European culture and a history of statehood spanning more than a thousand years. It embraced traditions of democracy, respect for diversity and religious tolerance much earlier than in most parts of Europe and to an extent which never existed in Russia.
These values were epitomized in the Polish-Lithuanian Commonwealth, a federation to which our three nations belonged in the 16th to 18th centuries. The Commonwealth was born in Lublin in southeastern Poland. It is an important point of reference for the Lublin Triangle.
The Ukrainian struggle for survival is a conflict between these two visions of the world. If Ukraine fails or is denied the right to fully adhere to the European community, then the freedom of other nations in Europe and beyond may be also put into question by revisionist powers, through the use of power which grows out of the barrel of a gun.
Add TheJapanNews to your Google News feed.