Ukrainian volunteers send 'mom's cooking' to soldiers on the battlefield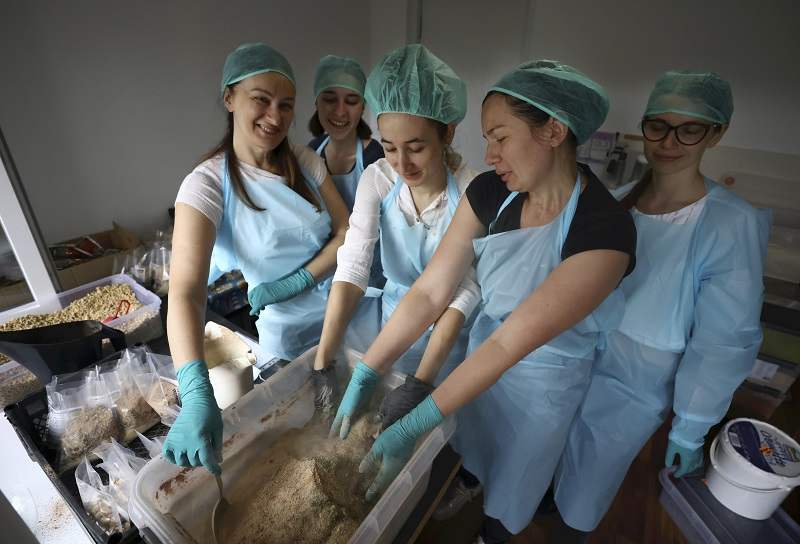 20:00 JST, July 28, 2022
IVANO-FRANKIVSK, Ukraine — An increasing number of Ukrainians are making packages of borscht and sending them to troops in the battlefield amid Russia's invasion of their country.
For easy preparation, the ingredients are pre-cut and dried, and the soup can be quickly eaten after reconstitution, making the meal popular with soldiers on the front lines.
About 10 women gathered at the home of Liudmyla Doroshenko on a Saturday afternoon in early July in a suburb of Ivano-Frankivsk, a city in western Ukraine.
They busily chopped beets, the purplish-red root vegetable that is used as an ingredient in borscht, and packed dried vegetables into plastic bags.
The soup package has tomato sauce and 16 ingredients, including beets, chicken and parsley. It is made by adding tomato sauce to hot water, and cooking the tomato soup and the ingredients together in a pot for 20 minutes.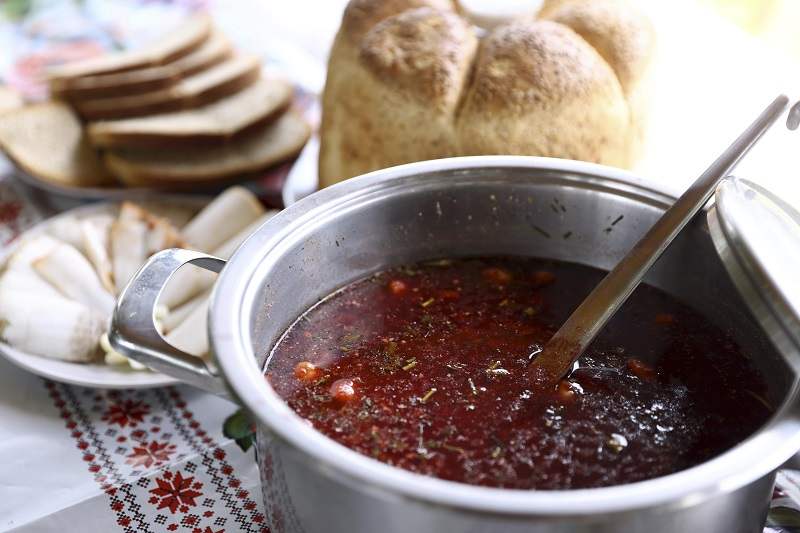 In Ukraine, borscht is dubbed "my mother's cooking."
Doroshenko, 46, saw social media posts by Ukrainian soldiers on the battlefield who wrote they wanted to eat borscht, and she thought to herself, "Since I like cooking, this is the best way for me to support them."
She posted a notice on social media asking for assistance, and a variety of people, such as schoolteachers and company employees, offered to help.
"I want to bring a little happiness to the soldiers on the battlefield," said Halyna Selipii, a 40-year-old confectioner.
Local residents aware of the group's activities bring vegetables and other ingredients, but if supplies run short, Doroshenko procures them at her own expense.
From mid-April to early June, the group sent about 35,000 portions of borscht to the front lines via volunteers who assist the military.
The group has received messages from soldiers such as, "I felt like I'd gone back home."
The idea of sending borscht to soldiers is spreading in Kyiv and other parts of the country as well.
In many cases, people who fled the eastern part of the country, where the fighting is centered, are making borscht in the places they evacuated to.
UNESCO has registered borscht on the List of Intangible Cultural Heritage in Need of Urgent Safeguarding, giving a boost to the soup's makers.
"We feel empowered by the registration," Doroshenko said. "The soldiers can't take a break, so neither can we."
---
Click here to watch the video
---
Add TheJapanNews to your Google News feed.