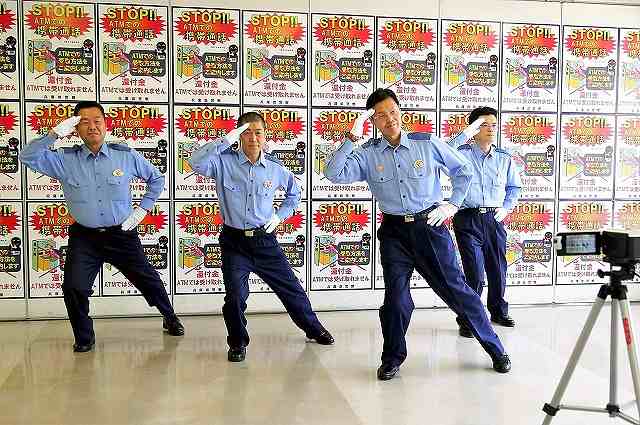 14:55 JST, July 24, 2022
TAKARAZUKA, Hyogo — A unique video in which about 100 police officers dance to a lively samba-style song is in production, in an appeal to the public to protect themselves from special fraud.
Takarazuka Police Station of the Hyogo Prefectural Police started making the video to reduce the number of fraud victims by communicating their message in an easy-to-understand manner. The video is scheduled to be completed by the end of July.
The music is an original composition written and composed by Tsukasa Kimura, who is head of the Community Safety Division and also plays in a rock band as a hobby. Seeking to catch the attention of elderly people, in May he wrote a song that includes lyrics about the tactics used in scams. The lyrics have sentences such as, "If you feel suspicious, call your family or the police, send an SOS!"
The dance video was choreographed by Sergeant Noriko Habuchi. She said she wanted to make it enjoyable for everyone from children to the elderly.
The police officers have been recording the dance in between their duties. Even stern-faced officers are seen posing and making heart shapes with their hands while smiling bashfully. Takakiyo Tamura, the chief of Takarazuka Police Station, even took the lead in the performance.
After the video is done, it will be shown at security classes for the elderly and also be distributed on the Hyogo prefectural police's YouTube channel.
Add TheJapanNews to your Google News feed.