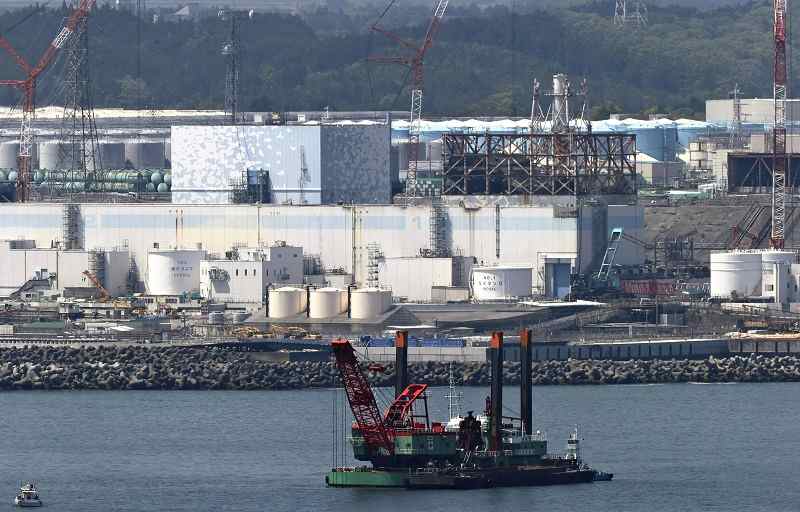 17:12 JST, July 22, 2022
The Nuclear Regulation Authority officially approved Friday morning Tokyo Electric Power Company Holding, Inc.'s plan to discharge treated water from TEPCO's Fukushima No. 1 nuclear power plant into the sea, saying there are no safety problems.
TEPCO will now embark on full-scale construction of facilities to discharge treated water into the sea after obtaining approval from Fukushima Prefecture and the towns of Okuma and Futaba in the prefecture, where the plant is located.
With storage capacity for treated water at the plant approaching its limit, the government and TEPCO hope to begin discharging the water next spring.
The power company plans to construct an undersea tunnel extending about 1 kilometer offshore from the plant and discharge treated water from the end of the tunnel.
Prior to discharge, the water will be diluted with seawater to reduce the concentration of radioactive tritium to 1/40th or less of the national discharge standard and about 1/7th of the World Health Organization's standard for drinking water.
TEPCO initially estimated that the construction period for the undersea tunnel and other work would be about 10½ months, but it will shorten the period to about 8½ months, which will allow it to begin discharging the water next spring, it said.
Water that was contaminated in cooling the nuclear fuel that melted and rehardened in the 2011 meltdown accident has been treated with the Advanced Liquid Processing System (ALPS), which removes most of the radioactive materials other than tritium.
The amount of treated water has been increasing, with about 1.31 million tons stored in more than 1,000 tanks on the plant's premises.
The storage capacity of the tanks is expected to be reached by the summer or autumn of next year.
The government decided in April last year to begin discharging the water into the ocean in the spring of 2023, given that continuing to store the treated water would hinder decommissioning work. It is expected to take several decades to complete the discharge of the water.
Add TheJapanNews to your Google News feed.