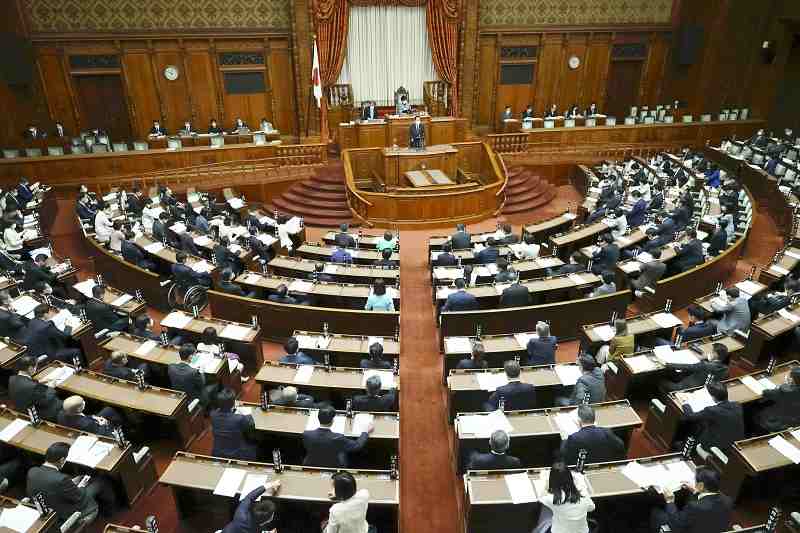 17:56 JST, July 16, 2022
TOKYO (Jiji Press) — The ruling Liberal Democratic Party is planning a speech during an extraordinary session of the Diet in August, to mourn former Prime Minister Shinzo Abe, it was learned Friday.
The LDP will discuss with opposition parties about who will give the speech at a plenary meeting of the House of Representatives and about when it will be delivered.
Based on precedents, a former prime minister is expected to be the speaker.
On Friday, the government told the ruling parties of a plan to convene an extraordinary Diet session for three days from Aug. 3, according to senior members of the ruling camp.
A memorial speech is usually given at a parliamentary meeting if an incumbent lawmaker dies. The speaker is decided, partly based on the wishes of the bereaved family, according to Lower House officials.
If an incumbent or former prime minister dies, a memorial speech is often given by the leader of another party or a former prime minister.
When former Prime Minister Keizo Obuchi of the LDP died in 2000, former Prime Minister Tomiichi Murayama of the Social Democratic Party gave a memorial speech. Prime Minister Masayoshi Ohira of the LDP, who died in 1980, received such a speech by Ichio Asukata, then leader of the now-defunct Japan Socialist Party.
In line with these precedents, former Prime Minister Yoshihiko Noda of the main opposition Constitutional Democratic Party of Japan is a likely candidate to deliver a speech for Abe, who was shot dead during a stump speech in the western Japan city of Nara on July 8. But it is uncertain whether Noda will accept the role.
Other candidates include Prime Minister Fumio Kishida, also president of the LDP, as well as former prime ministers Taro Aso and Yoshihide Suga.
The speech delivered by then Prime Minister Hayato Ikeda for Inejiro Asanuma, who was head of the socialist party and stabbed to death by a young right-wing man in 1960, is still remembered as legendary.
In his speech, Ikeda said Asanuma was a good rival, and pledged to prevent any recurrence of a similar incident.
The speech is believed to have helped boost support for the Ikeda administration, which had been launched three months earlier.
Add TheJapanNews to your Google News feed.