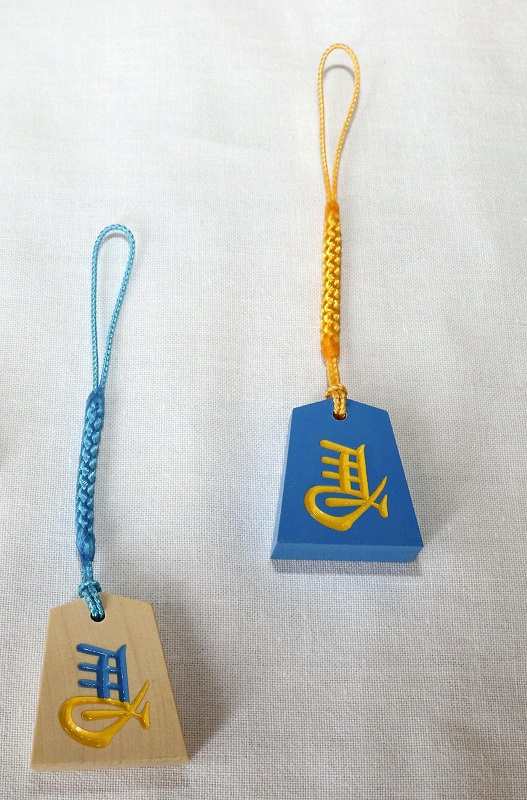 12:54 JST, July 5, 2022
Local governments and merchants are providing their own assistance to Ukraine, which has been invaded by Russia. Some are taking advantage of their local strengths, such as by donating the proceeds from sales of specialty products.
"I was able to deliver the voice of all of Japan, which hopes for peace, in my area of expertise," said Masaharu Nakajima, the president of Nakajima Seikichi Shoten, a manufacturer of shogi pieces in Tendo, Yamagata Prefecture. The company is producing shogi piece-shaped charms that are colored blue and yellow like the Ukrainian flag, and it is donating approximately 20% of the proceeds to the United Nations High Commissioner for Refugees to aid displaced persons.
Tendo is known for the production of shogi pieces. The Tendo Chamber of Commerce and Industry plans to sell the charms to support Ukraine.
In addition to Nakajima, local company Horikoshi is also supporting the project. Orders for more than 140 charms were received over a roughly two-month period ending May 31. The price per piece, including tax, was ¥1,100. The total amount donated came to ¥282,000.
The government of Takasaki, Gunma Prefecture, will host 25 Ukrainian rhythmic gymnasts and others this fall. The city plans to offer an arena and other facilities in the city as training sites, drawing on its experience in hosting a training camp for foreign teams prior to the Tokyo Olympics last year.
According to the city, the athletes are coming to Japan to evacuate from Ukraine. The city was asked by the Japan Gymnastics Association to cooperate in hosting the athletes, as the city is equipped with the facilities necessary for training. The city has been chosen as the host city for international competitions, such as for volleyball and wrestling, and its track record in these areas has been given high marks.
Yokohama, which has been in contact with Odesa in southern Ukraine since they became sister cities in 1965, has ascertained the needs of the local community there through online high-level meetings. The Yokohama city government has decided to provide 33 mobile water purification systems to Odesa.
Residents of both cities have paid each other visits, and doctors from Odesa have been received in Yokohama for training and study tours in the medical field. Mayor Takeharu Yamanaka met with Odesa's mayor online in May. Odesa's mayor asked for assistance, fearing that water supply facilities might become unusable due to the invasion.
Yamanaka said that 33 purification systems could provide drinking water for 100,000 people. The Yokohama city government is considering providing an additional 20 or so systems. The person in charge of the project said, "We hope that we can give Odesa a little courage."
Add TheJapanNews to your Google News feed.