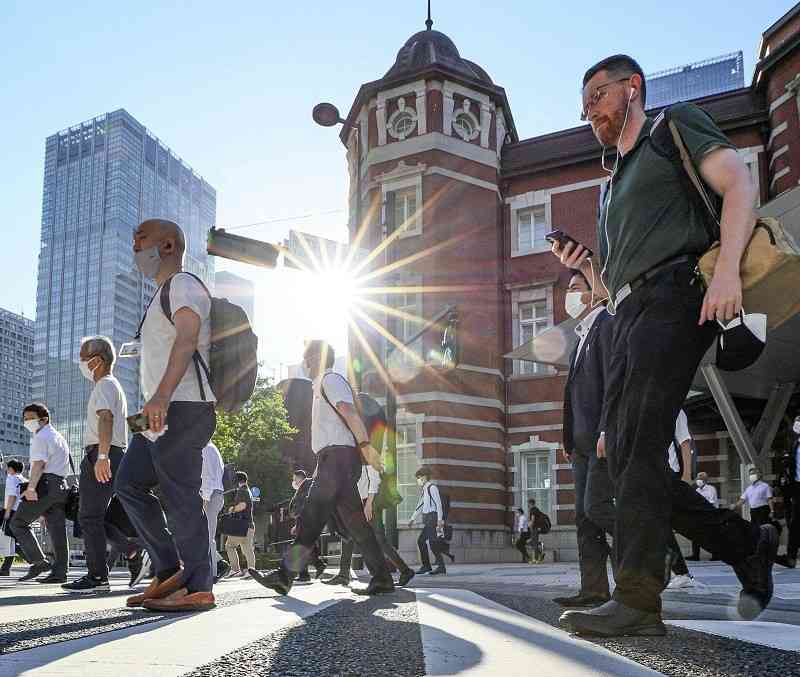 15:19 JST, July 2, 2022
The nation experienced its hottest June in history last month, with the Japan Meteorological Agency announcing Friday that 44 of the 47 prefectures recorded their highest-ever temperatures for the month.
On top of that, record temperatures were set for any time of the year in eight prefectures. According to the agency, it has 914 observation sites nationwide, and the highest-ever temperatures were recorded at 12 locations across the eight prefectures.
There were 326 observation sites across 44 prefectures that had temperatures tying or surpassing the previous June highs. Only Aomori, Akita and Yamagata prefectures were spared.
The soaring temperatures were recorded mostly in late June when the rainy season came to an abrupt end in region after region across the nation. Temperatures in eastern Japan were 4 C above average, while in western Japan, the thermometer rose 3.2 C above average.
Sunlight hours on the Pacific side of eastern Japan were about twice the average amount. Both temperatures and sunlight hours were the highest and longest, respectively, since such statistics started being taken in 1946.
The heat wave resulted in a sharp increase the number of people taken to hospitals for possible heatstroke. According to the Tokyo Fire Department, such cases totaled 1,517 in the capital in June — the highest since this statistic began in 2010 and six times the 250 from last June.
The Tokyo metropolitan government's Medical Examiner's Office said there were 17 confirmed deaths of people aged between 40 and 99 from heatstroke in the capital's 23 wards in June, also the most since 2010. Of those, 10 people died inside locations equipped with air conditioning, but did not use it.
Add TheJapanNews to your Google News feed.