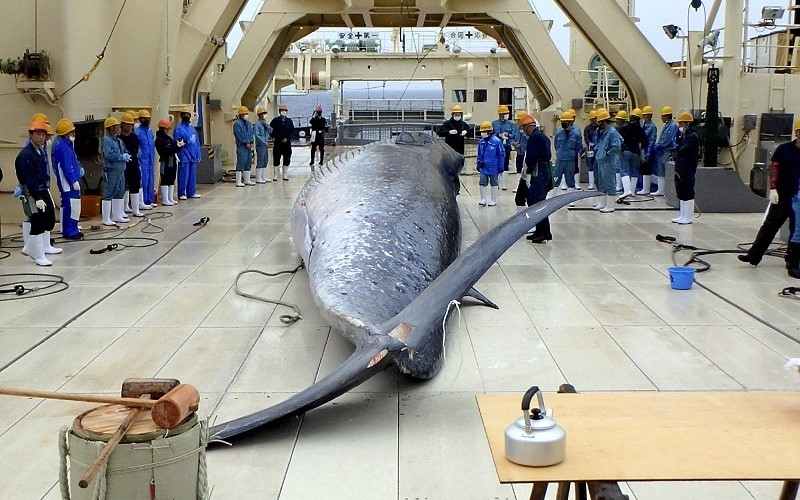 6:00 JST, July 1, 2022
July 1 marks three years since Japan withdrew from the International Whaling Commission and resumed commercial whaling.
The whaling industry is striving to modernize by building a new mother ship and cutting costs through joint operations, but its future is still uncertain, as the popularity of whale meat remains low.
"The future of the industry depends on the construction of a new mother ship," said Hideki Tokoro, president of Kyodo Senpaku Co., the only company that catches whales outside of coastal areas. Tokoro was speaking in front of a one-20th size model of the new ship at Akishima Laboratories (Mitsui Zosen) Inc. in Akishima, Tokyo.
Kyodo Senpaku currently operates the Nisshin Maru mother ship launched in 1987. It has been operating in the Antarctic and other waters since the time of research whaling and has become run-down.
Construction of the new ship will begin in June next year and is scheduled to be completed in March 2024. It will be 112.6 meters long and weigh 8,970 gross tons, with the construction cost expected to be over ¥6 billion. The ship will be used to hunt Bryde's whales and other species off the Tohoku region's Sanriku coast.
"Once completed, we can continue whaling at least for the next 30 years," said Tokoro, 67. "We want to make it the foundation for the revival of the whaling industry."
Japan conducted "research whaling" from 1987, in which whales were caught under IWC control for study purposes, and whale meat was distributed in the market.
However, due to opposition from anti-whaling countries, Japan withdrew from the IWC on June 30, 2019, and resumed commercial whaling the next day.
Whaling for commercial use is conducted in Japan's territorial waters and exclusive economic zones, and the government decides the quota.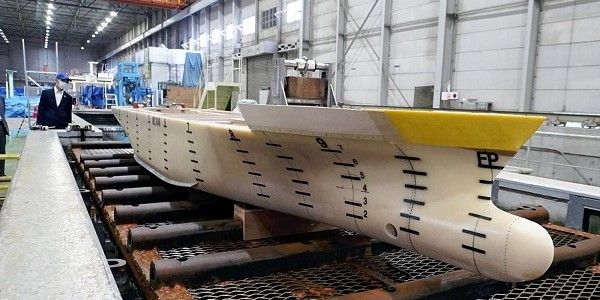 Shrinking demand
However, the future of the industry is grim. Whale hunting has been restricted to protect resources, and the consumption of whale meat in fiscal 2020 was 2,000 tons, less than 1% of that consumed in the peak year of fiscal 1962.
In fiscal 2021, the total wholesale price of whale meat supplied to the market was ¥2.8 billion, while the Fisheries Agency provided ¥5.1 billion in subsidies to the whaling industry.
The average wholesale price per kilogram for Kyodo Senpaku's whale meat was in the region of ¥1,100, below the ¥1,200 per kilogram line that makes it profitable without subsidies.
"The industry cannot be maintained without government support," a senior Fisheries Agency official said.
Small coastal whalers are in an even more difficult situation. Four out of five licensed whaling vessels belong to the Japan Small-type Whaling Association based in Fukuoka City. Its members began joint operations this year, butchering minke and other whales together after catching them off the coast of Hokkaido and Aomori prefectures.
Through such cooperation, members expect to reduce fuel and labor costs by 30%-40%.
"Cooperation within the industry is essential to get out of the red and become independent," said Yoshifumi Kai, the 62-year-old chairman of the association. "I don't want local whaling that has been passed down for ages to end in my generation."
Whale sushi, ramen
There are moves to increase whale meat consumption. Ryusuke Serita, who runs a whale meat processing and sales business in Kuki, Saitama Prefecture, formed a "whale food improvement committee" with restaurants that serve whale dishes.
The committee held an event on June 19 in Tokyo to showcase new ways of eating whale meat, such as whale sushi and ramen, in addition to conventional ways such as tatsuta-age deep frying and "bacon."
"It's almost three years since the resumption of commercial whaling, but whale meat is still not recognized as an ordinary food product," said Serita, 58. "I want to spread the word about delicious ways to eat whale meat, even to people who have never tried it before."
Waseda University Prof. Tomoo Noguchi, who specializes in distribution theory, said, "The only way for the industry to survive is to add value by branding whale meat as a rare delicacy."
Pressure without protests
In the three years since the resumption of commercial whaling up through June 26, the Fisheries Agency has not confirmed any interference or protest activities by anti-whaling groups toward the Japanese government nor whaling companies.
In the past, anti-whaling groups repeatedly obstructed the operations of the Nisshin Maru, including colliding their ships with the vessel, and there were fears of fierce protests when Japan withdrew from the IWC. The absence of such actions is thought to stem from the suspension of the Nisshin Maru's operations in the Antarctic Ocean, which is close to anti-whaling countries such as Australia and New Zealand.
However, a senior Fisheries Agency official said sellers are still worried about protests, making them hesitant to handle whale meat.
Add TheJapanNews to your Google News feed.