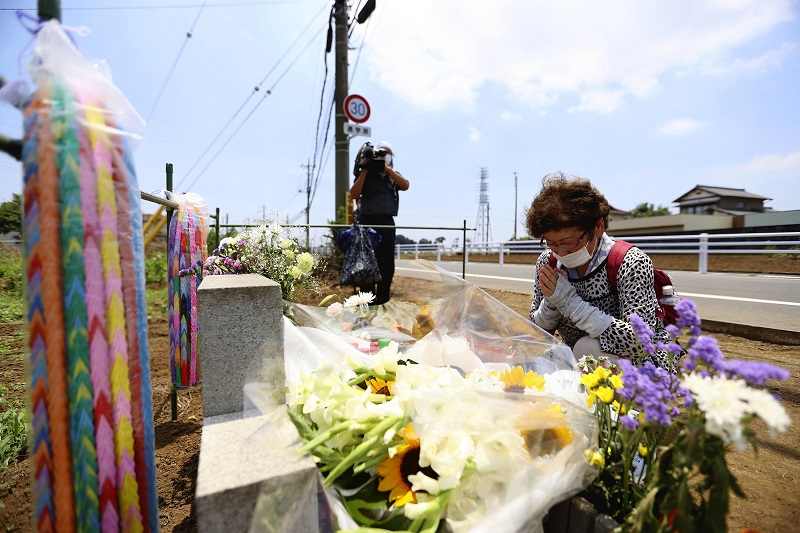 13:49 JST, June 29, 2022
Safety measures have been implemented on school routes at 60% of the locations earmarked for improvements following a fatal road accident last year, the government announced Tuesday.
The National Police Agency and government ministries identified 76,404 dangerous locations during inspections conducted after an accident in which two children were killed and three were injured in Yachimata, Chiba Prefecture, on June 28, 2021. The children were hit by a truck driven by a man under the influence of alcohol.
Measures have been implemented at 45,057 locations, and plans are in place to improve safety at the remaining locations by the end of fiscal 2023.
Sidewalks, guardrails and traffic signals have been installed, and in some locations, local governments and the police have closed traffic during certain hours and changed speed limits, among other measures.
Schools and boards of education have also taken such measures as changing school routes and using volunteer safety monitors.
Family members of the victims of the Yachimata accident released a statement on the anniversary of the tragedy. "We don't know if one year is a long time or a short time … Although it is stating the obvious, we want traffic rules to be obeyed," it read.
"I'm so furious that the lives of so many people have been destroyed by a single person's violation of drunk-driving rules," said Principal Yuji Tada of Choyo Elementary School, which the pupils attended.
People laid flowers and paid their respects at a tribute stand near the site on the day.
"I have two grandchildren in elementary school myself, so I can't think of this as someone else's problem. Drunk driving is absolutely unacceptable," said a 69-year-old woman from Choshi, Chiba Prefecture.
Add TheJapanNews to your Google News feed.