Schools gradually resuming swimming classes with coronavirus countermeasures in place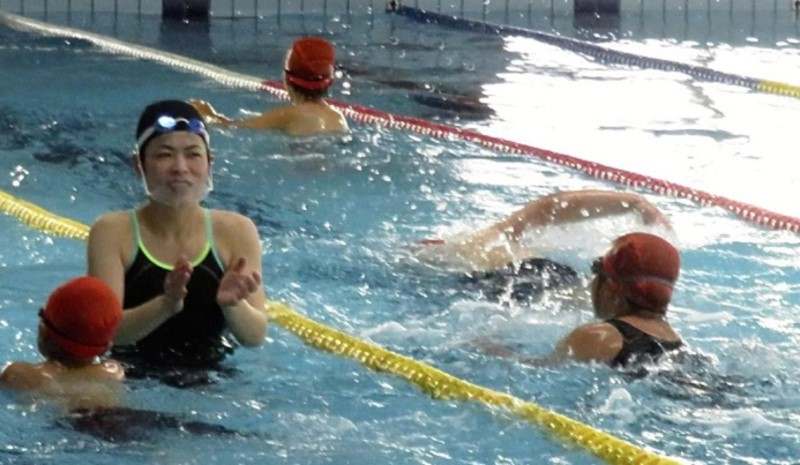 20:00 JST, June 29, 2022
An increasing number of local governments have instructed elementary and junior high schools to resume swimming classes that were suspended due to the spread of the coronavirus.
Some local governments, however, troubled by issues such as deteriorated pools, have decided to discontinue practical swimming instruction, and instead will provide only classroom lectures to students.
Sodo Elementary School in Shimotsuma, Ibaraki Prefecture, held a swimming class on June 15 for the first time in three years. The school uses a local sports club's swimming pool for classes. On that day, 22 fifth graders attended the class, with some wading while others swam with a kickboard.
"I was surprised that I remembered how to swim," said Mirei Chiba, 10, who had not swum for some time due to the pandemic. "It's fun to swim in a pool together with my classmates."
The Shimotsuma city government decided to resume swimming classes this summer as coronavirus infections have subsided. Although children do not wear masks during swimming class, talking is prohibited.
Teachers wear transparent face shields to cover their mouths. To prevent children from being in close proximity, swimming practice is held for one class at a time, instead of two classes together as had been done before.
Teachers had not given swimming instructions in a long time, so they took lessons from the sports club's staff as a brushup.
"As our prefecture has seafront areas, we want to provide children with the opportunity to become familiar with the water," said an official at the city's board of education.
The Japan Sports Agency calls for schools "not to allow children to have unnecessary conversations" and "to have children separated from each other by at least 2 meters" during swimming classes amid the pandemic.
Other cities including Kitakyushu and Kobe have also resumed swimming classes at municipal-run elementary and junior high schools this school year.
"To prevent water accidents, we wanted to avoid prolonging the hiatus," a Kitakyushu city official said.
Mixed opinions
Local governments and schools are divided over whether swimming classes should be resumed.
Yokohama's board of education last school year asked local schools to implement swimming classes as much as possible. However, only about half of its schools held swimming classes.
"There seemed to be schools that didn't have enough teachers to have classes divided into smaller units to avoid close-contact settings," said an official in charge at the board of education.
The city government of Hiratsuka, Kanagawa Prefecture, has decided to suspend swimming classes this school year, as it did in previous years.
An official in charge said, "While infections have not subsided completely, it was deemed difficult for teachers to tell children, who would be in high spirits in a pool, not to utter a word."
Abolishing practical training
Some local governments will have junior high schools eliminate practical swimming training in a pool, following the suspension triggered by the pandemic.
The city government of Konosu, Saitama Prefecture, has decided to discontinue swimming classes at all eight of its junior high schools, starting this school year.
Swimming classes had been suspended since 2020. Behind the decision is the fact that the swimming pools at these schools were built at least 35 years ago and more than ¥700 million is needed to repair them.
"Some children, mainly female junior high school students, said they feel reluctant to swim in a pool at school. There were no complaints about the discontinuance," said an official in charge at the board of education.
Under the education ministry's official guidelines for teaching at elementary and junior high schools, swimming is required in the curriculum.
The guidelines state that even when it is difficult to secure a swimming pool, students must be instructed on how to swim.
Schools are also called on to instruct students how to swim safely, for instance, by noting the importance of warm-up exercises and telling students not to swim when they are in poor physical condition.
An official with the Konosu city government said junior high school students will be given only classroom lectures on swimming, while practical instruction will be continued at elementary schools.
The city government of Kazo, Saitama Prefecture, in which municipal-run schools have had their swimming classes suspended during the pandemic, has also decided to eliminate practical training of swimming at junior high schools, on the grounds that its pools have become dilapidated.
According to the National Police Agency, there were 1,395 water accidents last year, with 31 deaths in junior high school or younger children.
"As Japan has many rivers and seafront areas, it's important for children to learn how to handle a possible water accident," said Atsunori Matsui, a professor at Naruto University of Education and a scholar on swimming education. "It's also crucial to learn how to swim as their bodies develop. Given these points, I hope practical swimming instruction is carried out at junior high schools as much as possible."
Add TheJapanNews to your Google News feed.