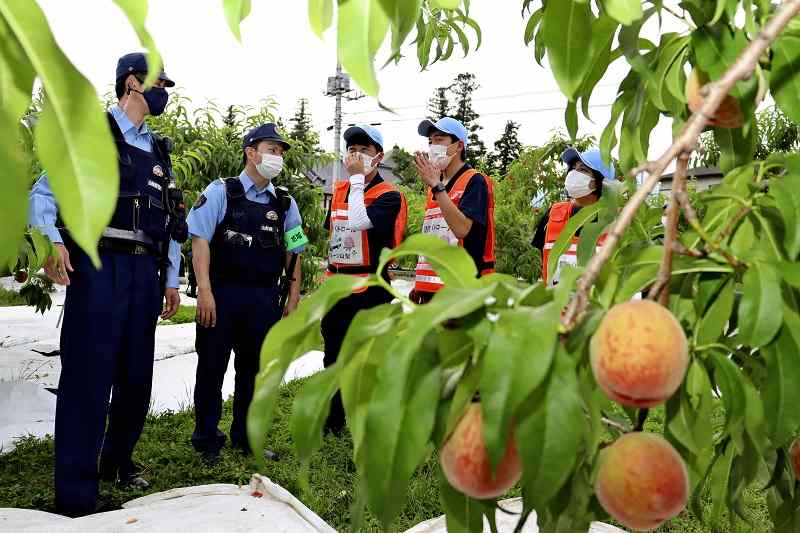 10:31 JST, June 28, 2022
In-season fruits such as peaches and cherries are being stolen in large quantities in many areas ahead of their harvest, with some locations seeing higher losses than in previous years. Producers are busy taking such measures as installing mobile security cameras and sensors to detect intruders.
"For a year, I put all my effort into growing these peaches," said a disappointed grower in his 50s as he gazed at a peach tree in a field in Yamanashi City. Only the leaves remained after the fruit had been stolen.
The stolen fruit comprised some 4,000 Hikawa Hakuho peaches, worth about ¥1 million. On June 19, the grower noticed that peaches had been cut from his trees. He was supposed to send out his first harvest in a few days' time.
Yamanashi Prefecture is known as a peach-growing region, and this month has seen a string of thefts of peaches before their harvest. According to the prefectural police, a total of about 14,400 peaches worth about ¥3.87 million have been confirmed to have been stolen so far, including about 1,400 in Fuefuki on June 15.
According to the local branch of the Japan Agricultural Cooperatives (JA), usually only a few dozen to a few hundred pieces are stolen around July, and an official of the organization said, "This is an unprecedented pace of loss."
On June 20, prefectural police and the JA began patrolling the area a month earlier than usual. The prefectural government also decided to subsidize the cost of installing security cameras and sensor lights to detect intruders. The prefectural police are investigating the matter, including the sales routes for stolen peaches.
In Yamagata Prefecture, thefts of cherries, a specialty of the prefecture, occur every year. Last year, a total of seven cases occurred in five cities and towns. The loss totaled some 280 kilograms, worth approximately ¥1.49 million. This was the greatest loss in the past 10 years.
On June 15, damage was confirmed for the first time this year in Sagae in the prefecture. About 5 kilograms of Sato Nishiki cherries, valued at about ¥25,000, were stolen. To prevent damage, JA Sagae Nishi-Murayama decided this month to install 15 mobile security cameras in cherry orchards within its jurisdiction.
There is also concern about the theft of grapes and other products between now and the end of fall. In Yamanashi Prefecture, the harvest season for open-air grapes of the high-end Shine Muscat begins around August. Thefts of about 2,500 bunches, worth about ¥3.5 million in total, were confirmed in the prefecture between August and October last year.
JA Fruits Yamanashi's section chief said: "When high-end varieties are stolen, the loss is significant. We want to strengthen our vigilance by calling on farmers to patrol the area."
Add TheJapanNews to your Google News feed.