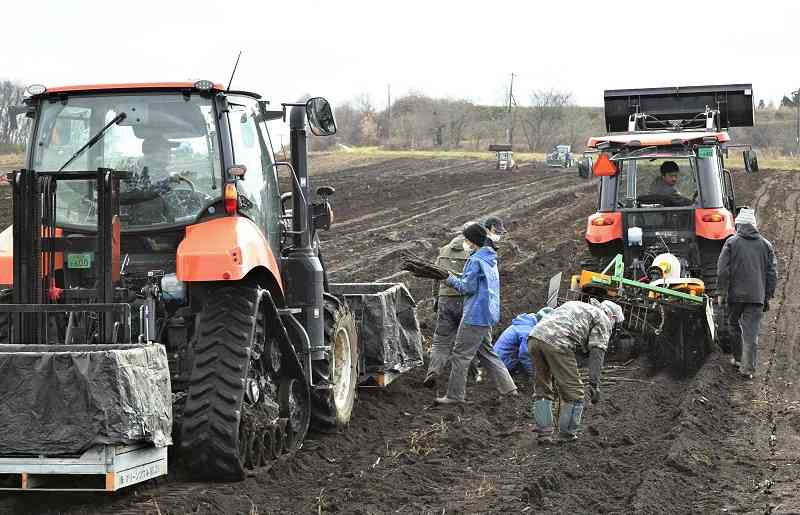 6:00 JST, June 27, 2022
The labor ministry plans to start compiling new statistics for foreign workers in Japan to monitor factors such as their wages, working patterns and working hours from next fiscal year, The Yomiuri Shimbun has learned.
These are to be the first statistics focused on foreign workers. As basic data for labor market analysis and policy making, they will be used to improve the treatment of foreign workers, help people find jobs, and match highly specialized personnel with companies.
The Health, Labor and Welfare Ministry intends to include related costs in its budget request for the next financial year.
According to the ministry, there were approximately 1.727 million foreign workers in Japan as of October 2021, a record high for the ninth consecutive year. Foreign workers account for about 3% of all employees in the country.
They are expected to increase further once the economy recovers from the damage caused by the novel coronavirus. As the number of Japanese workers continues to decline due to the low birth rate, the percentage of workers from overseas is expected to rise.
The ministry currently only has figures from the "foreign nationals employment report" submitted by employers, which provides foreign workers' visa statuses such as permanent resident or technical intern trainee. According to this data, the largest groups of overseas workers came from Vietnam, China, Philippines and Brazil, in that order — as of October 2021, people from these nations accounted for nearly 70% of all foreign workers.
Regarding visa status, the largest group of about 580,000 people were here on a "status-based stay," such as long-term resident and spouse of permanent resident. About 390,000 people were in "specialized and technical fields," which include workers with specialized talent or skills, and about 350,000 had the status of technical intern training.
This was followed by about 330,000 people who were working outside their visa specification, such as student part-time workers.
Some data on foreign workers' wages are included in the ministry's Basic Survey on Wage Structure, but the sample size is small and details are lacking in such areas as the correlation between the length of employment and pay increases. This makes it difficult to ascertain the actual labor situation.
To compare their situations with those of Japanese workers, the new statistics will include the same items as the ministry's existing Survey on Employment Trends. In the new survey, items including number of workers by employment status such as regular or irregular, wages, working hours and turnover rates will be analyzed and broken down by industry, company size and prefecture.
The survey on individual foreign workers and their employers will be conducted once a year from next fiscal year. In addition to nationality, visa status and duration of employment, the survey will focus on items related to employment and labor such as job type, income, salary increase, length of employment and social insurance coverage. Sections unique to foreign workers, such as educational background in their home country and the amount of money remitted to relatives there, will also be included.
Questionnaires will be distributed through companies employing foreign nationals, and a dedicated multilingual website will be set up to enable foreign workers to directly respond to it. The content is being considered by a expert study group of the ministry and will be decided with the approval of the Internal Affairs and Communications Ministry.
Add TheJapanNews to your Google News feed.