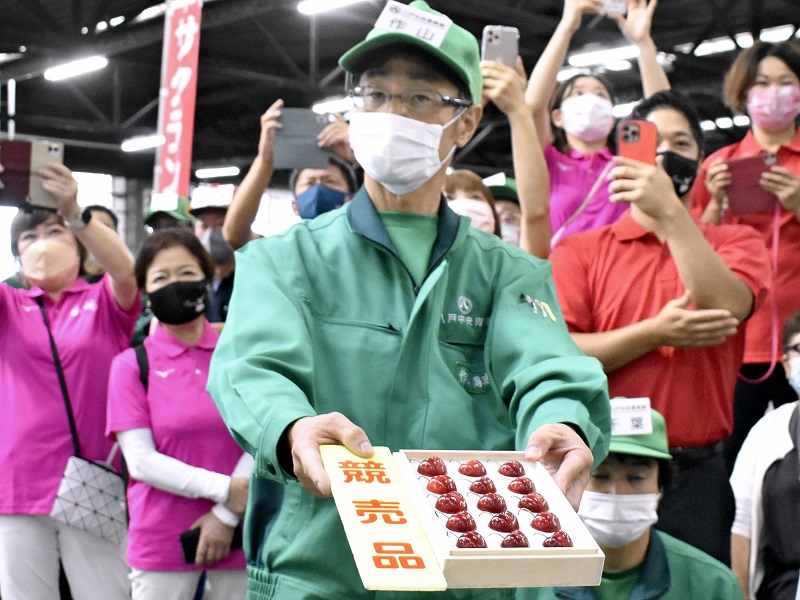 16:31 JST, June 26, 2022
HACHINOHE, Aomori — A box of high-end cherries harvested in Aomori Prefecture brought in ¥600,000 in the first auction of the season for the Junoheart variety at the Hachinohe Central Wholesale Market on Saturday.
A box containing 15 large cherries called Aomori Heartbeat, a premier brand of the variety, by far surpassed the previous record of ¥450,000, set just last year. The ¥600,000 price tag, which excluded tax, equates to ¥40,000 per cherry.
The Aomori prefectural government developed the Junoheart variety, which made its debut in 2019.
Fifty boxes containing 15 cherries were put up for bidding at the auction on Saturday, with Aomori Heartbeat cherries fetching ¥30,000 to ¥600,000, and the Junoheart variety selling for between ¥15,000 and ¥150,000.
The highest bidder was Nagatsuka Seika, a Chiba-based fruit and vegetable intermediate wholesaler that also had the record-setting bid for the Aomori cherries last year. The company said the cherries would be sold at a department store in Chiba Prefecture.
"The producer's passion is great, and these cherries can't be found anywhere else," said Kyoko Nagatsuka, the president of Nagatsuka Seika.
Add TheJapanNews to your Google News feed.