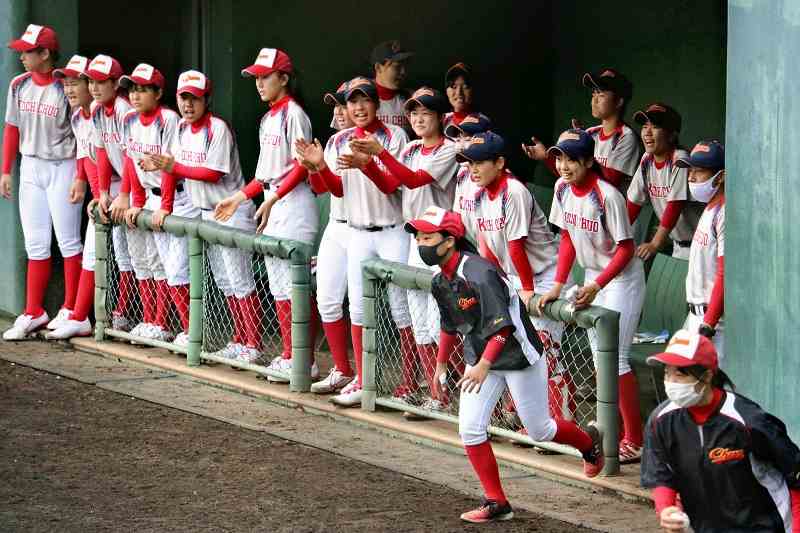 3:00 JST, June 26, 2022
Japanese women made headlines by winning the gold medal in softball at the Tokyo Olympics last year. Now a growing number of women are playing hardball-style baseball as well.
This year alone, new women's baseball leagues were established in three regions — Tohoku, Chugoku-Shikoku and Kyushu — expanding the number to seven.
Just as their male counterparts have done for generations, girls can now dream of playing at Koshien Stadium for the national high school championship. The venerated arena in Nishinomiya, Hyogo Prefecture, will host the final of the girl's tournament this summer.
Granted, some regions continue to struggle to organize games due to a lack of girls' teams, but the Women's Baseball Federation of Japan is moving forward with growing the sport for women and establishing a nationwide league.
On April 16, the Chugoku-Shikoku Region's Ruby League opened its inaugural season at Aki City Stadium in Kochi Prefecture. The league consists of 14 high school, university and adult club teams from Hiroshima, Okayama, Shimane, Kochi and Ehime prefectures. The teams are divided into three round-robin groups.
"When you only practice, you think, 'I'm not so bad at this,'" said Hana Shirasaka, captain of Kochi Chuo High School team. "But when you start playing league games, you grasp what you're not so good at."
The participants in the regional leagues cover a wide range of ages, from junior high school teams to adult sandlot clubs. The Venus League in the Kanto Region has the largest number of teams at 46, including the Saitama Seibu Lions Ladies, and the Kansai Region's Lucky League has 24 teams of various age groups. Some leagues, like the nine-team Tohoku League, consist of just high school teams.
The Lucky League includes Kobe Koryo Gakuen High School, which won the national high school title last summer, as well as the Hanshin Tigers Women. The league plays a knockout tournament in the spring, then follows a round-robin format in the fall.
Each league is organized by a federation made up of member teams that independently schedules games. The No. 1 team in the nation among all teams regardless of age is decided at the All-Japan championship in October in Matsuyama. There are also age group competitions, such as the national high school championship.
Currently, few leagues are formed with teams solely from the same age group. But one positive outcome is that facing adults can help raise the level of the high schoolers.
"Our aim is to get better by experiencing the intensity of games," said Tomohiro Nishiuchi, coach of the Kochi Chuo High School team.
Nationwide, the number of women's baseball teams of all ages increased from 62 in 2015 to 102 last year, while high school teams have doubled over the last five years and now number more than 50.
However, regional disparities remain. While the number of high school teams in Hiroshima Prefecture has increased to three, Ehime Prefecture still only has one. As there are no regional tournaments for advancing to the national championship as there are with the boys, the girls teams often have to go on overnight road trips just to line up games.
There are only about 10 universities that have baseball teams, and one problem is that it is difficult for players to find a situation in which they can continue playing the sport after they graduate.
"Our mission is to make it a matter of course that anywhere you go in the country, you will be able to find a game," said Hiroko Yamada, president of the Women's Baseball Federation of Japan. "In the future, we hope to create a sustainable top league that encompasses the entire country."
Add TheJapanNews to your Google News feed.