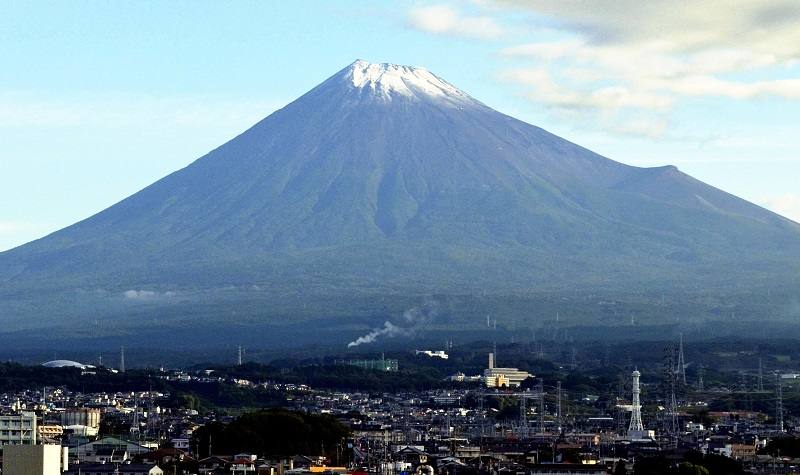 16:07 JST, June 20, 2022
TOKYO (Jiji Press) — National Police Agency has started making full-fledged preparations for a possible eruption of Mount Fuji, the tallest peak in the country.
The NPA will purchase dust masks for distribution to local police departments, assuming that volcanic ash may fall in not only areas near Mount Fuji but also the metropolitan region in the event of an eruption, informed sources said.
"We need to make preparations for a potential complex disaster, such as an eruption occurring after a massive earthquake," an expert said.
In April 2020, a working group of the Japanese government's central disaster management council compiled measures against volcanic ash from a possible eruption of 3,776-meter Mount Fuji, which straddles Yamanashi and Shizuoka prefectures in central Japan.
If the wind direction is the same as that during the 1707 eruption of the mountain during the Hoei era, volcanic ash could fall in the Tokyo metropolitan area, possibly disrupting road traffic and causing power outages, the working group said, calling on relevant organizations to consider countermeasures.
In June 2021, the National Public Safety Commission and the NPA revised their disaster countermeasures, adding for the first time the procurement of equipment needed for dealing with volcanic ash.
Some ¥27 million was earmarked under the government's fiscal 2021 supplementary budget for the purchase of items including about 95,000 dust masks and roughly 6,000 goggles to be used during rescue and relief activities. They will be provided to the police departments of 28 prefectures in the Tokyo metropolitan area and other regions that have active volcanoes.
The NPA estimates that some 36,000 police officers will need to be mobilized for conducting rescue activities and guiding evacuees if an eruption occurs.
The agency plans to continue providing dust masks and goggles in fiscal 2023 and later.
Some prefectural police departments have started making their own preparations for a possible eruption.
The police department of Kanagawa Prefecture, south of Tokyo, has secured two wheel loaders for removing volcanic ash from roads.
Tokyo's Metropolitan Police Department has increased the number of power generators for use during power outages.
The police departments of Kanagawa, Yamanashi and Shizuoka have carried out drills to prepare for a possible Mount Fuji eruption.
"In disaster prevention, it is important to make preparations assuming a pessimistic scenario, instead of being bound by assumptions," Takehiko Yamamura, manager of the Disaster Prevention System Institute, said.
Police should stockpile necessary equipment in anticipation of long-term effects from a Mount Fuji eruption, he said.
"It is also important to educate police officers on the ground about what would happen in the event of an eruption and to share information with local residents," he said, calling for attention to a possible complex disaster as well.
Add TheJapanNews to your Google News feed.