AI enlisted in fight against special fraud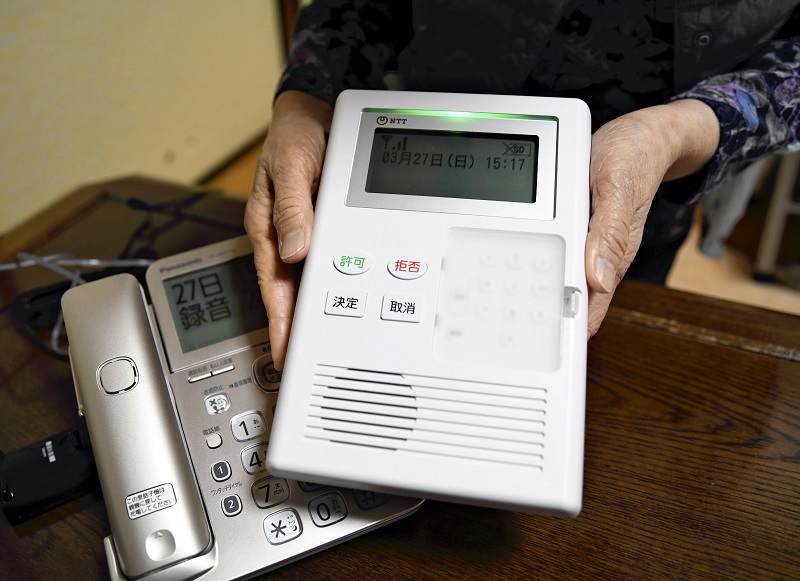 10:49 JST, June 20, 2022
Artificial intelligence (AI) is increasingly used as a tool in efforts to prevent special fraud, a category of crime typified by money transfer scams that target elderly victims. The advanced technology has made it possible to send warnings by automatically analyzing telephone conversations at the homes of elderly people and alerting those whom fraudsters might trick into transferring money through automated teller machines. Local governments and police are promoting the use of AI technology to prevent special fraud cases, which have continued to occur for many years.
"I didn't have to lose the money that I had steadily saved with my late husband," said a woman in her 80s in Shinagawa Ward, Tokyo. She was spared from falling victim to fraud thanks to a fraud detector.
In January this year, the woman received a phone call from a man posing as her nephew and asking her to lend him cash because he had lost his bag. The voice of the caller was automatically transmitted to an internet cloud server through a device attached to the woman's phone.
The voice was analyzed by AI technology, which had learned deceptive phrases from past cases. Based on the content of the conversation, the technology determined that there was a possibility of fraud and emailed a warning message to the ward's department in charge of fraud cases. The woman had designated the department as an emergency contact. When a ward office employee contacted her, she told the employee, "I'll hand ¥800,000 to my nephew."
After being alerted by the ward office, the Ebara Police Station in the ward arrested a 15-year-old boy from Soka, Saitama Prefecture, on suspicion of attempted fraud when he showed up to receive the cash.
About two years ago, the woman had been defrauded of about ¥2.4 million through a bank transfer. Her 57-year-old son, who lives with her, said, "AI watched over and saved her this time."
Financial support to install devices
NTT Group launched a nationwide service to prevent special fraud with the use of a detector in November 2020. As the service requires an initial cost of ¥8,800, including installation of the equipment, and a monthly fee of ¥440, only a few hundred units have been used. In light of this, the Shinagawa Ward Office began covering the initial cost from last summer for residents who wish to use the service. There have been seven fraud cases in which the ward office alerted police as a result of using this service.
The city government of Shibukawa, Gunma Prefecture, has also set up a system to subsidize the cost for the service. The city government of Fujieda, Shizuoka Prefecture, installed detectors in the homes of 30 residents, mainly the elderly, from September to March on an experimental basis.
The Metropolitan Police Department also signed an agreement with NTT to start providing detectors free of charge to the homes of certain people, such as those who had been defrauded in the past, from March. The MPD plans to encourage local governments to install fraud detectors by presenting to them the number of fraudulent phone calls as well as the number of cases in which AI technology detected attempted fraud.
Analyzing body posture
Other entities have used AI technology in different ways to counter fraud.
Since July 2019, the Bank of Saga has conducted a test with Optim Corp., a systems developer in Saga, in which AI-equipped cameras have been installed near the bank's ATMs to detect customers making calls on mobile phones. The aim is to prevent fraud cases in which customers are instructed over the phone to transfer cash by perpetrators who falsely tell them that it is part of procedures to get refunds of medical fees or tax payments.
Once the AI technology determines that the customers are using mobile phones by the angle of their arms and posture, it urges them to stop talking over the phone.
"We want to make the system more effective, for example, by adding a function to alert police," said an official of the company.
In March, Fujitsu Ltd., Toyo University and others started research to use AI to analyze changes in the facial expressions and pulse rates of elderly people who receive fraudulent calls. If the characteristics of those who are deceived can be identified, it could be possible to warn against the fraudsters or contact families of fraud targets.
Prof. Tetsuya Sakurai, 60, of the University of Tsukuba's Center for Artificial Intelligence Research, said, "Once the technology is developed further, it will become possible to immediately detect that a person is being cheated, based on factors such as interactions with a perpetrator and the destination of a cash transfer via an ATM."