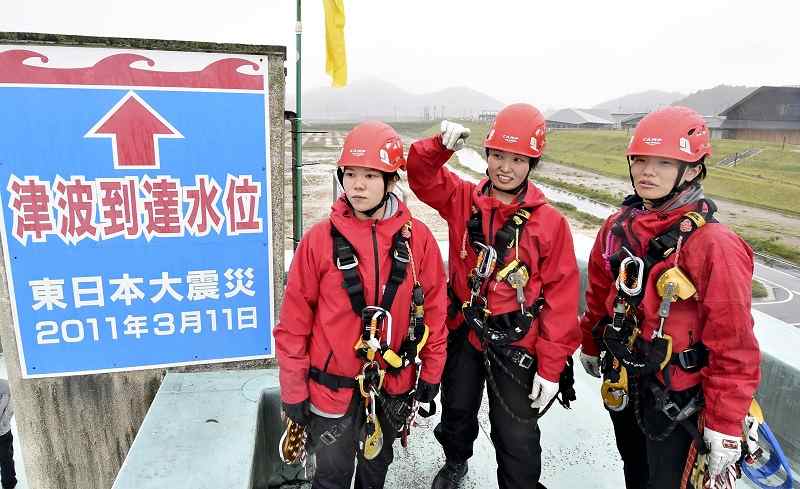 10:38 JST, June 19, 2022
MORIOKA — A group of female firefighters in Iwate Prefecture, who experienced the Great East Japan Earthquake in 2011, are training to become a "women-only rescue unit" that can be mobilized during disasters.
The group comprises about 10 women aged between 20 and 30 who work at five fire departments in the prefecture.
They came together two years ago, but were unable to operate as they hoped due to the coronavirus pandemic. In May, they swooped into action.
Although disaster relief activities are still dominated by men, they are training themselves in the hope of demonstrating that women can get actively involved in rescue operations.
"Up! Up!" On May 31, three female firefighters in red rescue clothing and helmets undertook a rescue drill at Yonezawa Shokai building, which was engulfed by the 2011 tsunami and is now a privately held disaster relic in Rikuzentakata in the prefecture.
The scenario was that a resident had been left behind in the building during a tsunami. The three firefighters managed to lift a stretcher holding the person to the second floor by pulling the rope while shouting in unison.
According to the Fire and Disaster Management Agency of the Internal Affairs and Communications Ministry, female firefighters in active service totaled about 5,300 as of April last year. The ministry has set an objective of raising the proportion of female firefighters to 5% of the total by fiscal 2026, but at present, it stands at 3.2%. When it comes to rescue squads that specialize in saving lives, the number of women is very small.
Ayano Kikuchi, a 20-year-old member of the women-only group, was a third-year student at an elementary school in Tono when the quake struck the area. Tono is an inland district of the prefecture and served as a logistic support base for rescue units operating in the coastal area. Kikuchi became a firefighter after watching them strive to save people in her area and hoping to "get a job that helps people."
Yet when rescue operations actually happen, female firefighters mostly support male firefighters by preparing the necessary materials and equipment, and are rarely given the opportunity for physical tasks, which are the linchpin of rescue operations.
Genki Sasaki, a 26-year-old assistant fire sergeant of the Ofunato district fire department, heard about the troubles experienced by female firefighters. He suggested two years ago that they should form a women-only rescue unit, "to prove that people's lives can be saved by women's power alone," he said.
As some members of the rescue unit had had their houses washed away by the tsunami, their commitment to rescue work runs deep.
The exercises are held about once a month on off-duty days. The group members have been trying to improve their rope rescue techniques, with which they haul a person up with a rope run through pulleys. Equipment such as rescue clothing and ropes are procured at their own expense.
By training repeatedly, the group is aiming to become a rescue party that can be mobilized to the scenes of rescue operations both in and out of the prefecture.
Akane Fujiwara, a 26-year-old leader of the group, said: "There are many female firefighters who cannot go out to actual rescues, despite their zeal. We want to expand the scope of our activities."
Add TheJapanNews to your Google News feed.