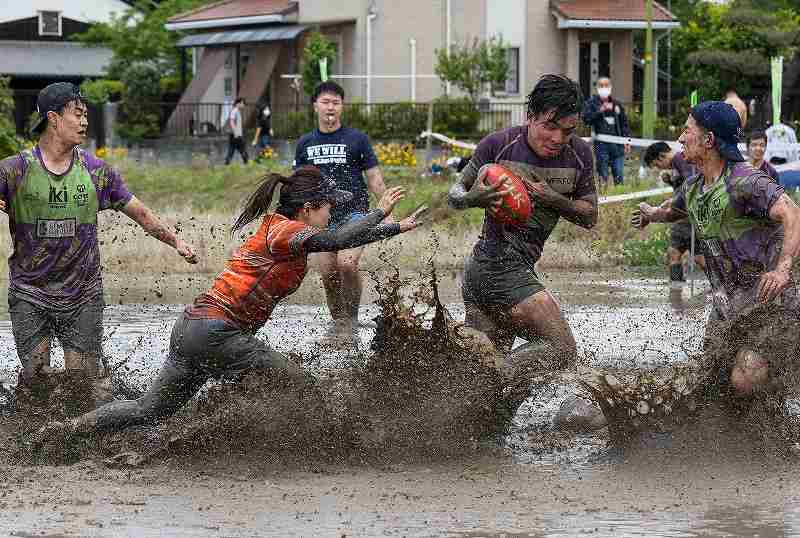 11:53 JST, June 19, 2022
FUJIMI, Saitama — Instead of planting rice, players were working to grow the game of rugby in a rice field on May 22 in Fujimi, Saitama Prefecture, a city known for producing the grain.
About 60 players from eight teams in and outside the city participated in a muddy rugby tournament for which they signed up via social media.
They hit the field to compete in the event under careful COVID-19 protocols that started with temperature checks.
It was the third such event and was held for the first time in three years after being pushed to the back burner amid the coronavirus pandemic.
Rice field rugby is said to have begun in 2015 in Fukuchiyama, Kyoto Prefecture. Played in unplanted rice paddies pooling with water, it is a new form of rugby that is designed to allow anyone — regardless of experience level, age or gender — to enjoy without the need for special skills.
The purpose of the event is to foster interaction among communities and grow the sport as its participants run around drenched in mud, chasing a rugby ball, all in the name of appreciating the blessings of nature.
The sport is played nationwide this time of year, and the rules are said to be generally the same around Japan.
Higashi-Iruma Rugby Football Club organized the tournament in Fujimi. One team consists of four competitors on the field, and players can change on the fly at any time.
Wearing Japanese tabi socks, players chase the oval ball in muddy fields measuring 22 meters long by 16 meters wide.
Because there are beginners, touch rugby is played, and a game is made up of two seven-minute halves. The team that scores more tries wins.
Masane Mimura, 20, a sophomore who is on the club rugby team at Rikkyo University, has been playing the sport for 15 years, but this was his first time participating in rice field rugby.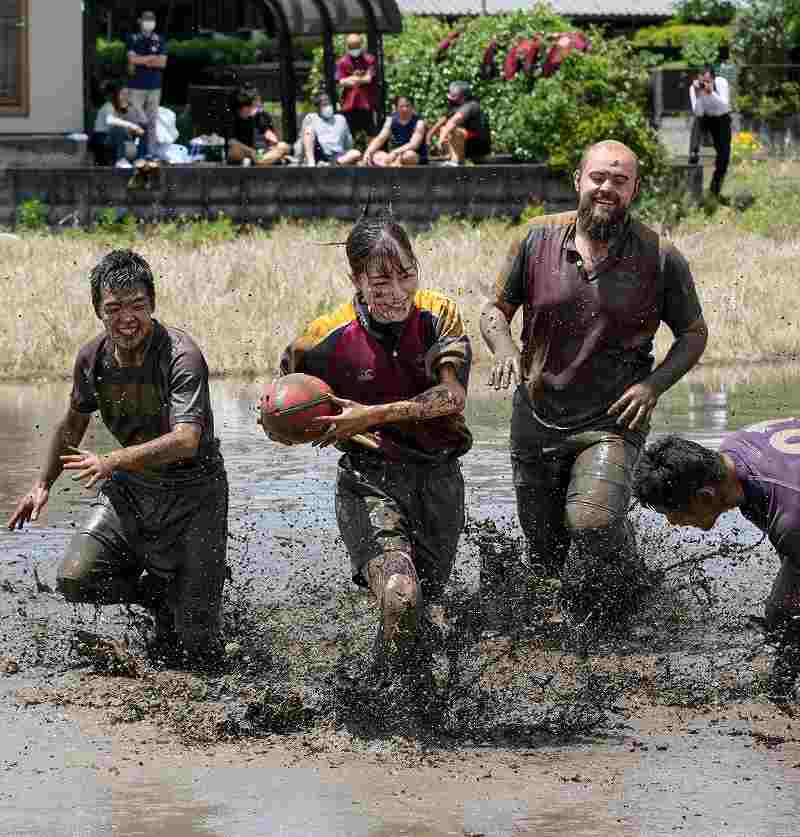 "I often found myself bogged down in a quagmire, and it was harder than playing on a regular rugby field. But, it was fun and felt good," he said. "I was in a rice field for the first time in my life, and it was a valuable experience. It made me think about the fact that the rice we eat after practice every day comes from this kind of place."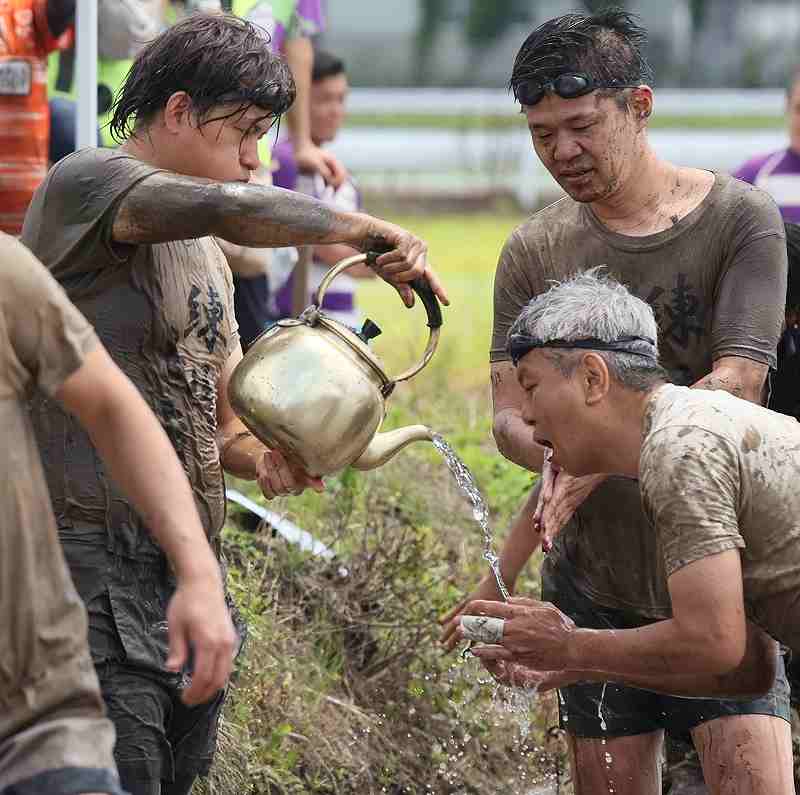 In mid-June, event organizers and participants planted seedlings at the venue. The idea is to promote the harvested rice as "rugby rice."
Said Makoto Takizawa, 47, who is in charge of rice field rugby for the rugby club: "We want to continue holding the event from next year onward to share the experience of rugby and rice fields."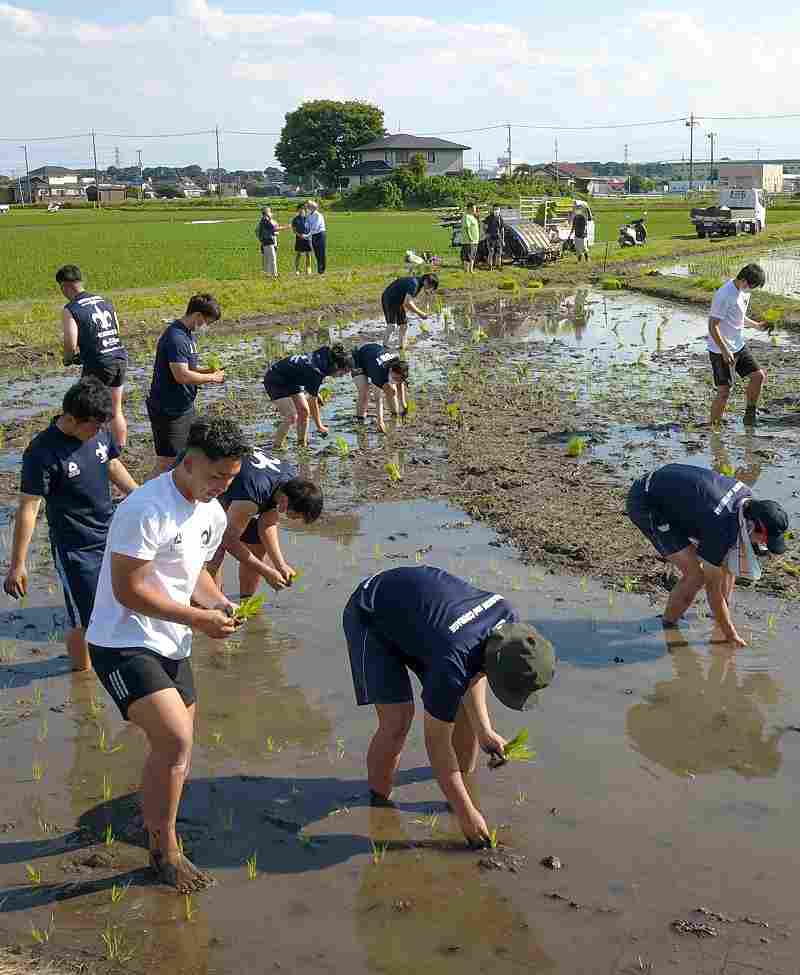 Old & New video
Add TheJapanNews to your Google News feed.