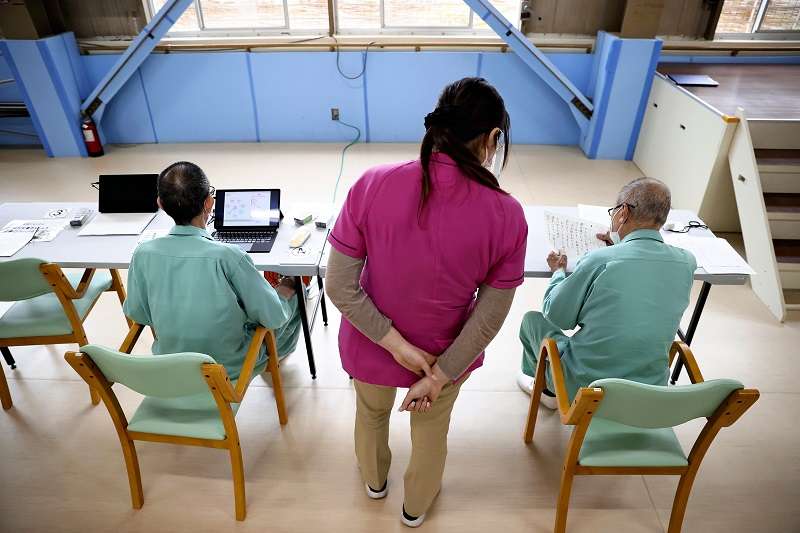 20:00 JST, June 17, 2022
The amended Penal Code bill that was passed this month mandates the creation of a "confinement" category, abolishing the categories of imprisonment with labor and imprisonment without labor, aiming to facilitate the official shift of emphasis from "punishment" to "rehabilitation" for inmates.
Under the current Penal Code, convicts sentenced to imprisonment with labor are assigned work duties without exception.
While the revised code makes it possible to provide attentive treatment to help rehabilitate inmates and prevent recidivism after their release, there remain issues to be addressed before the revisions take effect in three years, such as securing a sufficient prison staff and changing their way of thinking.
Almost everyone works
The Fuchu Prison in Fuchu, Tokyo, accommodates about 1,500 inmates. When a reporter visited the prison in May, men in green work clothes were working in a factory within the prison, quietly sewing gym uniforms and other products for delivery to outside contractors.
It was a scene of inmates sentenced to imprisonment with labor carrying out their jobs making clothes.
When the Penal Code was enacted in 1907, it set forth punishments such as the death sentence, imprisonment with labor, imprisonment without labor, and fines. Imprisonment, either with or without labor, is referred to as "freedom-restricting punishment" as the convicted are deprived of their freedom by being confined to a prison or other institution.
Originally, imprisonment with labor was intended as a form of disciplining the convicted. The essence of the punishment was to make them pay for their crimes through forced labor.
Currently, the code states that "Imprisonment with work shall consist of confinement in a penal institution with assigned work," which corresponds to a prison job.
In 2020, 16,562 criminals were sentenced to imprisonment with labor, accounting for 99.7% of all convicts. They work for much of the day, up to a maximum of eight hours.
However, of the 0.3%, or 53 convicts, sentenced to imprisonment without labor, 80% engage voluntarily in prison work, mainly because doing nothing at all makes prison life difficult.
Now, 115 years after the enactment of the Penal Code, the line between imprisonment with and without labor has become blurred.
Juggling and origami
Behind the decision to revise the punishments was the existence of elderly inmates. Of those who entered the prison system in 2020, 2,143 were aged 65 or older, a 2.4-fold increase from 2000 and 12.9% of the total number.
Many cannot keep up with prison work, and from fiscal 2020, Fuchu Prison has been making such inmates engage in otedama juggling or origami, saying that such activities "improve physical functions" as a de facto form of rehabilitation.
"The aging of the population has spread to prisons, so there are limits to making such inmates continue activities in the name of work," a senior Justice Ministry official said.
Furthermore, worsening recidivism rates were also a major factor for the revision. Of those detained by police for criminal offenses in 2020, the recidivism rate — which indicates the ratio of those committing crimes again — reached a record high of 49.1%.
To address the situation, the Justice Ministry has been boosting efforts to use education to prevent recidivism. For example, the ministry offers one- to six-month programs for drug addicts in which participants learn how to avoid drugs in the future and get appropriate therapy through group sessions and individual interviews.
There are also such correctional programs for sex offenders. A Justice Ministry survey found that the recidivism rate within three years of release from prison among sex offenders who participated in such programs was 15%, or 7.5 percentage points lower than for those who did not undergo a program.
While it shows that educational programs have a certain effect on reducing recidivism rates, such educational activities can only be conducted currently during free time from prison jobs.
Facing up to their crimes
The introduction of the "confinement" sentence will allow prison staff to spend more time on providing education without being limited by the work hours required of the inmates.
For elderly inmates and those with disabilities, the staff will be able to provide treatment focusing on improving physical fitness and other aspects without the pretext of "work." The ministry plans to enhance guidance and educational programs going forward.
It is expected that some inmates will have their work hours vastly reduced. As such, some members of the ministry's Legislative Council, an advisory panel to the justice minister, voiced concern at a conference ahead of the revision that some people might see this as "coddling the inmates."
However, another senior ministry official stressed: "The guidance that makes the inmates face up to the crimes they committed should be harder than them finishing their prison terms while focused on working. This will lead to preventing the creation of new victims."
Add TheJapanNews to your Google News feed.