Rise in dolphin sightings in Mutsu Bay may reignite tourism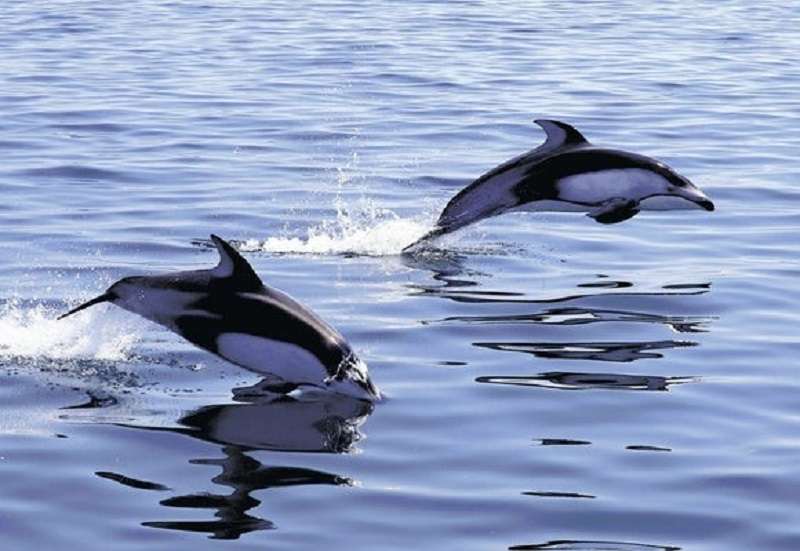 1:30 JST, June 12, 2022
MUTSU, Aomori — Dolphins have been sighted from numerous ferries and cruise ships sailing in Mutsu Bay in Aomori Prefecture this year, raising hopes that dolphins could be a driving force for tourism, which has been stagnant due to the pandemic.
The Mutsu Bay Ferry connecting the Shimokita Peninsula, the northernmost point of Honshu, with the Tsugaru Peninsula in the same prefecture spotted dolphins on more than 80% of its May trips. The Yume-no-Heisei-go, a sightseeing boat operated by the Mutsu municipality, also confirmed sightings of more than 1,700 dolphins by early June. The migration of shoals of sardines, which are food for dolphins, is likely to play a role in this.
In Mutsu Bay, Pacific white-sided dolphins usually appear in groups from April to June each year. According to Aomori University Prof. Shigeto Kiyokawa, an expert on the dolphins in the bay, they enter the bay around April, chasing sardines, and leave the bay in mid-June as the seawater temperature rises.
On the Mutsu Bay Ferry, the frequency of dolphin sightings reached nearly 70% for April trips, the highest rate since 2005. In May, sightings were reported for more than 80% of trips, the second highest rate after the 85% rate hit in 2016, a banner year for dolphin sightings.
"We want more people to know about this ferry route where they can have the pleasure of watching dolphins," said an official at the ferry operator.
The Yume-no-Heisei-go dolphin-watching course, which runs for about an hour in Mutsu Bay off Shimokita Peninsula as it looks for dolphins, will be in operation until June 19 this season. About 30 students from a local elementary school took the first cruise on June 3. The children cheered as dolphins appeared all around the boat, and an 11-year-old boy said, "I saw about seven dolphins jumping at the same time."
According to the city government, about 100 dolphins were seen on June 3. The total number of dolphins seen from the Yume-no-Heisei-go was 1,731 by the end of the June 6, on pace to outnumber the record high of the 2017 season, which recorded 1,810 sightings.
The dolphin-watching cruise began operating in 2017, a year in which dolphin sightings were confirmed on 79% of trips, but from last year to this year, the rate has held steady at 100%. The city government is aiming to increase the rate of dolphin sightings by changing the route based on information from local fishermen.
"We want visitors to experience the excitement of going in search of wild dolphins amidst the natural splendor of the Shimokita region," said a city official.
Regarding the reason for the high rate of dolphin sightings, Kiyokawa said, "It is possible that there are more sardines than usual in the bay." Furthermore, he said that the seawater temperature has tended to be low this year, and speculates that "dolphins might be seen until the end of June."